We've already featured several books that were among the first new releases of August. Be sure to check out our reviews for those books and then see below more great titles that'll hit the shelves this month.
Amazon affiliate links are used on this site.
August 1 new releases reviewed:
Girl in Snow by Danya Kukafka
On Her Majesty's Frightfully Secret Service by Rhys Bowen
Links by Lisa Becker
Whispering in French by Sophia Nash
Royal Crush by Meg Cabot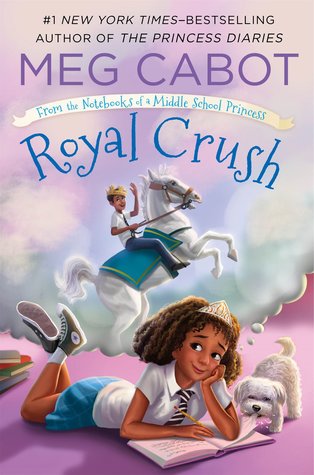 Being the newest princess of Genovia is WAY more complicated than she expected, but Olivia Grace Clarisse Mignonette Harrison is getting used to it. She gets to live in an actual palace with two fabulous poodles, a pet iguana, her very own pony, and, best of all, a loving family to help her figure things out!
And right now Olivia, having finally admitted that she likes Prince Khalil as more than just a friend, could REALLY use some advice. What is a princess supposed to do once she's found a prince she likes? With her half-sister Mia busy enjoying her honeymoon, Olivia turns to Grandmere for help.
The third book in the middle-grade
Princess Diaries
spin-off series, written and illustrated by New York Times-bestselling author Meg Cabot.
Available August 1
Buy Royal Crush at Amazon
The Bedlam Stacks by Natasha Pulley
In 1859, ex-East India Company smuggler Merrick Tremayne is trapped at home in Cornwall after sustaining an injury that almost cost him his leg and something is wrong; a statue moves, his grandfather's pines explode, and his brother accuses him of madness.
When the India Office recruits Merrick for an expedition to fetch quinine—essential for the treatment of malaria—from deep within Peru, he knows it's a terrible idea. Nearly every able-bodied expeditionary who's made the attempt has died, and he can barely walk. But Merrick is desperate to escape everything at home, so he sets off, against his better judgment, for a tiny mission colony on the edge of the Amazon where a salt line on the ground separates town from forest. Anyone who crosses is killed by something that watches from the trees, but somewhere beyond the salt are the quinine woods, and the way around is blocked.
Surrounded by local stories of lost time, cursed woods, and living rock, Merrick must separate truth from fairytale and find out what befell the last expeditions; why the villagers are forbidden to go into the forest; and what is happening to Raphael, the young priest who seems to have known Merrick's grandfather, who visited Peru many decades before. The Bedlam Stacks is the story of a profound friendship that grows in a place that seems just this side of magical.
Available August 1
Buy The Bedlam Stacks at Amazon

The Cottingley Secret by Hazel Gaynor
1917… It was inexplicable, impossible, but it had to be true—didn't it? When two young cousins, Frances Griffiths and Elsie Wright from Cottingley, England, claim to have photographed fairies at the bottom of the garden, their parents are astonished. But when one of the great novelists of the time, Sir Arthur Conan Doyle, becomes convinced of the photographs' authenticity, the girls become a national sensation, their discovery offering hope to those longing for something to believe in amid a world ravaged by war. Frances and Elsie will hide their secret for many decades. But Frances longs for the truth to be told.
One hundred years later… When Olivia Kavanagh finds an old manuscript in her late grandfather's bookshop she becomes fascinated by the story it tells of two young girls who mystified the world. But it is the discovery of an old photograph that leads her to realize how the fairy girls' lives intertwine with hers, connecting past to present, and blurring her understanding of what is real and what is imagined. As she begins to understand why a nation once believed in fairies, can Olivia find a way to believe in herself?
Available August 1
Buy The Cottingley Secret at Amazon
The Haunting of Dr. Bowen: A Mystery in Lizzie Borden's Fall River by C.A.Verstraete
Gruesome deaths haunt the industrial city of Fall River, Massachusetts.
Dr. Seabury Bowen—physician to the infamous Lizzie Borden—swears he's being stalked by spirits, though his beloved wife thinks it's merely his imagination. But the retired doctor insists that neither greed nor anger provoked the recent sensational axe murders in Fall River. Rather, he believes the city is poisoned by bad blood and a thirst for revenge dating back to the Indian and Colonial wars.
Now, two years after the Borden murders, Dr. Bowen is determined to uncover the mysteries stirring up the city's ancient, bloodthirsty specters. Can he discover who, or what, is shattering the peace before Fall River runs red? Or will he be the next victim?
Part mystery, part love story, The Haunting of Dr. Bowen reveals the eerie side of Fall River as witnessed by the first doctor on the scene of the legendary Borden murders.
A supernatural tie-in to the book, Lizzie Borden, Zombie Hunter, but without the zombies. Based on real-life events and historic documents, though some parts have been fictionalized to fit the story. * Contains some light horror details.
Available August 4
Buy The Haunting of Dr. Bowen: A Mystery in Lizzie Borden's Fall River at Amazon
Must Love Fashion by Deborah Garland
Gwendolyn Mallory has landed her dream job. After years at a small fashion retailer, she's been given a chance to show off her public relations skills for a major brand. What woman wouldn't be excited to work for Prada in New York City?
Former male model turned Prada Brand Manager, Andrew Morgan is ready to move on with his life—his wife passed away from cancer fifteen months ago. Even though he and Gwen share an initial fiery spark, getting involved with a co-worker has always been on Andrew's to-don't list.
The weeks leading up to an L.A. fashion show bring Andrew and Gwen closer to the flame. At night, she dreams of this tall handsome man taking her on his desk. And Andrew is having a hard time keeping his own fantasies under control. But when one of the designers vies for Gwen's affections, Andrew is awash with jealousy. And out of excuses.
After the show, they share an intense, passionate kiss and some killer heavy petting in one of the dressing rooms. And in her bed, Gwen brings out the man Andrew used to be, wild and hungry. But in the afterglow of their bliss, Andrew learns Gwen has been hiding something about her health. Unable to deal with all that pain again, he leaves.
During a business trip to Milan, Gwen and Andrew give into the heat still smoldering between them. Then Gwen finds out she's about to be transferred to Italy. Andrew doesn't want to hold her back from such a great opportunity, but he can't live without her. He proposes in hopes of keeping her in New York, with him.
What woman wouldn't be excited to marry a devilishly handsome man in a Prada wedding gown?
Available August 7
Buy Must Love Fashion at Amazon
Any Dream Will Do by Debbie Macomber
Shay Benson adored her younger brother, Caden, and that got her into trouble. When he owed money, Shay realized she would do anything to help him avoid the men who were threatening him, and she crossed lines she never should have crossed. Now, determined to start fresh, she finds herself in search of a place to stay and wanders into a church to escape from the cold.
Pastor Drew Douglas adored his wife. But when he lost her, it was all he could do to focus on his two beautiful kids, and his flock came in a distant third. Now, as he too is thinking about a fresh start, he walks through his sanctuary and finds Shay sitting in a pew.
The pair strike up a friendship—Drew helps Shay get back on her feet, and she reignites his sense of purpose—that, over time, turns into something deeper, something soulful, spiritual, and possibly romantic. Even Drew's two children are taken with this woman who has brought light back into their lives. Perhaps most important, Shay learns to trust again as she, in turn, proves herself trustworthy to her adopted community.
But Caden's return to town and a disastrous secret threaten to undo the life Shay has tried so hard to rebuild. It will take the utmost courage and faith if she and Drew hope to find healing and open their hearts to a brighter future.
Available August 8
Buy Any Dream Will Do at Amazon
Saul's Sweetheart by Dale Mayer
Welcome to
Saul's Sweetheart
, book 8 in Heroes for Hire, reconnecting readers with the unforgettable men from SEALs of Honor in a new series of action packed, page turning romantic suspense that fans have come to expect from USA TODAY Bestselling author Dale Mayer.
Helping a friend in need is never a wrong move. And Saul knows the value of his friends. When he's called to find Benji's missing brother, Daniel – he's on it.
Only Daniel might be involved in something a lot darker than avoiding his brother's phone calls. At least according to Rebel who's been haunting Daniel's apartment, looking for her missing girlfriend.
When the bodies start showing up, Rebel is terrified her friend will be next…
And that's not something she's going to sit by and allow. No matter if Saul thinks she should. He needs to get out of her way or she'll run right over him. The trouble is, it doesn't take long for her to realize he'd like that – and so would she.
Now if only they could save their friends…before the entire mess blows up and takes them all out.
Available August 8
Buy Saul's Sweetheart at Amazon
Exposed by Lisa Scottoline
A BATTLE FOR JUSTICE PITS PARTNER AGAINST PARTNER...
Mary DiNunzio wants to represent her old friend Simon Pensiera, a sales rep who was wrongly fired by his company, but her partner Bennie Rosato represents the parent company. When she confronts Mary, explaining this is a conflict of interest, an epic battle of wills and legal strategy between the two ensues―ripping the law firm apart, forcing everyone to take sides and turning friend against friend.
SOMETIMES LOYALTY CAN BE LETHAL.
Available August 15
Buy Exposed at Amazon
Seeing Red by Sandra Brown
Kerra Bailey is a television journalist on the rise, and she's hot on the trail of a story guaranteed to skyrocket her career to even greater heights: an interview with the legendary Major Trapper. Twenty-five years ago, the Major emerged a hero from the bombing of the Pegasus Hotel in downtown Dallas when he was photographed leading a handful of survivors out of the collapsing building. The iconic picture transformed him into a beloved national icon, in constant demand for speeches and interviews--until he suddenly dropped out of the public eye, shunning all members of the media. However, Kerra is willing to use any means necessary to get to the Major--even if she has to wrangle an introduction from his estranged son, former ATF agent John Trapper.
Still seething over his break with both the ATF and his father, John Trapper wants no association with the hotel bombing or his hero father, and spurns the meddling reporters determined to drag them back into the limelight. Yet Kerra's sheer audacity and tantalizing hints that there's more to the story rouse Trapper's interest despite himself. And when her interview of a lifetime goes catastrophically awry--with unknown assailants targeting not only the Major, but also Kerra--Trapper realizes he needs her under wraps if he's going to track down the gunmen before they strike again . . . as well as discover, finally, who was responsible for the Pegasus bombing.
Kerra is wary of a man so charming one moment and dangerous the next, and she knows Trapper is withholding evidence collected during his ATF investigation into the bombing. But having no one else to trust and enemies lurking closer than they know, Kerra and Trapper join forces and risk their very lives to expose a sinuous network of lies and conspiracy running deep through Texas--and uncover who would want a national hero dead.
Available August 15
Buy Seeing Red at Amazon
After the Game by Abbi Glines
Three years ago Riley Young fled from Lawton, Alabama. After accusing the oldest Lawton son, Rhett, of rape the town turned against her and she had no option but to leave. Now, she's back but she's not at Lawton High finishing up her senior year. She's at home raising the two-year-old little girl that no one believed was Rhett Lawton's.
Rhett is off at college living the life he was afraid he'd lose with Riley's accusation and Riley agrees to move back to Lawton so her parents can be near her grandmother who is suffering from Alzheimer's. The town hasn't forgotten their hate for her and she hasn't forgotten the way they turned on her.
When Brady Higgens finds Riley and her daughter Bryony stranded on the side of the road in a rain storm he pulls over and gives them a ride. Not because he cares about Riley but because of the kid.
But after that simple car ride, he begins to question everything he thought he knew. Could he believe Riley and risk losing everything?
Available August 22
Buy After the Game at Amazon
Day of Ice by Andrew Lane
Months after their rescue by the government agency Segment W, Robinson Crusoe and his friend Friday have proven their skills as secret agents. They're now climbing the ranks of this exclusive group of spies who reports directly to the Crown. Suddenly, in the dead of winter, Friday is shocked to see her father, who once tried to kill her, walking the streets of London. She tries to elicit the help of Segment W, but they are preoccupied with the continued investigation into an organization that staged a kidnapping of the king s daughter. What will she do? As Friday's past comes back to haunt her, she, Crusoe, and Daniel Defoe must uncover the mystical Circle of XIII's sinister plans to recruit new members into the society using dangerous and magical means. How does her father fit into all of this? Will they be able to escape unscathed?
Available August 22
Buy Day of Ice at Amazon
Mind's Eye by Skyler Dean
Newly hired NYC blogger Cassandra Hale has finally achieved her dream-living and writing in the big city. Eager to prove her skills and secure her place, Cassie pushes hard to gain respect from the new age publishing group where she's recently snagged a position.
With her energies focused, Cassie's work flourishes…until her reality rapidly unravels.
As a sudden witness to murders in her sleep, Cassie becomes convinced that she's losing her mind.
All she wants is to discover a way of making these gruesome visions stop. But with no control over them, her subconscious mind begins to wreak havoc on her life.
At the edge of her sanity, Cassie decides to take matters into her own hands and tracks down the latest victim from her dreams, subsequently gaining the unwanted attention from NYPD detective Derek Ward.
Struggling to cope, not only with accepting her newfound abilities but with her perceived involvement in a crime, Cassie is forced to contend with interrogations from Ward, who's convinced she has something to hide.
As Cassie and Derek both fight to discover the truth, as well as a growing, unwanted attraction towards each other, they are ultimately thrown together as the stakes jump even higher - Cassie's premonitions turn to a man whose diabolical intentions are eerily close to her.
Available August 28
Buy Mind's Eye at Amazon
Basic Witches: How to Summon Success, Banish Drama, and Raise Hell with Your Coven by Jaya Saxena and Jess Zimmerman
Capitalizing on the rising trend of hipster witchcraft, BASIC WITCHES is a lighthearted and empowering book of spells and lifestyle tips for feisty millennial women.
In Basic Witches, readers will discover how to tap into their inner sorceress and channel the dark arts for everything from cluttered apartments to dating disasters. Want to enhance your attractiveness? Pick the right power color of eyeshadow and project otherworldly glamour. Need to exorcise a toxic friendship? Say the right symbolic curse and banish it from your life. Need to boost your self-confidence? Whip up a tasty herbal "potion" to strengthen your inner resolve. Plus historical and pop culture sidebars that situate the new witchcraft trend within a broader context. With humor, heart, and a hip modern sensibility, journalists Jaya Saxena and Jess Zimmerman dispense witchy wisdom for the curious, the cynical, and anyone who could use a magical boost to get through the day. This ain't your grandma's grimoire!
Available August 29
Buy Basic Witches at Amazon
What books are you looking forward to this month?
Get even more book news in your inbox, sign up today! Girl Who Reads is an Amazon advertising affiliate; a small commission is earned when purchases are made at Amazon using any Amazon links on this site. Thank you for supporting Girl Who Reads.