With school back in full swing and cooler weather arriving, are you finding more time for reading? There are so many great new books coming out this month. What are you looking forward to reading this month?
Amazon affiliate links are used on this site.

Lie to Me by J.T. Ellison
They built a life on lies
Sutton and Ethan Montclair's idyllic life is not as it appears. The couple seems made for each other, but the truth is ugly. Consumed by professional and personal betrayals and financial woes, the two both love and hate each other. As tensions mount, Sutton disappears, leaving behind a note saying not to look for her.
Ethan finds himself the target of vicious gossip as friends, family and the media speculate on what really happened to Sutton Montclair. As the police investigate, the lies the couple have been spinning for years quickly unravel. Is Ethan a killer? Is he being set up? Did Sutton hate him enough to kill the child she never wanted and then herself? The path to the answers is full of twists that will leave the reader breathless.
Available September 5
Buy Lie to Me at Amazon

Dakota's Delight by Dale Mayer
Welcome to
Dakota's Delight
, book 9 in Heroes for Hire, reconnecting readers with the unforgettable men from SEALs of Honor in a new series of action packed, page turning romantic suspense that fans have come to expect from USA TODAY Bestselling author Dale Mayer.
When a young woman darts into traffic and into Dakota's path, life takes a dark turn for both of them.
Bailey, recovering from the loss of her husband, retreated from life. Going to work and coming home was the extent of her days and weeks. Until she walks into work early one morning, witnesses a murder and flees into traffic, nearly getting killed.
The near death experience awakens the spark of life inside of her. So does the man in the car. A different kind of a spark.
For her safety, Dakota persuades her to move into the compound with him and the rest of the Legendary family while they track down the killers.
Bailey is forced to accept Dakota's help. But can she stay safe long enough for the police to track down the killer? Or is the man who almost ran her over going to steal her heart?
Available September 5
Buy Dakota's Delight at Amazon
The Fix by David Baldacci
Amos Decker witnesses a murder just outside FBI headquarters. A man shoots a woman execution-style on a crowded sidewalk, then turns the gun on himself.
Even with Decker's extraordinary powers of observation and deduction, the killing is baffling. Decker and his team can find absolutely no connection between the shooter--a family man with a successful consulting business--and his victim, a schoolteacher. Nor is there a hint of any possible motive for the attack.
Enter Harper Brown. An agent of the Defense Intelligence Agency, she orders Decker to back off the case. The murder is part of an open DIA investigation, one so classified that Decker and his team aren't cleared for it.
But they learn that the DIA believes solving the murder is now a matter of urgent national security. Critical information may have been leaked to a hostile government--or worse, an international terrorist group--and an attack may be imminent.
Decker's never been one to follow the rules, especially with the stakes so high. Forced into an uneasy alliance with Agent Brown, Decker remains laser focused on only one goal: solving the case before it's too late.
Available September 12
Buy The Fix at Amazon
Little Fires Everywhere by Celeste Ng
In Shaker Heights, a placid, progressive suburb of Cleveland, everything is planned - from the layout of the winding roads, to the colors of the houses, to the successful lives its residents will go on to lead. And no one embodies this spirit more than Elena Richardson, whose guiding principle is playing by the rules.
Enter Mia Warren - an enigmatic artist and single mother - who arrives in this idyllic bubble with her teenaged daughter Pearl, and rents a house from the Richardsons. Soon Mia and Pearl become more than tenants: all four Richardson children are drawn to the mother-daughter pair. But Mia carries with her a mysterious past and a disregard for the status quo that threatens to upend this carefully ordered community.
When old family friends of the Richardsons attempt to adopt a Chinese-American baby, a custody battle erupts that dramatically divides the town--and puts Mia and Elena on opposing sides. Suspicious of Mia and her motives, Elena is determined to uncover the secrets in Mia's past. But her obsession will come at unexpected and devastating costs.
Available September 12
Buy Little Fires Everywhere at Amazon
To Be Where You Are by Jan Karon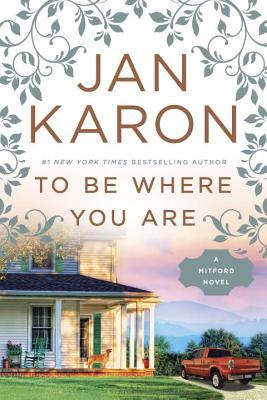 After twelve years of wrestling with the conflicts of retirement, Father Tim Kavanagh realizes he doesn't need a steady job to prove himself. Then he's given one--but what, exactly, does it prove? Meanwhile, newly married Dooley and Lace face a crisis that empties their bank account and turns their household upside down. Is the honeymoon over? Is this where real life begins?
As the Mitford Muse editor stumbles on a quick fix for marital woes and the town grocer falls in love for the first time, Father Tim and Cynthia receive an invitation to yet another family wedding.
But perhaps the bottom line is this: While a star blinks out in the Mitford firmament, another soon blinks on at Meadowgate, and four-year-old Jack Tyler looks forward to the biggest day of his life--for now and forever.
Available September 19
Buy To Be Where You Are at Amazon
Bound by the Millionaire's Ring by Dani Collins
The playboy's temporary fiancee Millionaire racing driver Ramon Sauveterre is no stranger to fame, but he'll do just about anything to keep the spotlight off his family. Including propose a decidedly short-term engagement to his gorgeous head of PR, Isidora Garcia! Isidora cannot forgive Ramon for dragging her into this farce--just as she'll never forgive him for the indiscretion that broke her heart. But while their relationship might be fake, the burning longing his kisses spark is all too real--and resisting Ramon's heated touch until the end of their arrangement proves utterly impossible...
Available September 19
Buy Bound by the Millionaire's Ring at Amazon
Runny Babbit Returns: Another Billy Sook by Shel Silverstein
Runny Babbit, the lovable star of Shel Silverstein's New York Times bestselling poetry book, is back. Runny Babbit Returns, a collection of 41 never-before-published poems and drawings, features Runny and other woodland characters who speak a topsy-turvy language all their own.
This carefully compiled work from the Silverstein archives is filled with spoonerism poems that are both playful and poignant. With tongue-twisting word play and uproarious characters, the endearingly befuddled Runny Babbit and his friends embody Shel Silverstein's singular style, the one we all know and love.
Fans of all ages won't want to miss their chance to follow their favorite Runny in this book of laugh-out-loud adventures!
Available September 19
Buy Runny Babbit Returns at Amazon
A Face to Die for by Andrea Kane
In A Face to Die For, New York Times bestselling author Andrea Kane explores the urban legend of the doppelganger, as the readers' favorite team of investigators (Forensic Instincts) find themselves in a conflict of interest between two clients. When one case unexpectedly intersects with the other, the only solution is to find the link between the two and unearth who is pulling the strings and why.
Available September 19
Buy A Face to Die for at Amazon
Sleep Like a Baby by Charlaine Harris
Charlaine Harris returns to her Aurora Teagarden mystery series with a fabulous new book featuring the small-town Southern librarian.
In the latest installment of the Aurora Teagarden series, Robin and Aurora have finally begun their adventure in parenting. With newborn Sophie proving to be quite a handful, Roe's mother pays for a partially trained nurse, Virginia Mitchell, to come help the new parents for a few weeks. Virginia proves to be especially helpful when Robin has to leave town for work and Roe is struck with a bad case of the flu.
One particularly stormy night, Roe wakes to hear her daughter crying and Virginia nowhere to be found. Roe's brother Philip helps her search the house and they happen upon a body outside… but it isn't Virginia's. Now, not only does she have a newborn to care for and a vulnerable new marriage to nurture, Roe also has to contend with a new puzzle -- who is this mystery woman dead in their backyard, and what happened to Virginia?
Available September 26
Buy Sleep Like a Baby at Amazon

I'll Be Home for Christmas
Three holiday favorites from New York Times bestselling authors!
Silver Bells by Debbie Macomber
A single dad's rambunctious teenage daughter hatches a plot to find her father a wife, and she has just the woman in mind. He may claim he's not interested in remarriage, but perhaps the magic of the holiday season will help him change his mind.
On a Snowy Christmas by Brenda Novak
When their private plane crashes in the Sierra Nevada Mountains shortly before Christmas, two political enemies discover that survival means more than just staying alive. In their case, it also means falling in love...
The Perfect Holiday by Sherryl Woods
What's a holiday without a handsome husband? To a matchmaking aunt, it isn't very festive at all! So she sends the perfect man to her single niece. But will he become the perfect groom-to-be by Christmastime?
Available September 26

Rhinestones on My Flip-Flops by Jane Jenkins Herlong
As a nationally recognized Southern humorist, wife, and mother, Jane provides scriptural take-home wisdom and common-sense timeless truths. The purpose of RHINESTONES ON MY FLIP FLOPS is two-fold: to remind readers about biblical women who faced change and to provide life lessons about handling change that will benefit every woman. This book is designed to hit the heart with teachable stories that will encourage, inspire, and create laughable, honest moments. The book's common-sense, biblical answers will help women confidently face another day with empowerment and to pass their wisdom to the next generation.
Available September 26
Buy Rhinestone on My Flip-Flops at Amazon
Get even more book news in your inbox, sign up today! Girl Who Reads is an Amazon advertising affiliate; a small commission is earned when purchases are made at Amazon using any Amazon links on this site. Thank you for supporting Girl Who Reads.