by MK French
The Nyette are gifts handed down within the bloodline that can manifest in different ways. Hanne's gift is that of a berserker: she is driven to protect those that she loves, even to the point of killing enemies. As a result of this trait, her mother left the family years ago, she and her siblings lost their father, her brother is blamed for a crime he didn't commit, and now have to leave Norway for America. They're followed by those interested in the Nyette, and are led through the wilderness by Owen, their guide through the Montana wilderness to find the uncle that had left Norway years ago.
Amazon affiliate links are used on this site. A free book was provided for an honest review.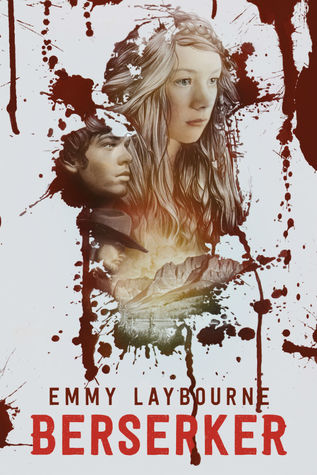 October 2017; Feiwel & Friends; 978-1250055200
ebook, print (352 pages); historical, fantasy, romance
Hanne's fears for the berserker trait and the desire to keep from killing led most of the family's actions and need to move throughout the novel. It's a reasonable fear, given all the family had lost, and one that her younger sister resents. Her brothers Steig and Knut don't fear their gifts, and are able to use them when needed.
Their story eventually links up with Owen, a hard working and likable young man hoping to make it as a cowboy rather than a ranch hand. The romance between Owen and Hanne is very slow going, and even by the end of the book there's no big spark or flare to passion that usually is seen in the paranormal romance genre. As a result, this is a book that is very much geared toward a young adult audience.
It's more historical paranormal fiction than romance, really. There is more attention given to the powers of the Nyette and the family interactions, as well as the two men following them with the intention of collecting them and returning them to Norway.
The descriptions of their travels in this time period and the concern involved were very vividly done, and I could easily picture cinematic sequences for them.
This is a great book, and I would love to read more adventures regarding the rest of the siblings.
Buy Berserker at Amazon
Born and raised in New York City, M.K. French started writing stories when very young, dreaming of different worlds and places to visit. She always had an interest in folklore, fairy tales, and the macabre, which has definitely influenced her work. She currently lives in the Midwest with her husband, three young children, and golden retriever.
Get even more book news in your inbox, sign up today! Girl Who Reads is an Amazon advertising affiliate; a small commission is earned when purchases are made at Amazon using any Amazon links on this site. Thank you for supporting Girl Who Reads.