by Donna Huber
Rainy Day Reading
Fall television has started and my reading time is being usurped by a few new shows. Poldark is back! I'm enjoying The Brave so far. I'm also trying out SEAL Team since I love David Boreanaz, but I think I like The Brave a bit more. Another new show I'm trying out is The Good Doctor. I like the concept, but it just isn't clicking with me. I don't really care for any of the characters. Even with all the television shows, I still finished up my books from last week and started a few new ones.
Amazon affiliate links are used on this site.
Finished
In print...
The Water Knife
by Paolo Bacigalupi
I've been attending a post-apocalyptic book club for the past 3 months and this is the first book I really loved. It is much more of a thriller than post-apocalyptic. I highly recommend reading it.
In the American Southwest, Nevada, Arizona, and California skirmish for dwindling shares of the Colorado River. Into the fray steps Angel Velasquez, leg-breaker, assassin, and spy. A Las Vegas water knife, Angel "cuts" water for his boss, Catherine Case, ensuring that her luxurious developments can bloom in the desert, so the rich can stay wet while the poor get dust. When rumors of a game-changing water source surface in drought-ravaged Phoenix, it seems California is making a play to monopolize the life-giving flow of the river, and Angel is sent to investigate. There, he encounters Lucy Monroe, a drought-hardened journalist, and Maria Villarosa, a young refugee who survives by her wits in a city that despises everything she represents. For Angel, Lucy, and Maria, time is running out and their only hope for survival rests in each other's hands. But when water is more valuable than gold, alliances shift like sand, and the only thing for certain is that someone will have to bleed if anyone hopes to drink.
Buy The Water Knife at Amazon
In audio...
Baltimore Blues
by Laura Lippman
This is one of the free Audible books for Prime members. Even though it is an older novel (there are references to VCRs and discmans!), I really enjoye the mystery and the characters. I will be looking for more from this author.
Until her paper, the BALTIMORE STAR, crashed and burned, Tess Monaghan was a damn good reporter who knew her hometown intimately--from historic Fort McHenry to the crumbling projects of Cherry Hill. Now gainfully unemployed at twenty-nine, she's willing to take any freelance job to pay the rent--including a bit of unorthodox snooping for her rowing buddy, Darryl "Rock" Paxton.
In a city where someone is murdered almost everyday, attorney Michael Abramowitz's death should be just another statistic. But the slain lawyer's notoriety--and his noontime trysts with Rock's fiancee--make the case front page news...and points to Rock as the likely murderer. But trying to prove her friend's innocence could prove costly to Tess--and add her name to that infamous ever-growing list.
Buy Baltimore Blues at Amazon
In ebook...
Christmas at the Falling-Down Guesthouse
by Lilly Bartlett
This is a great Christmas novella. My review will post during the tour at the end of the month, but go ahead and put this one on your holiday reading list.
Put your feet up and tuck into the mince pies, because you won't have to lift a finger to enjoy this Christmas!
Too bad the same can't be said for single mother and extremely undomestic goddess, Lottie.
When her beloved Aunt Kate ends up in hospital just before Christmas, Lottie and her seven-year-old daughter rush to rural Wales to take over her B&B. A picky hotel reviewer and his mad family are coming to stay, and without the rating only he can give them, Aunt Kate will lose her livelihood.
But Lottie can barely run her own life, let alone a hotel. How will she manage to turn the falling-down guesthouse into the luxurious wonderland the reviewer expects? And could the mysterious taxi driver, Danny, who agrees to help her, turn out to be the real gift this season?
As the snow sparkles on the trees and hot chocolate steams in your hand, snuggle into the delicious magic of Christmas at the Falling-Down Guesthouse.
Currently Reading
In audio...
Hollow City
by Ransom Riggs
My hold came in and I'm about a third of the way through it. I'm enjoying it.
This sequel to the first novel, Miss Peregrine's Home for Peculiar Children, begins in 1940, immediately after the first book ended.
Having escaped Miss Peregrine's island by the skin of their teeth, Jacob and his new friends must journey to London, the peculiar capital of the world. Along the way, they encounter new allies, a menagerie of peculiar animals, and other unexpected surprises.
Complete with dozens of newly discovered vintage photographs.
Buy Hollow City at Amazon
In print...
A Discovery of Witches
by Deborah Harkness
I know I was suppose to start Picnic at Hanging Rock next, but I was a bit under the weather this weekend and wanted to read something familiar. I read almost all of it yesterday and it was so fun to be back with these characters. There is a television show in the developments and I'm really looking forward to it.
Deep in the stacks of Oxford's Bodleian Library, young scholar Diana Bishop unwittingly calls up a bewitched alchemical manuscript in the course of her research. Descended from an old and distinguished line of witches, Diana wants nothing to do with sorcery, so after a furtive glance and a few notes, she banishes the book to the stacks, but her discovery sets a fantastical underworld stirring, and a horde of daemons, witches, and vampires soon descends upon the library. Diana has stumbled upon a coveted treasure lost for centuries--and she's the only creature who can break its spell.
Buy A Discovery of Witches at Amazon
Up Next
In print...
Picnic at Hanging Rock
by Joan Lindsay
I just received this book last Thursday from the publisher for review. It comes out tomorrow.
A 50th-anniversary edition of the landmark novel about three "gone girls" that inspired the acclaimed 1975 film and an upcoming TV series starring Natalie Dormer
With a foreword by Maile Meloy, author of Do Not Become Alarmed
It was a cloudless summer day in the year 1900. Everyone at Appleyard College for Young Ladies agreed it was just right for a picnic at Hanging Rock. After lunch, a group of three girls climbed into the blaze of the afternoon sun, pressing on through the scrub into the shadows of the secluded volcanic outcropping. Farther, higher, until at last they disappeared. They never returned. . . .
Mysterious and subtly erotic, Picnic at Hanging Rock inspired the iconic 1975 film of the same name by Peter Weir. A beguiling landmark of Australian literature, it stands with Shirley Jackson's We Have Always Lived in the Castle, Daphne du Maurier's Rebecca, and Jeffrey Eugenides' The Virgin Suicides as a masterpiece of intrigue.
Buy Picnic at Hanging Rock at Amazon
In audio...
The Glass Castle
by Jeannette Walls
I've had this on hold for a while and of course it became available just a couple of days after I got Hollow City. I hope I can get through it before it has to be returned to the library.
The perennially bestselling, "nothing short of spectacular" (Entertainment Weekly) memoir from one of the world's most gifted storytellers—soon to be a major motion picture starring Oscar winner Brie Larson, Woody Harrelson, and Naomi Watts.
The Glass Castle is a remarkable memoir of resilience and redemption, and a revelatory look into a family at once deeply dysfunctional and uniquely vibrant. When sober, Jeannette's brilliant and charismatic father captured his children's imagination, teaching them physics, geology, and how to embrace life fearlessly. But when he drank, he was dishonest and destructive. Her mother was a free spirit who abhorred the idea of domesticity and didn't want the responsibility of raising a family.
The Walls children learned to take care of themselves. They fed, clothed, and protected one another and eventually found their way to New York. Their parents followed them, choosing to be homeless even as their children prospered.
Buy The Glass Castle at Amazon
Mr Dickens and His Carol
by Samantha Silva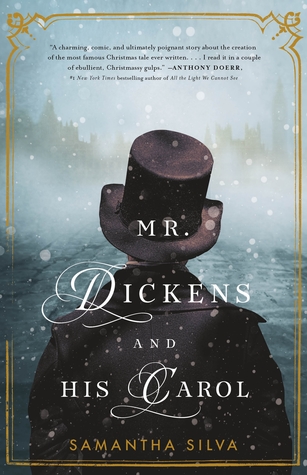 I requested this from Netgalley because I really reading Charles Dickens and thought this might be an interesting read. Plus the cover is lovely. It comes out on October 31.
Shakespeare in Love meets A Christmas Carol in this transporting debut novel set during the whirlwind period in which Dickens wrote his beloved classic, as he embarks on a Scrooge-like journey of his own.
For Charles Dickens, each Christmas has been better than the last. His novels are literary blockbusters, and he is famous on the streets of London, where avid fans sneak up on him to snip off pieces of his hair. He and his wife have five happy children, a sixth on the way, and a home filled with every comfort they could imagine. But when Dickens' newest book is a flop, the glorious life he has built for himself threatens to collapse around him. His publishers offer an ultimatum: either he writes a Christmas book in a month, or they will call in his debts, and he could lose everything. Grudgingly, he accepts, but with relatives hounding him for loans, his wife and children planning an excessively lavish holiday party, and jealous critics going in for the kill, he is hardly feeling the Christmas spirit.
Increasingly frazzled and filled with self-doubt, Dickens seeks solace and inspiration in London itself, his great palace of thinking. And on one of his long walks, in a once-beloved square, he meets a young woman in a purple cloak, who might be just the muse he needs. Eleanor Lovejoy and her young son, Timothy, propel Dickens on a Scrooge-like journey through his Christmases past and present—but with time running out, will he find the perfect new story to save him?
In prose laced with humor, sumptuous Victorian detail, and charming winks to A Christmas Carol, Samantha Silva breathes new life into an adored classic. Perfect for fans of Dickens, for readers of immersive historical fiction, and for anyone looking for a dose of Christmas cheer, Mr. Dickens and His Carol is destined to become a perennial holiday favorite.
Buy Mr Dickens and His Carol at Amazon
Donna Huber is an avid reader and natural encourager. She is the founder of Girl Who Reads and the author of how-to marketing book Secrets to a Successful Blog Tour.
Get even more book news in your inbox, sign up today! Girl Who Reads is an Amazon advertising affiliate; a small commission is earned when purchases are made at Amazon using any Amazon links on this site. Thank you for supporting Girl Who Reads.