by Alison DeLuca
Stranger Things 2

I reviewed Stranger Things
when the series first appeared on Netflix and took over the summer. It was an homage to Stephen King, E.T, Star Wars - all things 'Eighties.
The miniseries took over my life for the next few days as I marathoned it with my daughter. We grew thought of the characters as old friends. Both of us loved Eleven, the girl who appeared from nowhere when a government facility had a massive accident.
Both of us also loved Dustin, the boy with a lisp due to his cleidocranial displasia. We loved Mike, we adored Nancy, and we shouted at the TV during what happened to Barb.
Eleven sees the Upside Down.
I was sucked in by the science fiction (Eleven's psychokenesis, the Demogorgon, a parallel universe known as the 'Upside Down'.) My daughter and her friends couldn't get enough of the relationships: Mike and Eleven! Nancy and Steve! Hopper and Joyce!
And, when the first season was done, we realized we had to wait an entire year for the next one.
Stranger Things 2 arrived in October, complete with all the excitement and incredible characters we became addicted to the first time around. Nine more brand-new episodes were in the queue, and of course we sat down to watch.
(Mom's Note: It was really hard to wait for my kid to get home the first day so we could see them together. I hope you appreciate my excellent parenting skills.)
The second season has just as much retro excitement and eerie fun as the first. There's no question of the timestamp, between the 80's fashions, boys with mullets, and Reagan / Bush signs on the front lawns.
Mullets!
A year has passed in the show's timeline as well as in real life. The characters return, and there are plenty more adventures and mysteries.
And, yes, there's another concept like the Christmas lights, also set in Joyce's long-suffering house.
I have to say the second season isn't quite as successful as the first. It makes sense: origin stories are always gripping, and a few of the new plot arcs just didn't work as well for me. For example (SPOILER ALERT) the story of what happens to Eleven and another girl called 008 was, in my daughter's opinion, too over the top - and I agree.
Perhaps it was because that section left the hometown of Hawkins and went on a voyage. Another storyline around Nancy and Johnathon, also out of the Hawkins' boundary lines, wasn't as interesting as it should have been. In fact, I found their journey was incomprehensible.
However, the series is still amazing. MadMax, a new character, is an incredible addition. A kickass redhead with her own problems, my kid and I liked her from the start.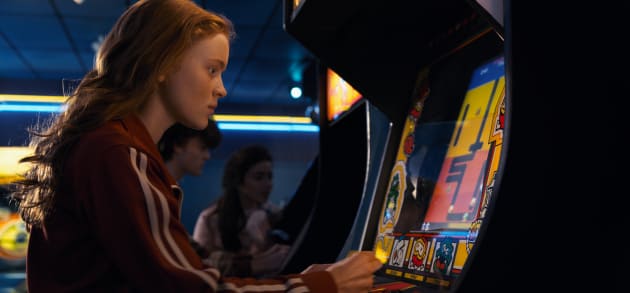 Mad Max
But what really stood out, in my opinion, was Steve Harrington, version 2.0. In the first season he was stuck-up, violent, and thoughtless. Let's just say in Stranger Things 2 he becomes the Best Babysitter Ever, and the way he wields a nailed baseball bat is quite something.
Also, his hair is practically a character in its own right. Tune in just to see how he talks about the 'Farrah Fawcett spray', if nothing else.
If you liked the first season, definitely see the second. And if you haven't seen either, run to watch them both, especially if you like the 1980's, Star Wars, and urban sci-fi / horror with character-driven twists.
Alison DeLuca is the author of several steampunk and urban fantasy books.

She was born in Arizona and has also lived in Pennsylvania, Illinois, Mexico, Ireland, and Spain.
Currently she wrestles words and laundry in New Jersey.
Get even more book news in your inbox, sign up today! Girl Who Reads is an Amazon advertising affiliate; a small commission is earned when purchases are made at Amazon using any Amazon links on this site. Thank you for supporting Girl Who Reads.