by Susan Roberts
Christmas is right around the corner and it's time to make your list (and check it twice). Lots of avid readers would prefer to unwrap a book on Christmas morning more than anything else (ok, maybe diamond earrings would be better but we have to be realistic here.) I have listed some of my favorite books of 2017 below.
Amazon affiliate links are used on this site.
For the reader who enjoys books about food
The Welcome Home Diner by Peggy Lampman
(
read my review
)
Betting on the city of Detroit's eventual comeback, cousins Addie and Samantha decide to risk it all on an affordable new house and a culinary career that starts with renovating a vintage diner in a depressed area of town. There's just one little snag in their vision.
Angus, a weary, beloved local, is strongly opposed to his neighborhood's gentrification—and his concerns reflect the suspicion of the community. Shocked by their reception, Addie and Samantha begin to have second thoughts.
As the long hours, problematic love interests, and underhanded pressures mount, the two women find themselves increasingly at odds, and soon their problems threaten everything they've worked for. If they are going to realize their dreams, Addie and Samantha must focus on rebuilding their relationship. But will the neighborhood open their hearts to welcome them home?
Buy The Welcome Home Diner at Amazon
Christmas at Little Beach Street Bakery by Jenny Colgan
(
read my review
)
It's Christmas in the Cornish coastal village of Mount Polbearne - a time for family, friends and feasting.
Polly Waterford loves running the Little Beach Street Bakery. She's at her happiest when she's creating delicious treats and the festive season always inspires her to bake and knead something extra special for the village residents. In fact, the only thing she loves more than her bakery is curling up with her gorgeous boyfriend, Huckle. She's determined that this Christmas is going to be their best one yet, but life doesn't always work out as planned...
When Polly's best friend Kerensa turns up with a secret that threatens the life Polly and Huckle have built together, the future begins to look uncertain. And then a face from Polly's past reappears and things become even more complicated. Polly can usually find solace in baking but she has a feeling that's not going to be enough this time. Can she get things back on track so that everyone has a merry Christmas?
Buy Christmas at Little Beach Street Bakery at Amazon
For the reader who enjoys books about music
Jimmy Buffett: A Good Life All the Way by Ryan White
A candid, compelling, and rollicking portrait of the pirate captain of Margaritaville—Jimmy Buffett.
In Jimmy Buffett: A Good Life All the Way, acclaimed music critic Ryan White has crafted the first definitive account of Buffett's rise from singing songs for beer to his emergence as a tropical icon and CEO behind the Margaritaville industrial complex, a vast network of merchandise, chain restaurants, resorts, and lifestyle products all inspired by his sunny but disillusioned hit "Margaritaville."
Filled with interviews from friends, musicians, Coral Reefer Band members past and present, and business partners who were there, this book is a top-down joyride with plenty of side trips and meanderings from Mobile and Pascagoula to New Orleans, Key West, down into the islands aboard the Euphoria and the Euphoria II, and into the studios and onto the stages where the foundation of Buffett's reputation was laid.
Buffett wasn't always the pied piper of beaches, bars, and laid-back living. Born on the Gulf Coast, the son of a son of a sailing ship captain, Buffett scuffed around New Orleans in the late sixties, flunked out of Nashville (and a marriage) in 1971, and found refuge among the artists, dopers, shrimpers, and genuine characters who'd collected at the end of the road in Key West. And it was there, in those waning outlaw days at the last American exit, where Buffett, like Hemingway before him, found his voice and eventually brought to life the song that would launch Parrot Head nation.
And just where is Margaritaville? It's wherever it's five o'clock; it's wherever there's a breeze and salt in the air; and it's wherever Buffett sets his bare feet, smiles, and sings his songs.
Buy A Good Life All the Way at Amazon
The Summer Springsteen's Songs Saved Me by Barbara Quinn
(
read my review
)
Coming home to catch her husband with his face between the long, silky legs of another woman is the last thing Sofia expects—and on today of all days. But, after scratching an expletive into his Porsche and setting the cheating bastard's clothes on fire, she cranks up her beloved Bruce and flees, vowing to never look back.
Finding solace in the peaceful beachside town of Bradley Beach, NJ, Sof is determined to start over. And, with the help of best friends, new acquaintances, a sexy neighbor, and the powerful songs of Springsteen, this may be the place where her wounds can heal. But, as if she hasn't faced her share of life's challenges, a final flurry of obstacles awaits.
In order to head courageously toward the future, Sofia must first let go of her past, find freedom, and mend her broken soul.
Buy The Summer Springsteen's Songs Saved Me at Amazon
For the reader who enjoys fiction books about WWII
The Baker's Secret by Stephen P. Kiernan
(
read my review
)
From the critically acclaimed author of
The Hummingbird
and The Curiosity comes a dazzling novel of World War II—a shimmering tale of courage, determination, optimism, and the resilience of the human spirit, set in a small Normandy village on the eve of D-Day
On June 5, 1944, as dawn rises over a small town on the Normandy coast of France, Emmanuelle is making the bread that has sustained her fellow villagers in the dark days since the Germans invaded her country.
Only twenty-two, Emma learned to bake at the side of a master, Ezra Kuchen, the village baker since before she was born. Apprenticed to Ezra at thirteen, Emma watched with shame and anger as her kind mentor was forced to wear the six-pointed yellow star on his clothing. She was likewise powerless to help when they pulled Ezra from his shop at gunpoint, the first of many villagers stolen away and never seen again.
But in the years that her sleepy coastal village has suffered under the enemy, Emma has silently, stealthily fought back. Each day, she receives an extra ration of flour to bake a dozen baguettes for the occupying troops. And each day, she mixes that precious flour with ground straw to create enough dough for two extra loaves—contraband bread she shares with the hungry villagers. Under the cold, watchful eyes of armed soldiers, she builds a clandestine network of barter and trade that she and the villagers use to thwart their occupiers.
But her gift to the village is more than these few crusty loaves. Emma gives the people a taste of hope—the faith that one day the Allies will arrive to save them.
Buy The Baker's Secret at Amazon
The Boat Runner by Devin Murphy
(
read my review
)
A DUTCH SEAFARER, TURNED SMUGGLER.
In the tradition of
All The Light We Cannot See
and
The Nightingale
comes an incandescent debut novel about a young Dutch man who comes of age during the perilousness of World War II.
Beginning in the summer of 1939, fourteen-year-old Jacob Koopman and his older brother, Edwin, enjoy lives of prosperity and quiet contentment. Many of the residents in their small Dutch town have some connection to the Koopman lightbulb factory, and the locals hold the family in high esteem.
On days when they aren't playing with friends, Jacob and Edwin help their Uncle Martin on his fishing boat in the North Sea, where German ships have become a common sight. But conflict still seems unthinkable, even as the boys' father naively sends his sons to a Hitler Youth Camp in an effort to secure German business for the factory.
When war breaks out, Jacob's world is thrown into chaos. The Boat Runner follows Jacob over the course of four years, through the forests of France, the stormy beaches of England, and deep within the secret missions of the German Navy, where he is confronted with the moral dilemma that will change his life—and his life's mission—forever.
Epic in scope and featuring a thrilling narrative with precise, elegant language, The Boat Runner tells the little-known story of the young Dutch boys who were thrown into the Nazi campaign, as well as the brave boatmen who risked everything to give Jewish refugees safe passage to land abroad. Through one boy's harrowing tale of personal redemption, here is a novel about the power of people's stories and voices to shine light through our darkest days, until only love prevails.
Buy The Boat Runner at Amazon
The Chilbury Ladies' Choir by Jennifer Ryan
(
read my review
)
"Just because the men have gone to war, why do we have to close the choir? And precisely when we need it most!"
As England enters World War II's dark early days, spirited music professor Primrose Trent, recently arrived to the village of Chilbury, emboldens the women of the town to defy the Vicar's stuffy edict to shutter the church's choir in the absence of men and instead 'carry on singing'. Resurrecting themselves as "The Chilbury Ladies' Choir", the women of this small village soon use their joint song to lift up themselves, and the community, as the war tears through their lives.
Told through letters and journals, The Chilbury Ladies' Choir moves seamlessly from budding romances to village intrigues to heartbreaking matters of life and death. As we come to know the struggles of the charismatic members of this unforgettable outfit -- a timid widow worried over her son at the front; the town beauty drawn to a rakish artist; her younger sister nursing an impossible crush and dabbling in politics she doesn't understand; a young Jewish refugee hiding secrets about her family, and a conniving midwife plotting to outrun her seedy past -- we come to see how the strength each finds in the choir's collective voice reverberates in her individual life.
In turns funny, charming and heart-wrenching, this lovingly executed ensemble novel will charm and inspire, illuminating the true spirit of the women on the home front, in a village of indomitable spirit, at the dawn of a most terrible conflict.
Buy The Chilbury Ladies Choir at Amazon
For the reader who enjoys southern fiction
Slightly South of Simple by Kristy Woodson Harvey
(
read my review
)
Caroline Murphy swore she'd never set foot back in the small Southern town of Peachtree Bluff; she was a New York girl born and bred and the worst day of her life was when, in the wake of her father's death, her mother selfishly forced her to move—during her senior year of high school, no less—back to that hick-infested rat trap where she'd spent her childhood summers. But now that her marriage to a New York high society heir has fallen apart in a very public, very embarrassing fashion, a pregnant Caroline decides to escape the gossipmongers with her nine-year-old daughter and head home to her mother, Ansley.
Ansley has always put her three daughters first, especially when she found out that her late husband, despite what he had always promised, left her with next to nothing. Now the proud owner of a charming waterfront design business and finally standing on her own two feet, Ansley welcomes Caroline and her brood back with open arms. But when her second daughter Sloane, whose military husband is overseas, and youngest daughter and successful actress Emerson join the fray, Ansley begins to feel like the piece of herself she had finally found might be slipping from her grasp. Even more discomfiting, when someone from her past reappears in Ansley's life, the secret she's harbored from her daughters their entire lives might finally be forced into the open.
Exploring the powerful bonds between sisters and mothers and daughters, this engaging novel is filled with Southern charm, emotional drama, and plenty of heart.
Buy Slightly South of Simple at Amazon
The Bookshop at Water's End by Patti Callahan Henry
(
read my review
)
The women who spent their childhood summers in a small southern town discover it harbors secrets as lush as the marshes that surround it...
Bonny Blankenship's most treasured memories are of idyllic summers spent in Watersend, South Carolina, with her best friend, Lainey McKay. Amid the sand dunes and oak trees draped with Spanish moss, they swam and wished for happy-ever-afters, then escaped to the local bookshop to read and whisper in the glorious cool silence. Until the night that changed everything, the night that Lainey's mother disappeared.
Now, in her early fifties, Bonny is desperate to clear her head after a tragic mistake threatens her career as an emergency room doctor, and her marriage crumbles around her. With her troubled teenage daughter, Piper, in tow, she goes back to the beloved river house, where she is soon joined by Lainey and her two young children. During lazy summer days and magical nights, they reunite with bookshop owner Mimi, who is tangled with the past and its mysteries. As the three women cling to a fragile peace, buried secrets and long ago loves return like the tide.
Buy The Bookshop at Water's End at Amazon
Three of My Favorite Books of 2017
The Stolen Marriage by Diane Chamberlain
(
read my review
)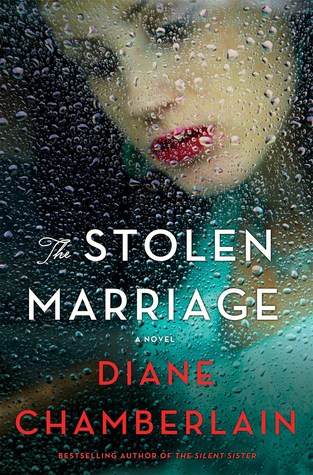 In 1944, twenty-three-year-old Tess DeMello abruptly ends her engagement to the love of her life when she marries a mysterious stranger and moves to Hickory, North Carolina, a small town struggling with racial tension and the hardships imposed by World War II. Tess's new husband, Henry Kraft, is a secretive man who often stays out all night, hides money from his new wife, and shows no interest in making love. Tess quickly realizes she's trapped in a strange and loveless marriage with no way out.
The people of Hickory love and respect Henry and see Tess as an outsider, treating her with suspicion and disdain, especially after one of the town's prominent citizens dies in a terrible accident and Tess is blamed. Tess suspects people are talking about her, plotting behind her back, and following her as she walks around town. What does everyone know about Henry that she does not? Feeling alone and adrift, Tess turns to the one person who seems to understand her, a local medium who gives her hope but seems to know more than he's letting on.
When a sudden polio epidemic strikes the town, the townspeople band together to build a polio hospital. Tess, who has a nursing degree, bucks Henry's wishes and begins to work at the hospital, finding meaning in nursing the young victims. Yet at home, Henry's actions grow more alarming by the day. As Tess works to save the lives of her patients, can she untangle her husband's mysterious behavior and save her own life?
Buy The Stolen Marriage at Amazon
The Last Ballad by Wiley Cash
(
read my review
)
The author of the celebrated bestseller A Land More Kind Than Home returns with this eagerly awaited new novel, set in the Appalachian foothills of North Carolina in 1929 and inspired by actual events, that chronicles an ordinary woman's struggle for dignity and her rights in a textile mill, a moving tale of courage in the face of oppression and injustice, with the emotional power of Ron Rash's Serena, Dennis Lehane's The Given Day, and the unforgettable films Norma Rae and Silkwood
Twelve times a week, twenty-eight-year old Ella May Wiggins makes the two-mile trek to and from her job on the night shift at American Mill No. 2 in Bessemer City, North Carolina. The insular community considers the mill's owners—the newly arrived Goldberg brothers—white but not American and expects them to pay Ella May and others workers less because they toil alongside African Americans like Violet, Ella May's best friend. While the dirty, hazardous job at the mill earns Ella May a paltry nine dollars for seventy-two hours of work each week, it's the only opportunity she has. Her no-good husband John has run off again, and she must keep her four young children alive with whatever she can find.
When the union leaflets first come through the mill, Ella May has a taste of hope, a yearning for the better life the organizers promise. But the mill owners, backed by other nefarious forces, claim the union is nothing but a front for the Bolshevik menace sweeping across Europe. To maintain their control, the owners will use every means in their power, including lies, threats, and bloodshed, to prevent workers from banding together. On the night of the county's biggest rally, Ella May, weighing the costs of her choice, makes up her mind to join the movement—a decision that will have lasting consequences for her children, her friends, her town—indeed all that she loves.
Seventy-five years later, Ella May's daughter Lilly, now an elderly woman, tells her nephew about his grandmother and the events that transformed their family. Illuminating the most painful corners of their history, she reveals, for the first time, the whole story of what happened to Ella May after that fateful union meeting in 1929.
Intertwining myriad voices, Wiley Cash brings to life the heartbreak and bravery of the now forgotten struggle of the labor movement in early Twentieth Century America—and pays tribute to the thousands of heroic women and men who risked their lives to win basic rights for all workers. Lyrical, heartbreaking, and haunting, this eloquent new novel confirms Wiley Cash's place among our nation's finest writers.
Buy The Last Ballad at Amazon
A Catalog of Birds by Laura Harrington
(
read my review
)
Laura Harrington's new novel is a portrait of a family in the midst of recovery, the mysterious disappearance of a young woman, and of a brother and sister whose love of the natural world just might save their lives.
Set in 1970, a watershed moment in American History, A Catalog of Birds tells the story of the Flynn family and the devastating impact of the Vietnam War. At the heart of the novel is the relationship between siblings Nell and Billy Flynn. Nell excels academically and is headed to college and a career in science. Billy, a passionate artist, enlists as a pilot to fulfill his lifelong dream of flying. He is the only survivor when his helicopter is shot down. When he returns home his wounds limit his ability to sketch or even hold a pencil. As Billy struggles to regain the life he once had, Nell and their family will have to do all that's possible to save him.
Lyrical and affecting, Laura Harrington has written an artful family drama about innocence lost and wounds that may never be healed. This is a tale of forgiveness: of ourselves, of those we love best. Illuminated by grief and desire, the novel is full of spirit, wonder and the possibilities of the future.
Buy A Catalog of Birds at Amazon
HAPPY SHOPPING!!!!
P.S. If you need more recommendations, check out Donna's
15 Books for the Reader in Your Life
.
Susan Roberts lives in North Carolina when she isn't traveling. She and her husband enjoy traveling, gardening and spending time with their family and friends. She reads almost anything (and the piles of books in her house prove that) but her favorite genres are Southern fiction, women's fiction, and thrillers. Susan is a top 1% Goodreads Reviewer. You can connect with her on Facebook, Goodreads or Twitter.
Get even more book news in your inbox, sign up today! Girl Who Reads is an Amazon advertising affiliate; a small commission is earned when purchases are made at Amazon using any Amazon links on this site. Thank you for supporting Girl Who Reads.