by Donna Huber
It has been another great month for reading. I set a reading goal this year of 80 books, and currently, I have read 95. If my reading trend continues through December, I will surpass 100 books! I'm also pretty excited that I can start reading the Christmas books I found during my bookshelf cleaning.
Amazon affiliate links are used on this site.
Books Read:
Mr. Dickens and His Carol
by Samantha Silva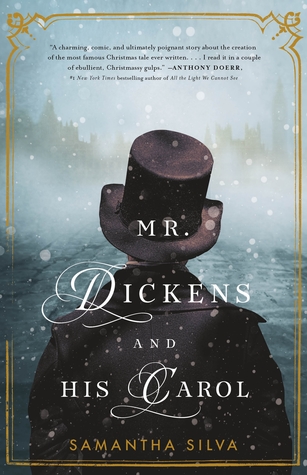 If you are a fan of Charles Dickens or A Christmas Carol, then this is a must-read book this Christmas season. Read my full review.
For Charles Dickens, each Christmas has been better than the last. His novels are literary blockbusters, and he is famous on the streets of London, where avid fans sneak up on him to snip off pieces of his hair. He and his wife have five happy children, a sixth on the way, and a home filled with every comfort they could imagine. But when Dickens' newest book is a flop, the glorious life he has built for himself threatens to collapse around him. His publishers offer an ultimatum: either he writes a Christmas book in a month, or they will call in his debts, and he could lose everything. Grudgingly, he accepts, but with relatives hounding him for loans, his wife and children planning an excessively lavish holiday party, and jealous critics going in for the kill, he is hardly feeling the Christmas spirit.
Increasingly frazzled and filled with self-doubt, Dickens seeks solace and inspiration in London itself, his great palace of thinking. And on one of his long walks, in a once-beloved square, he meets a young woman in a purple cloak, who might be just the muse he needs. Eleanor Lovejoy and her young son, Timothy, propel Dickens on a Scrooge-like journey through his Christmases past and present—but with time running out, will he find the perfect new story to save him?
In prose laced with humor, sumptuous Victorian detail, and charming winks to A Christmas Carol, Samantha Silva breathes new life into an adored classic. Perfect for fans of Dickens, for readers of immersive historical fiction, and for anyone looking for a dose of Christmas cheer, Mr. Dickens and His Carol is destined to become a perennial holiday favorite.
Buy Mr. Dickens and His Carol at Amazon
The Hound of the Baskervilles
by Arthur Conan Doyle
I've never read a Sherlock Holmes novel so when I found this one as a Prime selection at Audible, I decided to give it a try. I enjoyed it.
The country doctor had come to 221B Baker Street, the famous lodgings of Sherlock Holmes, with an eerie tale---the legend of the Hound of the Baskervilles, the devil-beast that haunted the lonely moors around the Baskervilles' ancestral home. The tale warned the descendants of that ancient family never to venture out on the moor "in those dark hours when the powers of evil are exalted." But one of the most recent Baskervilles, Sir Charles, was now dead, and the footprints of a giant hound had been found near his body. Would the new heir of the Baskervilles meet the same dreadful fate? Sherlock Holmes and his faithful friend Dr. Watson are faced with their most terrifying case in this wonderful classic of masterful detection and bone-chilling suspense. This audiobook includes the bonus Sherlock Holmes story "The Adventure of the Dancing Men."
Buy The Hound of the Baskervilles at Amazon
The Ghost of Christmas Past
by Rhys Bowen
I'm enjoying Rhys Bowen's Her Royal Spyness series so when I saw on NetGalley that she had a Christmas book coming out I had to request it. It is part of her Molly Murphy series, which I have not read any of. Read my full review.
Semi-retired private detective Molly Murphy Sullivan is suffering from depression after a miscarriage following her adventure in San Francisco during the earthquake of 1906. She and her husband, Daniel, are invited for Christmas at a mansion on the Hudson, and they gratefully accept, expecting a peaceful and relaxing holiday season. Not long after they arrive, however, they start to feel the tension in the house's atmosphere. Then they learn that the host couple's young daughter wandered out into the snow ten years ago and was never seen again. Molly can identify with the mother's pain at never knowing what happened to her child and wants to help, but there is so little to go on. No ransom note. No body ever found. But Molly slowly begins to suspect that the occupants of the house know more than they are letting on. Then, on Christmas Eve, there is a knock at the door and a young girl stands there. "I'm Charlotte," she says. "I've come home."
Buy
The Ghost of Christmas Past
at Amazon
Death at the Paris Exposition
by Frances McNamara
I won this from a blog during Armchair BEA. I've not read any other books in McNamara's Emily Cabot, but I really enjoyed this one. Read my full review.
Amateur sleuth Emily Cabot's journey once again takes her to a world's fair--the Paris Exposition of 1900. Chicago socialite Bertha Palmer is named the only female U. S. commissioner to the Exposition and enlists Emily's services as her secretary. Their visit to the House of Worth for the fitting of a couture gown is interrupted by the theft of Mrs. Palmer's famous pearl necklace. Before that crime can be solved, several young women meet untimely deaths and a member of the Palmer's inner circle is accused of the crimes. As Emily races to clear the family name she encounters jealous society ladies, American heiresses seeking titled European husbands, and more luscious gowns and priceless jewels. Along the way, she takes refuge from the tumult at the country estate of Impressionist painter Mary Cassatt. In between her work and sleuthing, she is able to share the Art Nouveau delights of the Exposition, and the enduring pleasures of the City of Light with her family.
Buy Death at the Paris Exposition at Amazon
Class of '59
by John A Heldt
If you want an easy, enjoyable read, then you really can't go wrong with one of John A. Heldt's books. I've read several and have enjoyed them all. It's also nice that his books can be read in any order. I'm also convinced that if I want to find love then I need to find a time-traveling tunnel. This is one of the review ebooks that has been "hiding" on my Nook for a while.
When Mary Beth McIntire settles into a vacation house on June 2, 2017, she anticipates a quiet morning with coffee. Then she hears a noise, peers out a window, and spots a man in 1950s attire standing in the backyard. She panics when the trespasser sees her and enters the house though a door to the basement. She questions her sanity when she cannot find him.
In the same house on March 21, 1959, Mark Ryan finds a letter. Written by the mansion's original owner in 1900, the letter describes a basement chamber, mysterious crystals, and a formula for time travel. Driven by curiosity, Mark tests the formula twice. On his second trip to 2017, he encounters a beautiful stranger. He meets the woman in the window.
Within hours, Mary Beth and Mark share their secret with her sister and his brother and begin a journey that takes them from the present day to the age of sock hops, drive-ins, and jukeboxes. In CLASS OF '59, the fourth book in the American Journey series, four young adults find love, danger, and adventure as they navigate the corridors of time and experience Southern California in its storied prime.
Buy The Class of '59 at Amazon
Oryx and Crake
by Margaret Atwood
This is the December selection for my book club. I listened to it as an audiobook so I'm hoping I still remember enough details to contribute to the discussion. It reminded me a bit of The Giver by Lois Lowry. It is a part of a trilogy and I've just got book 2 from the digital library.
As the story opens, the narrator, who calls himself Snowman, is sleeping in a tree, wearing a dirty old bedsheet, mourning the loss of his beautiful and beloved Oryx and his best friend Crake, and slowly starving to death. In a world in which science-based corporations have recently taken mankind on an uncontrolled genetic-engineering ride, he now searches for supplies in a wasteland. Insects proliferate and pigoons and wolvogs ravage the Pleeblands, where ordinary people once lived, and the Compounds that sheltered the extraordinary. As he tries to piece together what has taken place, the narrative shifts to decades earlier. How did everything fall apart so quickly? Why is Snowman left with nothing but his bizarre memories - alone except for the more-than-perfect, green-eyed Children of Crake, who think of him as a kind of monster? He explores the answers to these questions in the double journey he takes - into his own past and back to Crake's high-tech bubble dome, where the Paradice Project unfolded and the world came to grief.
Buy Orxy and Crake at Amazon
An Angel's Alternative
by Rick Brindle
I've been cleaning out my email and finding ebooks that authors sent with their request. So I've added them to my never-ending to read list. The book was okay. It was definitely written with a UK audience in mind
.
Riverside General Hospital, a place of harsh realities.
On Ingram Ward, Staff Nurse John Hunter is a man on the edge. Unable to move on from the recent traumas in his life, pushed to the limit, and liking his job less and less, he makes a drugs error, and questions why he even wants to be a nurse. The incident puts him on a collision course with the hospital's new matron.
John's best friend, Australian coronary care nurse, Dave Chiltern, discovers that helping a friend run his pub while he's unwell can be more rewarding than his current job.
Roxanne Jones, John's girlfriend and a care assistant on Ingram Ward, is contacted by her former boyfriend, who tries to re-ignite old flames.
Ward Sister Sarah Ashe struggles to focus on her job after leaving her violent husband.
Facing the impossible expectations of front- line NHS care, the nurses who struggle to save lives and preserve their own sanity as they do so, all face choices of their own. Do the angels have an alternative?
Buy
An Angel's Alternative
at Amazon
Whisky
by Pinkberry
This is a really short story. It's only like 9 or 10 pages. It really is more like a piece of flash fiction. It has potential if the story was expanded, but as it is it was only sort of entertaining.
Joe has decided to confront the girl of his dreams. There is a little problem though, if he is rejected, it might result in the total annihilation of our planet.
Buy Whisky at Amazon
Write For Me
by Michelle Holt
Another ebook found in the backlog of unread emails. I don't understand why I don't like New Adult. I thought perhaps it is my age, but I love Young Adult literature so that can't be the case. I just find the characters too immature and boy-focused. This one had a lot of inconsistencies.
My name is Bently Young. I wouldn't say I'm an angry person. In fact my life had been like a bubble gum infused sundae topped with happiness sprinkles up until the age of when I could date. And I started to date a lot. Guys were fun at first, a nice dinner, someone to tell me I was pretty and laugh at my sarcastic jokes. But then the little creeps started showing their true colors. And they were not my favorite colors. They were like barf green and overripe fungus tangerine. And it made me angry.
Swearing off dating all together was too drastic, but I sure wanted to not do it for a while. I had my family and friends to keep me occupied. I didn't need a man to take me to cheesy restaurants. One could only eat so much free bread and butter. Life could keep zooming along without the necessity of someone with chest hair being around.
Oh but then I met Josh. If I could have just never known he existed, all would have been fine. Of course, I don't mean that because if I never knew he was in the world, my own world would have been an awful place. He makes me want to dance under a happiness sprinkle hail storm. Pretty much he is gorgeous and has the insane ability to use his words to make my heart float out of my chest. That made things a lot better when everything else I knew in my life decided to implode. But we weren't immune to the black hole of horribleness either.
Ours is an epic love story and I just happened to write it down for you.
Buy Write For Me at Amazon
Call Me Mrs. Miracle
by Debbie Macomber
I love Debbie Macomber's Christmas books. I usually listen to them on audiobook, but I picked this one up at a charity book sale. It was a lot of fun and easily read in an afternoon.
This Christmas, Emily Merkle (call her Mrs. Miracle!) is working in the toy department at Finley's, the last family-owned department store in New York City. And her boss is none other than…Jake Finley, the owner's son.
For Jake, holiday memories of brightly wrapped gifts, decorated trees and family were destroyed in a Christmas Eve tragedy years before. Now Christmas means just one thing to him—and to his father. Profit. Because they need a Christmas miracle to keep the business afloat.
Holly Larson needs a miracle, too. She wants to give her eight-year-old nephew, Gabe, the holiday he deserves. Holly's widowed brother is in the army and won't be home for Christmas, but at least she can get Gabe that toy robot from Finley's, the one gift he desperately wants. If she can figure out how to afford it…
Fortunately, it's Mrs. Miracle to the rescue. Next to making children happy, she likes nothing better than helping others—and that includes doing a bit of matchmaking!
This Christmas will be different. For all of them.
Buy Call Me Mrs. Miracle at Amazon
Aunt Dimity's Christmas
by Nancy Atherton
I discovered this one on my bookshelf while cleaning it last month. I haven't read any of the other books in this series (I sound like a broken record!). A lot of Christmas books involve romance, so it was a nice change that this one didn't. If you are having trouble thinking of others this holiday season, then this book should help change your perspective.
Lori Shepherd can hardly wait to celebrate Christmas this year with her husband, Bill and twin sons in the beautiful cottage willed to her by Aunt Dimity. Then Lori makes a disturbing discovery beneath the cottage's snow-covered lilac bushes -- the body of a mysterious stranger, barely alive. Lori must put her plans on hold to team up with Julian Bright -- a devilishly attractive Roman Catholic priest -- to seek out the tramp's identity. Their adventure takes Lori and Julian from abandoned World War II airfields to homeless shelters -- places where the Christmas star shines dimly, if at all. Finally, Lori unveils the tragic secret that led the stranger to her door, and must confront painful truths about herself and the true meaning of a perfect family Christmas.
Buy Aunt Dimity's Christmas at Amazon
Currently Reading:
The Year of the Flood
by Magaret Atwood
This is the sequel to Oryx and Crake. I've just started the audiobook.
The times and species have been changing at a rapid rate, and the social compact is wearing as thin as environmental stability. Adam One, the kindly leader of the God's Gardeners--a religion devoted to the melding of science and religion, as well as the preservation of all plant and animal life--has long predicted a natural disaster that will alter Earth as we know it. Now it has occurred, obliterating most human life. Two women have survived: Ren, a young trapeze dancer locked inside the high-end sex club Scales and Tails, and Toby, a God's Gardener barricaded inside a luxurious spa where many of the treatments are edible.
Have others survived? Ren's bioartist friend Amanda? Zeb, her eco-fighter stepfather? Her onetime lover, Jimmy? Or the murderous Painballers, survivors of the mutual-elimination Painball prison? Not to mention the shadowy, corrupt policing force of the ruling powers...
Meanwhile, gene-spliced life forms are proliferating: the lion/lamb blends, the Mo'hair sheep with human hair, the pigs with human brain tissue. As Adam One and his intrepid hemp-clad band make their way through this strange new world, Ren and Toby will have to decide on their next move. They can't stay locked away...
Buy The Year of the Flood at Amazon
The Christmas List
by Richard Paul Evans
Another find on my bookshelf. I'm starting it right after I finish scheduling this post.
Dear Reader,
When I was in seventh grade, my English teacher, Mrs. Johnson, gave our class the intriguing (if somewhat macabre) assignment of writing our own obituaries. Oddly, I don't remember much of what I wrote about my life, but I do remember how I died: in first place on the final lap of the Daytona 500. At the time, I hadn't considered writing as an occupation, a field with a remarkably low on-the-job casualty rate.
What intrigues me most about Mrs. Johnson's assignment is the opportunity she gave us to confront our own legacy. How do we want to be remembered? That question has motivated our species since the beginning of time: from building pyramids to putting our names on skyscrapers.
As I began to write this book, I had two objectives: First, I wanted to explore what could happen if someone read their obituary before they died and saw, firsthand, what the world really thought of them. Their legacy.
Second, I wanted to write a Christmas story of true redemption. One of my family's holiday traditions is to see a local production of Charles Dickens's A Christmas Carol. I don't know how many times I've seen it (perhaps a dozen), but it still thrills me to see the change that comes over Ebenezer Scrooge as he transforms from a dull, tight-fisted miser into a penitent, "giddy-as-aschoolboy" man with love in his heart. I always leave the show with a smile on my face and a resolve to be a better person. That's what I wanted to share with you, my dear readers, this Christmas -- a holiday tale to warm your season, your homes, and your hearts.
Buy The Christmas List at Amazon
Up Next:
Triple Cross Killer
by Rosemarie Aquilina
I'm signed up for the tour later in December. I agreed because it has a Christmas theme.
Have you ever wondered what really happens to Santa Claus letters? In Detroit and Sarasota some children's letters are diverted and reviewed by Nick Archer, a religiously obsessed, narcissist. Nick responds, leaving a trail of devastation in the two cities.
In Detroit, co-ed partners and wise-cracking lovers, detectives Jaq McSween and David Maxwell, team up with Sarasota detectives Abel Mendoza and his partner, Rabbit, to find this daunting killer.
When Jaq's friend, the lovely nurse, Rita Rose, takes a chance on love again, she gets caught in Nick's web. Working with the ME, she joins in, adding her perspective when events take a sinister turn.
Can this diverse team of characters pool their insights, barbs, and taste for bad food to save Rita when she discovers the final clues or will she become the next victim?
Buy Triple Cross Killer at Amazon
Donna Huber is an avid reader and natural encourager. She is the founder of Girl Who Reads and the author of how-to marketing book Secrets to a Successful Blog Tour.
Get even more book news in your inbox, sign up today! Girl Who Reads is an Amazon advertising affiliate; a small commission is earned when purchases are made at Amazon using any Amazon links on this site. Thank you for supporting Girl Who Reads.