by Donna Huber
Happy New Year! It's a new month of a new year, which means that new books are hitting the shelves. 2017 had a number of blockbusters and I can't wait to see what 2018 has to hold. Here are a few books to watch for this month. Pre-order today so you don't miss them.
Amazon affiliate links are used on this site. Covers and descriptions from Goodreads.com
Mummy Fairy and Me by Sophie Kinsella
From the bestselling author of the Shopaholic series and our YA Finding Audrey, comes the first of a duology for young readers about a girl learning to become a fairy from her imperfect fairy mom, with a tech twist.
Ella Brook can't wait to grow up, because one day she will become a fairy and have her own sparkly wings and a teacher on Fairy Tube, just like her mom! Until then, Ella has to learn by watching her mom in action. But sometimes spells go wrong, and Ella's mom can never seem to remember the right magic codes. A lot of the time, it's up to Ella to come to the rescue. Does she have what it takes to be a fairy one day? Or will there be more glitches than glitter?
Available January 2
Buy Mummy Fairy and Me at Amazon

UNSUB by Meg Gardiner
A riveting psychological thriller inspired by the never-caught Zodiac Killer, about a young detective determined to apprehend the serial murderer who destroyed her family and terrorized a city twenty years earlier.
Caitlin Hendrix has been a Narcotics detective for six months when the killer at the heart of all her childhood nightmares reemerges: the Prophet. An UNSUB—what the FBI calls an unknown subject—the Prophet terrorized the Bay Area in the 1990s and nearly destroyed her father, the lead investigator on the case.
The Prophet's cryptic messages and mind games drove Detective Mack Hendrix to the brink of madness, and Mack's failure to solve the series of ritualized murders—eleven seemingly unconnected victims left with the ancient sign for Mercury etched into their flesh—was the final nail in the coffin for a once promising career.
Twenty years later, two bodies are found bearing the haunting signature of the Prophet. Caitlin Hendrix has never escaped the shadow of her father's failure to protect their city. But now the ruthless madman is killing again and has set his sights on her, threatening to undermine the fragile barrier she rigidly maintains for her own protection, between relentless pursuit and dangerous obsession.
Determined to decipher his twisted messages and stop the carnage, Caitlin ignores her father's warnings as she draws closer to the killer with each new gruesome murder. Is it a copycat, or can this really be the same Prophet who haunted her childhood? Will Caitlin avoid repeating her father's mistakes and redeem her family name, or will chasing the Prophet drag her and everyone she loves into the depths of the abyss?
Available in Paperback January 2
Buy UNSUB at Amazon

Eye of the Falcon by Dale Mayer
As a young girl, Issa, bonded with her pet falcon was the lookout for her father's smuggling operation in Ireland. After everything blew up one night and her father and brothers were killed, her mother brought her to America to start over.
Immigrating was hard, but eventually she grew up and pursued a career in environmental sciences and continued to follow her passion for falconry. But she doesn't find the same special bond with another falcon. Until one fateful day when her world explodes again…
Eagle, a former military pilot, has retired to his small ranch outside of Denver, Colorado where he runs a rescue center for raptors in need. One falcon is acting irrationally. Eagle's only recourse is to euthanize him, but the falcon rips free. Although injured so badly he shouldn't be able to fly, the falcon disappears into the skies.
The next night the falcon returns with a beautiful but seriously injured young woman in tow… carrying a message of death and destruction for the both of them…
Available January 9
Buy Eye of the Falcon at Amazon
This Could Hurt by Jillian Medoff
A funny and deeply felt novel that illuminates the pivotal role of work in our lives—a riveting fusion of The Nest, Up in the Air, and Then We Came to the End that captures the emotional complexities of five HR colleagues trying to balance ambition, hope, and fear as their small company is buffeted by economic forces that threaten to upend them.
Rosa Guerrero beat the odds as she rose to the top of the corporate world. An attractive woman of a certain age, the longtime chief of human resources at Ellery Consumer Research is still a formidable presence, even if her most vital days are behind her. A leader who wields power with grace and discretion, she has earned the devotion and loyalty of her staff. No one admires Rosa more than her doting lieutenant Leo Smalls, a benefits vice president whose whole world is Ellery.
While Rosa is consumed with trying to address the needs of her staff within the ever-constricting limits of the company's bottom line, her associate director, Rob Hirsch, a middle-aged, happily married father of two, finds himself drawing closer to his "work wife," Lucy Bender, an enterprising single woman searching for something—a romance, a promotion—to fill the vacuum in her personal life. For Kenny Verville, a senior manager with an MBA, Ellery is a temporary stepping-stone to bigger and better places—that is, if his high-powered wife has her way.
Compelling, flawed, and heartbreakingly human, these men and women scheme, fall in and out of love, and nurture dreams big and small. As their individual circumstances shift, one thing remains constant—Rosa, the sun around whom they all orbit. When her world begins to crumble, the implications for everyone are profound, and Leo, Rob, Lucy, and Kenny find themselves changed in ways beyond their reckoning.
Jillian Medoff explores the inner workings of an American company in all its brilliant, insane, comforting, and terrifying glory. Authentic, razor-sharp, and achingly funny, This Could Hurt is a novel about work, loneliness, love, and loyalty; about sudden reversals and unexpected windfalls; a novel about life.
Available January 9
Buy This Could Hurt at Amazon
Truly Devious by Maureen Johnson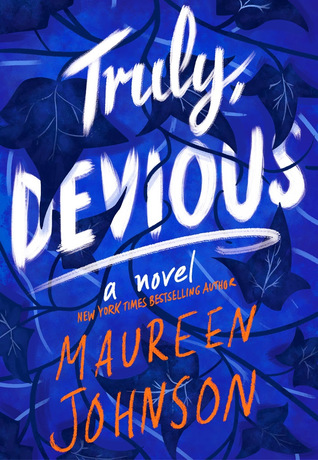 New York Times bestselling author Maureen Johnson weaves a delicate tale of murder and mystery in the first book of a striking new series, perfect for fans of Agatha Christie and E. Lockhart.
Ellingham Academy is a famous private school in Vermont for the brightest thinkers, inventors, and artists. It was founded by Albert Ellingham, an early twentieth century tycoon, who wanted to make a wonderful place full of riddles, twisting pathways, and gardens. "A place," he said, "where learning is a game."
Shortly after the school opened, his wife and daughter were kidnapped. The only real clue was a mocking riddle listing methods of murder, signed with the frightening pseudonym "Truly, Devious." It became one of the great unsolved crimes of American history.
True-crime aficionado Stevie Bell is set to begin her first year at Ellingham Academy, and she has an ambitious plan: She will solve this cold case. That is, she will solve the case when she gets a grip on her demanding new school life and her housemates: the inventor, the novelist, the actor, the artist, and the jokester. But something strange is happening. Truly Devious makes a surprise return, and death revisits Ellingham Academy. The past has crawled out of its grave. Someone has gotten away with murder.
The two interwoven mysteries of this first book in the Truly Devious series dovetail brilliantly, and Stevie Bell will continue her relentless quest for the murderers in books two and three.
Available January 16
Buy Truly Devious at Amazon
On the Edge by Dani Collins
When Glory Cormer's father introduces her to 'their' new business partner, she's appalled. Viking-like Rolf Johansson exudes the same alpha-intimidation that jocks used to torment her through high school. After nursing her mother the last several years, she's trying to break out of her shell and secretly pursue a writing career, but Rolf insists she go through with the rotten deal her father struck with his brother to renovate an old chalet.
Rolf envisions this mountain as a world-class resort for elite athletes and other jet setters. As a downhill champion and owner of a world-renowned sports equipment empire, he knows what it takes to get what he wants. Nothing will stop him, especially not a hotheaded wallflower who turns the ice in his veins to lava.
Bonus Story! This book contains Glory's novella Blessed Winter, a no-room-at-the-inn Christmas romance.
Available January 16
Buy On the Edge at Amazon
What the Valley Knows by Heather Christie
Millington Valley is a quintessential small Pennsylvania town: families go back generations. Football rules. Kids drink while adults look the other way. High school is a whirlwind of aspiration and rivalry, friendship and jealousy.
When smart and pretty Molly Hanover moves to town and attracts the attention of the football team's hero, Wade Thornton—a nice guy with a bad drinking habit—longtime friendships are threatened and a popular cheerleader tries to turn the school against Molly.
The young couple's future is shattered when Wade, drunk, wrecks his truck and Molly is thrown through the windshield. She wakes from a coma to find her beauty marred and her memory full of holes. As she struggles to heal, she becomes sure that something terrible happened before the accident. And there is somebody in the valley who doesn't want her to remember.
Available January 25
Buy What the Valley Knows at Amazon
The Grave's a Fine and Private Place by Alan Bradley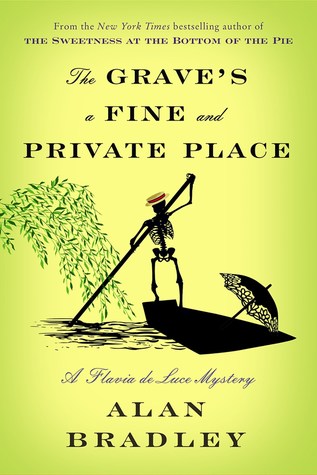 Flavia is enjoying the summer, spending her days punting along the river with her reluctant family. Languishing in boredom, she drags a slack hand in the water, and catches her fingers in the open mouth of a drowned corpse.
Brought to shore, the dead man is found to be dressed in blue silk with ribbons at the knee, and wearing a single red ballet slipper.
Flavia needs to put her super-sleuthing skills to the test to investigate the murder of three gossips in the local church, and to keep her sisters out of danger. But what could possibly connect the son of an executed killer, a far too canny police constable, a travelling circus, and the publican's mysteriously talented wife?
Available January 30
Buy The Grave's a Fine and Private Place at Amazon

The Mother's Promise by Sally Hepworth
A poignant and breathtaking novel from the author of The Things We Keep and The Secrets of Midwives.
All their lives, Alice Stanhope and her daughter, Zoe, have been a family of two, living quietly in Northern California. Zoe has always struggled with crippling social anxiety and her mother has been her constant and fierce protector. With no family to speak of, and the identity of Zoe's father shrouded in mystery, their team of two works—until it doesn't. Until Alice gets sick and needs to fight for her life.
Desperate to find stability for Zoe, Alice reaches out to two women who are practically strangers but who are her only hope: Kate, a nurse, and Sonja, a social worker. As the four of them come together, a chain of events is set into motion and all four of them must confront their sharpest fears and secrets—secrets about abandonment, abuse, estrangement, and the deepest longing for family. Imbued with heart and humor in even the most dismal moments, The Mother's Promise is an unforgettable novel about the unbreakable bonds between mothers and daughters and the new ways in which families are forged.
Available in Paperback January 30
Buy The Mother's Promise at Amazon
Get even more book news in your inbox, sign up today! Girl Who Reads is an Amazon advertising affiliate; a small commission is earned when purchases are made at Amazon using any Amazon links on this site. Thank you for supporting Girl Who Reads.