by Susan Roberts
AN AMERICAN MARRIAGE is showing up on all of the lists for the 'best books of 2018' and after reading it, I agree. I was lucky to win a copy from LibraryThing and thrilled to be able to read an early copy.
Amazon affiliate links are used on this site.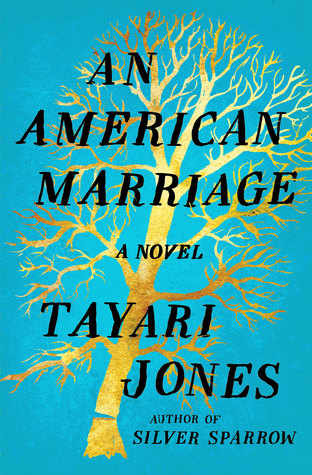 February 2018; Algonquin Books
978-1616201340
audio, ebook, print (320 pages)
women's fiction
This was an outstanding novel. It's the first book that I've read by this author but it won't be the last - in fact, I just ordered one of her earlier books. This is a book that will make you smile and make you cry because you will be so invested in the lives of the two main characters. Celestial and Roy are so well written - flaws and all - that you feel like you know them.
Celestial and Roy have been married just over a year. They are both successful in their careers, own a nice house and are starting to talk about starting a family. Despite the normal problems that exist in marriage, they are in love and making plans for their future. Then something horrendous happens that puts all of their plans on hold when Roy is arrested and sentenced to 12 years for a crime that they both know he didn't commit. They are both lost in their new lives and their love for each other becomes less as time goes on. During Roy's time in prison, the author had them communicating through letters showing their increased distance from each other. Will they be able to go back to their old lives when Roy gets out of prison or will the changes in both of their lives make it impossible for that to happen?
This is a wonderful novel about love and marriage, racial injustice and the difference between the rich and the poor in this country. The main characters are well written but there are other secondary characters that are just as memorable. This is a book that will stay in my mind long after the last page was read.
Buy An American Marriage at Amazon
Susan Roberts lives in North Carolina when she isn't traveling. She and her husband enjoy traveling, gardening and spending time with their family and friends. She reads almost anything (and the piles of books in her house prove that) but her favorite genres are Southern fiction, women's fiction, and thrillers. Susan is a top 1% Goodreads Reviewer. You can connect with Susan on Facebook, Goodreads, or Twitter.
Get even more book news in your inbox, sign up today!. Girl Who Reads is an Amazon advertising affiliate; a small commission is earned when purchases are made at Amazon using any Amazon links on this site. Thank you for supporting Girl Who Reads.