by Susan Roberts
The weather is still perfect to wrap up in a blanket with a hot cup of tea and a good book. I have read some great books that will be published at the beginning of February that will help the month pass quicker.
Amazon affiliate links are used on this site. Free books were provided for an honest review.
Here We Lie by Paula Treick DeBoard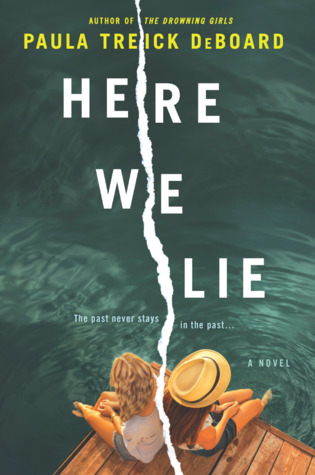 This is a timely novel about female friendships, family, the rich vs. the poor and other topics that are a mirror of what is currently going on in our society. I don't want to spoil it so I can't go into a lot of detail but I do want to say that it's a wonderful novel with two very well written, though pretty unlikable main female characters. Megan and Lauren meet in college and become fast friends. How good of friends they are is in question because they are from totally different backgrounds - Lauren is the daughter of a rich Senator and Megan is a poor girl from the Midwest. They also lie to each other in telling their pasts to each other. Despite the question of how good their friendship is, everything changes when Megan spends a few weeks in the summer before their senior year at the island retreat owned by Lauren's family. After that summer, they don't see each other again for years until Megan decides to tell the world what really happened that summer even though it will be disastrous to Lauren's family.
This is a fantastic novel about friendship and betrayal.
Buy Here We Lie from Amazon
As Bright as Heaven by Susan Meissner
This was another fantastic book by Susan Meissner. I have enjoyed all of her books but this one is my favorite - at least until her next book comes out.
As Bright as Heaven
starts about 1917 when the Bright family decides to move to Philadelphia to better their lives. The dad has been given a chance to learn the mortuary business and eventually take over his uncle's funeral home. The family has been given beautiful room above the mortuary to live in. The novel is told in four alternating female voices - the Mom - Pauline and the three sisters, Evelyn, Maggie, and Willa. As they begin to try to make friends in school, their lives are getting ready to undergo even more change. The Spanish Flu epidemic hits Philadelphia and in fact the whole country with disastrous results. According to the author in the afterword, more than 12,000 people died in Philadelphia. The flu didn't discriminate between the rich and poor and didn't leave the Bright family untouched. After the flu epidemic is over, life will never be the same for the family and they struggle for normalcy and learn what is truly important in life.
This was a wonderful well-researched novel about a subject that I knew little about. It's always wonderful to read such a compelling book and learn more history at the same time. The characters were so well written that I laughed and cried with them throughout the book. If you enjoy historical fiction - this is a must-read.
Buy As Bright as Heaven at Amazon
Look For Me by Lisa Gardner
I'm always excited when a new DD Warren book is published and LOOK FOR ME did not disappoint! It's another book of this police investigator at her best. Even though she is now a wife and a mom, her police cases remain an important part of her life and define who she is. She may be kinder and gentler on her off time but she is still a 'kick-ass' investigator when she's on a case.
NOTE - this is book 9 in the DD Warren series and to get the most out of this series, you really need to read the books in order.
While trying to solve a horrific crime that left a husband, wife and two of their children dead and one missing, DD gets some outside help that is at first unwanted but becomes pivotal to solving the crime. Flora Dane from book 8, a survivor of an abductor who kept her imprisoned for 472 days. Flora has become a vigilante and doesn't have to follow the same rules as the police department. It takes these two strong women - DD and Flora to try to find the missing teenager and determine if she killed her family or if she is a victim and her life is in danger. This was a real page-turner with a surprise ending that I didn't see coming.
This is a wonderful story about the love within a family despite what they have faced in the past. There are terrible scenes about the life the kids lived in the foster care system and the bullying that they received in school. I love this series and can't wait to see what DD Warren does in future books.
Buy Look for Me at Amazon
Only Child by Rhiannon Navin
Rhiannon Navin's debut novel captured a different view of school shootings by giving us the story through the eyes of a 6-year-old first grader. Presenting the story from the viewpoint of a 6-year-old made this an even more horrific story as we witness his feelings as well as his loss of innocence.
As
Only Child
begins, the 'stranger danger' drill in Zach's classroom becomes the real thing as the teacher pushes all of the students into a closet and holds the door shut. The kids don't really know what's going on so Zach talks about how hot it is and about his teacher's bracelet while there are popping sounds in the background that are actually gunshots. When the police come and move the children to the church, they are still unaware of what really happened and Zach never thinks about his older brother Andy who turns out to be one of the 17 students and staff killed that day. Zach's family totally melts down and Zach has nightmares and starts to wet the bed again. I wanted to shake the adults around Zach because it seemed like no one really had time for him and his issues from the shooting because everyone was still dealing with it on their own personal level.
This is a wonderfully written well-told story that could happen -- and has -- everywhere in the world. I get upset to see this compared to
Room
and
The Girls
. This novel can stand on its own and doesn't need comparisons to books that are nothing like it. I can't wait to see what books this author will write in the future.
Buy Only Child at Amazon
Susan Roberts lives in North Carolina when she isn't traveling. She and her husband enjoy traveling, gardening and spending time with their family and friends. She reads almost anything (and the piles of books in her house prove that) but her favorite genres are Southern fiction, women's fiction, and thrillers. Susan is a top 1% Goodreads Reviewer. You can connect with Susan on Facebook, Goodreads, or Twitter.
Get even more book news in your inbox, sign up today! Girl Who Reads is an Amazon advertising affiliate; a small commission is earned when purchases are made at Amazon using any Amazon links on this site. Thank you for supporting Girl Who Reads.