by Susan Roberts
I kept seeing great reviews for this book and finally decided to buy a copy to read. I am really glad that I did because the book was fantastic.
Amazon affiliate links are used on this site.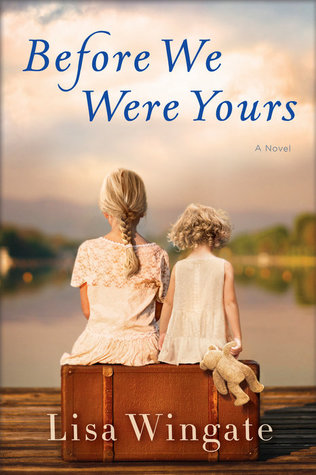 June 2017; Ballantine Books; 978-0425284681
audio, ebook, print (352 pages); women's fiction
This was a beautifully written, truly heartbreaking story that was made even worse when I realized that it was based on real-life events. Lisa Wingate has done a fantastic job of making this history real with well-written characters and a dual storyline.
The book starts in 1939 when 12-year-old Rill Foster lives on a shanty boat on the Mississippi River with her parents and 4 siblings. When the parents leave the boat (the mom is having problems delivering the newest member of the family), the boat is raided and the children are taken to the Tennessee Children's Home Society orphanage. Even though the children are told that they will be returned to their parents, the people who run the orphanage have plans to sell them to people who want to adopt children. Rill's story is built up in every other chapter in the book.
The present-day main character, Avery, has returned home from NYC to help her father, a member of Congress, with his daily activities due to a health scare. She was born into a life of wealth and privilege but worked very hard to become a top-notch lawyer in NY. She gets a hint of a secret in her family's past and won't be content until she solves her family mystery.
Usually, in two timeline books, I like one story more than the other but I enjoyed Avery's story as much as I did Rill's.
This beautifully written, very well researched book will stay with you long after the last page has been read. Knowing that this is based on history and reading articles about it after I finished the book made the story even more heartbreaking.
Buy Before We Were Yours at Amazon
The Truth Behind this Novel:
State investigators discovered that the Tennessee Children's Home Society was a front for a broad black market adoption ring, headed by Tann. They also found record irregularities and secret bank accounts. In some cases, Tann skimmed as much as 80 to 90% of the adoption fees when children were placed out of state. Officials also found that Judge Kelley had railroaded through hundreds of adoptions without following state laws. Kelley also received payments from Tann for her assistance. Tann died in the fall of 1950, and Kelley announced the same year that she would retire after 20 years on the bench. Kelley was not prosecuted for her role in the scandal and died in 1955.
Adoptive parents soon discovered that the biographies and child histories supplied by Tann were false. In some cases, Tann obtained babies from state mental hospital patients and hid the information from adoptive parents.
Children disappeared from the Tennessee Children's Home Society under temporary custody to be adopted by other families, and Tann then destroyed the records.
Tann worked in collusion with some local area doctors who informed the Home of unwed mothers. Tann would take the newborns under the pretext of providing them with hospital care and would later tell the mothers that the children had died and that their bodies had been buried immediately in the name of compassion.
Susan Roberts lives in North Carolina when she isn't traveling. She and her husband enjoy traveling, gardening and spending time with their family and friends. She reads almost anything (and the piles of books in her house prove that) but her favorite genres are Southern fiction, women's fiction, and thrillers. Susan is a top 1% Goodreads Reviewer. You can connect with Susan on Facebook, Goodreads, or Twitter.
Get even more book news in your inbox, sign up today! Girl Who Reads is an Amazon advertising affiliate; a small commission is earned when purchases are made at Amazon using any Amazon links on this site. Thank you for supporting Girl Who Reads.