This is no joke. There is a bounty of new books coming to bookstores near you this month. Here's a look at just a few to be on the lookout for. What is on your radar for this month?
Amazon affiliate links are used on this site. Covers and descriptions from Goodreads.com.
The Advice Column Murders by Leslie Nagel
What's the couple next door really hiding? Vintage fashionista and amateur sleuth Charley Carpenter finds out in this engrossing cozy mystery from the USA Today bestselling author of The Book Club Murders.
In a small town like Oakwood, Ohio, everyone knows everyone else's business—except for Charley Carpenter's standoffish new neighbors, who tend to keep to themselves. But behind closed doors, Paxton Sharpe's habit of screaming bloody murder at all hours of the day keeps Charley awake all night. Coupled with the stress of the increasingly delayed expansion of her shop, Old Hat Vintage Fashions, the insomnia is driving Charley crazy. Her only distraction? The local paper's irreverent new advice column, "Ask Jackie."
Jackie's biting commentary usually leaves Charley and her employees rolling on the floor, but her latest column is no laughing matter. An oddly phrased query hinting at a child in peril immediately puts Charley on high alert. After arriving home to a bloodcurdling scream next door, she follows the noise into the basement and makes a grisly discovery: the body of Judith Sharpe's adult daughter.
With Detective Marcus Trenault off in Chicago, Charley decides to take matters into her own hands. Convinced that the murder is connected to the desperate plea for help in "Ask Jackie," she embarks on a twisted investigation that has her keeping up with the Sharpes—before a killer strikes again.
Available April 3
Buy The Advice Column Murders at Amazon
Swimming Between Worlds by Elaine Neil Orr
The lives of one young woman and two young men collide in a small neighborhood in Winston-Salem, North Carolina.
Kate, a recent college graduate, is still reeling from the deaths of her beloved parents when the discovery of hidden letters forces her to re-examine everything she knew about her family. Tacker, a young engineering student and all-around boy-hero, has returned from a West African odyssey where he fell in love with the local culture but was sent home in shame. Kate's and Tacker's stories come together when, on the same day and in different moments, they encounter a young African-American man named Gaines. The relationship that develops between the three is complicated, as each one searches for love, freedom, and new beginnings.
Available April 3
Buy Swimming Between Worlds at Amazon
A Nantucket Wedding by Nancy Thayer
A few years after losing her beloved husband, Alison is doing something she never thought she would do again: getting married. While placing the finishing touches on her summer nuptials, Alison is anxious to introduce her fiance', David, to her grown daughters: Felicity, a worried married mother of two, and Jane, also married but focused on her career. The sisters have a somewhat distant relationship and Alison hopes that the wedding and the weeks leading up to the ceremony will give the siblings a chance to reconnect, as well as meet and get to know David's grown children.
As the summer progresses, it is anything but smooth sailing. Felicity stumbles upon a terrible secret that could shatter her carefully cultivated world. Jane finds herself under the spell of her soon-to-be stepbrother, Ethan, who is as charming as he is mysterious. And even Alison is surprised (and slightly alarmed) by her new blended family. Revelations, intrigue, resentments--as the Big Day approaches, will the promise of bliss be a bust?
Against the gorgeous backdrop of the sunswept island of Nantucket, Nancy Thayer sets the stage for a walk down the aisle no one will ever forget.
Available April 3
Buy A Nantucket Wedding at Amazon
As She Fades by Abi Glines
On the night of her high school graduation, Vale McKinley and her boyfriend Crawford are in a terrible car accident that leaves Crawford in a coma. They were supposed to spend the summer planning for college, for a bright future full of possibility. Together. Instead, Vale spends long days in the hospital, hoping Crawford will awaken.
Slate Allen, a college friend of Vale's brother, has been visiting his dying uncle at the same hospital. When he and Vale meet, she can't deny the flutter of an illicit attraction. She tries to ignore her feelings, but she's not immune to Slate's charm. Slowly, they form a cautious friendship.
Then, Crawford wakes up . . . with no memory of Vale or their relationship. Heartbroken, Vale opts to leave for college and move on with her life. Except now, she's in Slate's territory, and their story is about to take a very strange turn.
Available April 3
Buy As She Fades at Amazon
The Fates Divide by Veronica Roth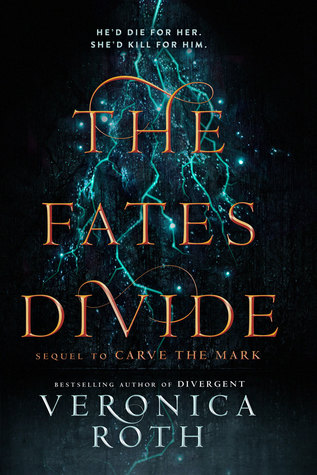 In the second book of the Carve the Mark duology, globally bestselling Divergent author Veronica Roth reveals how Cyra and Akos fulfill their fates. The Fates Divide is a richly imagined tale of hope and resilience told in four stunning perspectives.
Fate brought them together. Now it will divide them.
The lives of Cyra Noavek and Akos Kereseth are ruled by their fates, spoken by the oracles at their births. The fates, once determined, are inescapable.
Akos is in love with Cyra, in spite of his fate: He will die in service to Cyra's family. And when Cyra's father, Lazmet Noavek—a soulless tyrant, thought to be dead—reclaims the Shotet throne, Akos believes his end is closer than ever.
As Lazmet ignites a barbaric war, Cyra and Akos are desperate to stop him at any cost. For Cyra, that could mean taking the life of the man who may—or may not—be her father. For Akos, it could mean giving his own. In a stunning twist, the two will discover how fate defines their lives in ways most unexpected.
Available April 10
Buy The Fates Divide at Amazon
After Anna by Lisa Scottoline
Nobody cuts deeper than family...
Noah Alderman, a doctor and a widower, has remarried a wonderful woman, Maggie, and for the first time in a long time he and his son are happy. But their lives are turned upside down when Maggie's daughter Anna moves in with them. Anna is a gorgeous seventeen-year-old who balks at living under their rules though Maggie, ecstatic to have her daughter back, ignores the red flags that hint at the trouble that is brewing. Events take a deadly turn when Anna is murdered and Noah is accused of the crime. Maggie must face not only the devastation of losing her only daughter, but the realization that her daughter's murder was at the hands of a husband she loves. New information sends Maggie searching for the truth, leading her to discover something darker than she could have ever imagined.
Available April 10
Buy After Anna at Amazon
The Fallen by David Baldacci
Amos Decker and his journalist friend Alex Jamison are visiting the home of Alex's sister in Barronville, a small town in western Pennsylvania that has been hit hard economically. When Decker is out on the rear deck of the house talking with Alex's niece, a precocious eight-year-old, he notices flickering lights and then a spark of flame in the window of the house across the way. When he goes to investigate he finds two dead bodies inside and it's not clear how either man died. But this is only the tip of the iceberg. There's something going on in Barronville that might be the canary in the coal mine for the rest of the country.
Faced with a stonewalling local police force, and roadblocks put up by unseen forces, Decker and Jamison must pull out all the stops to solve the case. And even Decker's infallible memory may not be enough to save them.
Available April 17
Buy The Fallen at Amazon
The Feather Thief: Beauty, Obsession, and the Natural History Heist of the Century by Kirk Wallace Johnson
On a cool June evening in 2009, after performing a concert at London's Royal Academy of Music, twenty-year-old American flautist Edwin Rist boarded a train for a suburban outpost of the British Museum of Natural History, armed with a pair of latex gloves, a miniature LED flashlight, and a diamond-blade glass cutter. Home to one of the largest ornithological collections in the world, the Tring museum was full of rare bird specimens whose coppery orange, emerald, and iridescent blue feathers were worth staggering amounts of money to the men who shared Edwin's obsession: the Victorian art of salmon fly-tying, in which exotic feathers are fastened in intricate patterns around fishing hooks. Over the next few hours, the champion fly-tier grabbed hundreds of bird skins--some collected 150 years earlier by a contemporary of Darwin's, Alfred Russel Wallace, who'd risked everything to gather them--and escaped into the darkness.
Two years later, Kirk Wallace Johnson was waist high in a river in northern New Mexico, fly-fishing for trout, when his guide told him about the heist. He was soon consumed by the strange case of the feather thief. What would possess a person to steal dead birds from a museum? Had Edwin paid the price for his crime? What became of the missing skins? In his search for answers, Johnson was catapulted into a years-long, worldwide investigation, infiltrating the underground network of fly-tiers and feather smugglers, and tracking down the thief and his suspected accomplices in a single-minded search for the missing birds. The gripping story of a bizarre and shocking crime, and one man's relentless pursuit of justice, The Feather Thief is also a fascinating exploration of obsession, and man's destructive instinct to harvest the beauty of nature.
Available April 24
Buy The Feather Thief at Amazon
Shopping for a Billionaire's Baby by Julia Kent
You know what's even better than marrying a billionaire? Having his baby.
We're ready. We've studied and planned, read all the birth and labor books, researched parenting classes, consulted our schedules, and it's time.
And by we I mean me.
Declan's just ready for the "have lots of sex" part. More than ready.
But there's just one problem: my husband and his brother have this little obsession with competition.
And by little, I mean stupid.
That's right.
We're not just about to try to bring a new human being into the world.
We have to do it better, Faster, Stronger.
Harder.
McCormick men don't just have babies.
They engage in competitive billionaire Babythons.
I thought the hardest part about getting pregnant would be dealing with my grandchild-crazed mother, who will go nuts shopping for a billionaire's baby.
Wrong.
Between conception issues, my mother's desire to talk to the baby through a hoohawcam, a childbirth class led by a drill sergeant and a father-in-law determined to sign the kid up for prep school before Declan even pulls out, my pregnancy has turned out to be one ordeal after the other.
But it's nothing — nothing — compared to the actual birth.
Available April 24
Buy Shopping for a Billionaire's Baby at Amazon
Get even more book news in your inbox, sign up today! Girl Who Reads is an Amazon advertising affiliate; a small commission is earned when purchases are made at Amazon using any Amazon links on this site. Thank you for supporting Girl Who Reads.