by Susan Roberts
With the longer days of spring, there's more time to spend outdoors with a good book in your hands. Here are six books that you might consider reading.
Amazon affiliate links are used on this site. Free books were provided for an honest review.
Flying at Night by Rebecca L. Brown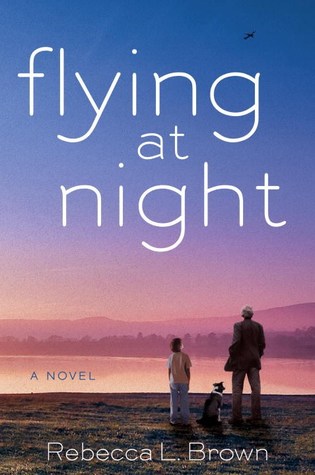 April 2018; Berkely; 978-0399585999
audio, ebook, print (336 pages)
psychological thriller
Being part of the sandwich generation means that you are taking care of children and parents at the same time. The main character in this debut novel is doing just that but with the added pressure of having a child and a parent with numerous psychological problems. I found her life to be difficult and depressing but the way she handles it all is fantastic and is what makes this such a wonderful book.
Piper's father is an arrogant man who made her life and the lives of her mother and brother very difficult growing up. He expected perfection in all things and was emotionally distant from his family - especially after he became a hero for piloting an airplane during a difficult landing without loss of life. Piper's son, Fred, is nine years old and Piper has worked very hard to provide a loving nurturing family for him due to the trauma of her childhood. Her husband and Fred's father is busy saving the world through his job and is usually at work. He doesn't take much part in Fred's upbringing but is it deliberate or because Piper doesn't want to share Fred with him? Fred was a wonderfully written character - he is enthusiastic about life but it is apparent very early in the book that he has a problem and when he is diagnosed as being on the autism spectrum, Piper falls apart. Just as she gets Fred's diagnosis, her dad has a heart attack and brain damage from being without oxygen. Piper brings her dad into her home and now has to deal with heartache and problems from son and father. The novel is about Piper's dad and son and Piper as they learn to live with the problems that life has given them and hopefully overcome their problems for a better future.
This is a book that at times is sad but is overwhelmingly heartwarming to see family members learn to better understand each other.
Buy Flying at Night at Amazon
When Never Comes by Barbara Davis
April 2018; Lake Union Publishing
978-1503950177;
audio, ebook, print (352 pages)
women's fiction
When Never Comes
is another wonderful book by Barbara Davis. It's about finding your future by letting go of your past. It's about love and family and starting over. This book is a must read and you don't want to miss it.
When Christy-Lynn is told by the police that her husband, a famous author, has died in a car accident, she also finds out that there was a half-naked woman in the car with him who also died. She had no idea that he was having an affair but once the news becomes public, the media begins to harass her about it. With the unrelenting media scrutiny, Christy-Lynn escapes from her home and drives until she finds a small town to hide out in. As she learns to deal with her husband's death, she begins to realize that she has hidden out her entire life to try to escape the memories of a horrific childhood. Will she be able to open herself up to happiness in her life despite all that has happened to her?
This is a wonderful book about love for other people but most importantly, love for yourself. Christy-Lynn is a wonderful, multi-dimensional character who readers will quickly care about and hope for her to find happiness in her life.
Buy When Never Comes at Amazon
Trouble the Water by Jacqueline Friedland
May 2018; SparkPress; 978-1943006540
ebook, print (352 pages); historical
This well researched historical novel is a debut for the author. She did a fantastic job of creating very real characters in the historical setting of Charleston, SC, twenty years before the Civil War.
Abigail was born into the middle class in England but when her family fell on hard times they decided to send her to Charleston to live with an old friend, Douglas. Because she was only 17, Douglas hired a governess to teach her in both book learning and how to be a proper young lady in Charleston society. Abigail quickly learns that Douglas is a disheveled very unlikable man who hadn't gotten over the death of his wife and daughters two years earlier. She kept her distance from him until she overheard a conversation about how he was helping a slave escape to the north. Once she learned that they had the same opinion about slavery, their relationship improved and the reader begins to hope for happiness for both of them.
The author did considerable research on the South before the Civil War with her information about slavery, the Underground Railroad and the Abolitionists. If you enjoy historical fiction, this is a book you don't want to miss.
Buy Trouble the Water at Amazon
How to Walk Away by Katherine Center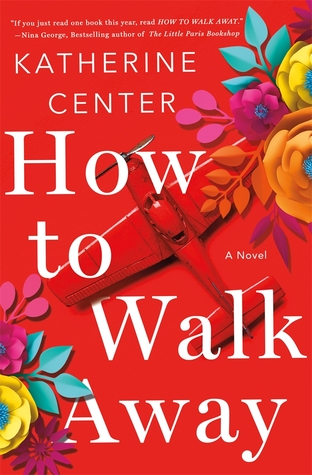 May 2018; St. Martin's Press; 9781250149060
audio, ebook, print (320 pages)
romantic comedy
"You can't fix everything. Not even close. But you can look for reasons to be grateful."
How to Walk Away
is one of those books that you won't put down once you start reading it. It's extremely well written with characters that are easy to love (and a few who are easy to dislike). The author did extensive research and I learned new things as well as enjoying this novel.
Margaret has the perfect life - a new MBA, a great chance at a dream job and a wonderful boyfriend, Chip, who she is sure will propose to her any minute. The only sad part of her life is her estranged sister but she refuses to think about her. Margaret's perfect life is torn away from her in a tragedy that almost kills her. She has to learn to negotiate a completely different world than the one she had planned for. As the reality sets in, her moods change from hopeful to despair over and over. How she handles her new life and how the people in her life help her will cause some tears (have tissue close) and you'll be rooting for her success on every page.
I loved Margaret and Ian and the way they worked together. I didn't like Chip or his mom and at times, I didn't like Margaret's mom but realized that she was trying to fix things for her daughter, even when she was being difficult. This is a wonderful book about finding happiness in your life even if it isn't the life you planned.
Buy How to Walk Away at Amazon
Finding Rose Rocks by Karen Ginther Graham
May 2016; The Wild Rose Press, Inc.
978-1509207374; ebook, print (372 pages)
romance
Jennifer is a 45-year-old divorced woman who isn't quite sure what she wants to do with her life. She owns and manages an apartment complex in Oklahoma but plans to move back to California in the future but just isn't sure what when or how. UNTIL....she meets Troy, a rancher who helps run a construction company that wants to rent her apartments. She and Troy fall in love and she moves to his ranch until she has to go to California to help her mother. Once she gets back to the beach, she becomes unsure of which direction her life should take.
I enjoyed this romance and found Jennifer's dilemma to be very real. There were times that I wanted to just shake her because I didn't agree with her decisions but it was all part of her quest to decide how she'd live the rest of her life. If you want to read a simple romance, this isn't the book for you. If you want to read a book with real-life characters - flaws and all - and a book about discovering who you are and what you want out of life in your 40s, this is your book. This book about self-discovery is way more than a simple romance novel.
Buy Finding Rose Rocks at Amazon
The Summer I Met Jack by Michelle Gable
May 2018; St. Martin's Press; 9781250103246
audio, ebook, print (528 pages); historical
Michelle has taken on the daunting task of telling a story about the Kennedy family. Everyone of a certain age feels like they know all there is to know about the Kennedys so what could she possibly write about. Boy oh boy, does she show the doubters. She tells the story about a woman who had an affair with JFK in the late 50s who could have changed history. She was someone that I had never heard of and the author's research into the family is so good that I learned more about them than I had ever known. This is a fantastic novel that will keep you thinking about the main character long after you finish it.
In 1950, a young, beautiful Polish refugee, Alica, arrives in Hyannisport, Massachusetts to work as a maid for the Kennedys, one of the wealthiest families in America. Alicia and Jack Kennedy had met a few weeks earlier at the movie theater she worked at and there was an immediate spark between the two of them. After lots of ups and downs in their relationship. Jack and Alicia became engaged. Once Papa Joe found out that Alicia was actually Jewish, he knew it would derail his plans for his son to be president of the US so he strongly suggested that Jack break off the engagement. Alicia goes to Hollywood and meets lots of famous men but no one can compare to JFK and their love for each other. We all know what happened to JFK and who he married but this book tells the reader what happened to Alicia and the rest of her life.
This is a fantastic book with lots of research to back up the story. Even though I had never heard of Alicia before, I have been online looking up information about her. It doesn't matter what party affiliation you are, this is a great look at history in our country back in the 50s and 60s. I highly recommend it.
Buy The Summer I Met Jack at Amazon on May 29
Susan Roberts lives in North Carolina when she isn't traveling. She and her husband enjoy traveling, gardening and spending time with their family and friends. She reads almost anything (and the piles of books in her house prove that) but her favorite genres are Southern fiction, women's fiction, and thrillers. Susan is a top 1% Goodreads Reviewer. You can connect with Susan on Facebook, Goodreads, or Twitter.
Get even more book news in your inbox, sign up today! Girl Who Reads is an Amazon advertising affiliate; a small commission is earned when purchases are made at Amazon using any Amazon links on this site. Thank you for supporting Girl Who Reads.