by MK French
In a world dominated by the Skilled, those with extraordinary powers, those who are unSkilled are subject to the slave days. There had been revolts, which were ruthlessly crushed. Caught up within the movement, siblings Abigail and Luke Hadley work separate paths to try to bring an end to this terrible system.
Amazon affiliate links are used on this site. A free book was provided for an honest review.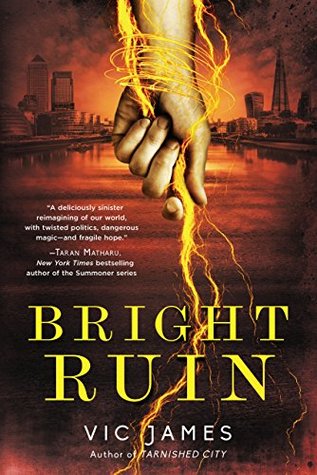 October 2018; Del Rey; 978-0425284186
ebook, print (416 pages); dystopian
I had missed the second book in the trilogy,
Tarnished City
, and this book picks right up where the second one left off. I missed a number of characters being introduced in that one, as well as the introduction of the Wonder King, who had apparently been seen in Luke's mindscape. I was still able to jump in and go running right along with Abi and Luke and figure out what was happening. There is a lot of action as well as political intrigue, and the continued investigation into what Skill is and how it works. Silyen had always been more focused on that, which apparently is why he had allowed Luke to be tortured in book 2. Luke's resulting PTSD symptoms from the trauma are dealt with sympathetically and rather realistically. In spite of what he had suffered, he still retains empathy for others and feels terrible about some of the atrocities committed around him. He is very much the heart that the Wonder King calls him, as Silyen is the mind with all of his logic.
Abi's story thread is more tightly woven with that of the rebels, who are mostly unSkilled and rather idealistic. They plan to use protests and marches, and only the occasional fire and "house party" in empty estates to make their point. That allows them to be manipulated by the media under Jardine control. It's emotionally wrenching and frustrating for me as a reader to know more than the characters do about what's happening and to sit back and watch as events unfold. It shows how well Ms. James had written these characters that I care so much about them, and that I can easily slide back into the story despite missing an important middle chunk of it!
The close of this trilogy is not without losses, just like the earlier books in the series. The ending feels open to interpretation, and I can easily see another trilogy (or more) taking place after this one as England is left to rebuild and recover. If it does happen, I would be just as invested in seeing how it's done.
Buy Bright Ruin at Amazon
Born and raised in New York City, M.K. French started writing stories when very young, dreaming of different worlds and places to visit. She always had an interest in folklore, fairy tales, and the macabre, which has definitely influenced her work. She currently lives in the Midwest with her husband, three young children, and golden retriever.
Get even more book news in your inbox, sign up today! Girl Who Reads is an Amazon advertising affiliate; a small commission is earned when purchases are made at Amazon using any Amazon links on this site. Thank you for supporting Girl Who Reads.