by Donna Huber
I've already posted a best list of sorts last month when I did my list of
books to give as gifts
. Since then though I've seen bloggers doing best by month type lists and I thought it would be fun to pick one book from each month that I really liked. These would make great gifts as well if you are looking for books to fill the eReader under the tree. Merry Christmas!
Amazon affiliate links are used on this site.
January's Best of the Bunch
I read
10 books in January 2018
. One got 5 stars and made my list of books to give -
Behind Closed Doors
by B.A. Paris. But I had several that I really enjoyed which is making it hard to choose a best of the January Bunch. Since I love cozies, I'm going to choose
Busy Body
by M.C. Beaton
Agatha Raisin has always been ambivalent about holiday cheer, but her cozy little village of Carsely has long prided itself on its Christmas festivities.
But this year Mr. John Sunday, a self-important officer with the Health and Safety Board, has ruled that the traditional tree on top of the church is a public menace; that lampposts are unsafe for hanging illuminations; that May Dimwoody's homemade toys are dangerous for children. Things have reached such a desperate pass that the Carsely Ladies' Society joins forces with the ladies in the neighboring village of Odley Cruesis to try to put a stop to Mr. Sunday's meddling - only to find that someone has literally put a stop to him with a kitchen knife.
Agatha's detective agency is on the case, but when a man has made as many enemies as John Sunday, it's hard to know where to start.
Buy Busy Body at Amazon
February's Best of the Bunch
I only read
6 books in February
because I adopted new kittens that month. But again, it is very difficult to choose a favorite. The five-star book in February was
The Tuscan Child
by Rhys Bowen, and I loved it (I can't wait to read her next historical fiction novel). But I think Best of the Bunch is going to psychological thriller
The Good Daughter
by Karin Slaughter. I waited a long time to read it and it did not disappoint.
Two girls are forced into the woods at gunpoint. One runs for her life. One is left behind.
Twenty-eight years ago, Charlotte and Samantha Quinn's happy small-town family life was torn apart by a terrifying attack on their family home. It left their mother dead. It left their father—Pikeville's notorious defense attorney—devastated. And it left the family fractured beyond repair, consumed by secrets from that terrible night.
Twenty-eight years later, Charlotte has followed in her father's footsteps to become a lawyer herself—the ideal good daughter. But when violence comes to Pikeville again, and a shocking tragedy leaves the whole town traumatized, Charlotte is plunged into a nightmare. Not only is she the first witness on the scene, but it's a case that unleashes the terrible memories she's spent so long trying to suppress--because the shocking truth about the crime that destroyed her family nearly thirty years ago won't stay buried forever.
Buy The Good Daughter at Amazon
March's Best of the Bunch
March was a good month. I
read 11 books
and 3 of them received 5 stars -
Prancing Around with Sleeping Beauty
,
The Secret Life of Mrs. London
, and
The Flight Attendant
. Because it was a fun, light read I'm going to pick
Prancing Around with Sleeping Beauty
.
This Sleeping Beauty isn't sure she wants to wake up…
Dance instructor Rory Callahan likes to play it safe. When she meets Kyle, he's impulsive, persistent, and her exact opposite. He's pushing her to tango way past her comfort zone and keeping Rory on her toes more than twenty years of dance teachers ever had.
Unfortunately, he's the grandson of her family's archrival and she doesn't want to disappoint them. After all, her parents imagine her as a proper princess - hence her namesake Aurora, AKA Sleeping Beauty. Complicating matters, Rory's also dealing with a surgeon boyfriend who's perfect for her (sort of), an obnoxious boss, and desperate dance moms. Kyle wants to change her whole life, but Rory doesn't like the stakes. After all, princesses are the ones who get the happy endings, aren't they?
Buy Prancing Around with Sleeping Beauty at Amazon
April's Best of the Bunch
I
read 10 books
and
Swimming Between Worlds
was a 5 star read, but I read a bunch of cozies and I'm having a hard time choosing between Joanne Fluke's
Chocolate Chip Cookie Murder
and
A Zen for Murder
by Leighann Dobbs. I think I'll choose Joanne Fluke because of the recipes.
No one cooks up a delectable, suspense-filled mystery quite like Hannah Swensen, Joanne Fluke s dessert-baking, red-haired heroine whose gingersnaps are as tart as her comebacks, and whose penchant for solving crimes one delicious clue at a time has made her a bestselling favorite. And it all began on these pages, with a bakery, a murder, and some suddenly scandalous chocolate-chip crunchies. Featuring a bonus short story and brand new, mouthwatering recipes, this limited edition of the very first Hannah Swensen mystery is sure to have readers coming back for seconds.
Hannah Swenson already has her hands full trying to dodge her mother s attempts to marry her off while running The Cookie Jar, Lake Eden, Minnesota s most popular bakery. But once Ron LaSalle, the beloved delivery man from the Cozy Cow Dairy, is found murdered behind her bakery with Hannah s famous Chocolate Chip Crunchies scattered around him, her life just can t get any worse. Determined not to let her cookies get a bad reputation, she sets out to track down a killer.
Who would have the sheer audacity and the motive to kill the most punctual delivery man Hannah ever had? Topping the list is the high school football coach. What exactly was his wife doing, making the rounds with the milkman? Could Max Turner, owner of Cozy Cow Dairy, have had a secret he didn t want to share with his top employee? The more Hannah snoops, the more suspects turn up. Why has Lake Eden s most prominent prodigal son, Benton Woodley, just resurfaced? And what about the mysterious Mr. Harris who seemed interested in buying the property next to the dairy, but then disappeared? This is one murder that s starting to leave a very bad taste in Hannah s mouth. And if she doesn t watch her back, Hannah s sweet life may get burned to a crisp.
Buy Chocolate Chip Cookie Murder at Amazon
May's Best of the Bunch
While May may not have been the most spectacular of reading months,
only 7 books were read
, it has possibly my favorite book of 2018 -
The Feather Thief,
which is definitely high praise for a true crime novel (not a favorite genre of mine). Hands down it is the best of the bunch in May.
On a cool June evening in 2009, after performing a concert at London's Royal Academy of Music, twenty-year-old American flautist Edwin Rist boarded a train for a suburban outpost of the British Museum of Natural History, armed with a pair of latex gloves, a miniature LED flashlight, and a diamond-blade glass cutter. Home to one of the largest ornithological collections in the world, the Tring museum was full of rare bird specimens whose coppery orange, emerald, and iridescent blue feathers were worth staggering amounts of money to the men who shared Edwin's obsession: the Victorian art of salmon fly-tying, in which exotic feathers are fastened in intricate patterns around fishing hooks. Over the next few hours, the champion fly-tier grabbed hundreds of bird skins--some collected 150 years earlier by a contemporary of Darwin's, Alfred Russel Wallace, who'd risked everything to gather them--and escaped into the darkness.
Two years later, Kirk Wallace Johnson was waist high in a river in northern New Mexico, fly-fishing for trout, when his guide told him about the heist. He was soon consumed by the strange case of the feather thief. What would possess a person to steal dead birds from a museum? Had Edwin paid the price for his crime? What became of the missing skins? In his search for answers, Johnson was catapulted into a years-long, worldwide investigation, infiltrating the underground network of fly-tiers and feather smugglers, and tracking down the thief and his suspected accomplices in a single-minded search for the missing birds. The gripping story of a bizarre and shocking crime, and one man's relentless pursuit of justice, The Feather Thief is also a fascinating exploration of obsession, and man's destructive instinct to harvest the beauty of nature.
Buy The Feather Thief at Amazon
June's Best of the Bunch
Another difficult month to choose just 1 book that was the best. Of the
7 books I read
, children's book
The Beedog
and
thriller
After Anna
both received 5 stars. I also read
An Ocean of Minutes
which my book club is reading in April 2019. But I think another cozy mystery is the best of the bunch -
Brownies & Betrayal
.
Pastry chef Tess Crawford thought moving from Chicago to quiet Silver Springs, Arizona would simplify her life. That was before she found the body of a woman with whom she had traded heated words the previous night, left her fingerprints on the murder weapon, and came under attack for trying to clear her name. When her cheating ex-fiance shows up, intent on convincing her to come back to work for him, Tess—armed with an extra batch of éclairs—decides to take control and solve the mystery herself, with the help of friends and frenemies alike.
But will that be enough to save her when she gets too close and the killer decides it's safer to get her out of the way?
Buy Brownies & Betrayal at Amazon
July's Best of the Bunch
July was a big reading month -
12 books read
! A favorite series was re-released with expanded scenes. 5 books received 5 stars. I also read
An Ocean of Minutes
which will be my book club's April read. I finally caught up on the cozy mystery series by Rhys Bowen which I love. Another favorite author, JB Lynn, released a new book in her cozy series. I think I will choose the surprise good read of July, a short story collection
Troubled Daughters, Twisted Wives
.
Fourteen chilling tales from the pioneering women who created the domestic suspense genre
Murderous wives, deranged husbands, deceitful children, and vengeful friends. Few know these characters—and their creators—better than Sarah Weinman. One of today's preeminent authorities on crime fiction, Weinman asks: Where would bestselling authors like Gillian Flynn, Sue Grafton, or Tana French be without the women writers who came before them?
In
Troubled Daughters, Twisted Wives
, Weinman brings together fourteen hair-raising tales by women who—from the 1940s through the mid-1970s—took a scalpel to contemporary society and sliced away to reveal its dark essence. Lovers of crime fiction from any era will welcome this deliciously dark tribute to a largely forgotten generation of women writers.
Buy Troubled Daughter, Twisted Wives at Amazon
August's Best of the Bunch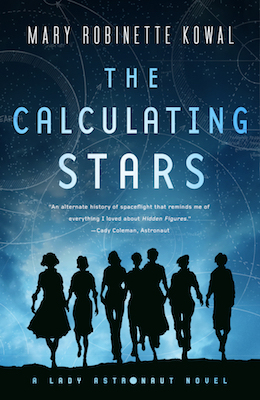 11 books read
with 3 5-star books. But it is pretty easy to pick the best of the bunch. It is probably my favorite new series of 2018 -
The Calculating Stars
.
On a cold spring night in 1952, a huge meteorite fell to earth and obliterated much of the east coast of the United States, including Washington D.C. The ensuing climate cataclysm will soon render the earth inhospitable for humanity, as the last such meteorite did for the dinosaurs. This looming threat calls for a radically accelerated effort to colonize space, and requires a much larger share of humanity to take part in the process.
Elma York's experience as a WASP pilot and mathematician earns her a place in the International Aerospace Coalition's attempts to put man on the moon, as a calculator. But with so many skilled and experienced women pilots and scientists involved with the program, it doesn't take long before Elma begins to wonder why they can't go into space, too.
Elma's drive to become the first Lady Astronaut is so strong that even the most dearly held conventions of society may not stand a chance against her.
Buy The Calculating Stars at Amazon
September's Best of the Bunch
In September, I finished up the favorite series that was re-released.
The Scroll
was the only book of the
8 I read
that received 5 stars. I love that series, but
Pet Friendly
was really good and a fun read.
Todd Dwyer, a successful app designer, wasn't planning to adopt a dog, but when his Uncle Bertie dies and leaves his little mutt Archie homeless, Todd can't help welcoming the pooch home.
Archie could charm the marrow out of a bone, but Todd's girlfriend Gwen is less than impressed with the instant bond the fluffy white ball of fur makes with her boyfriend. When things go awry the first night, she insists that Todd give Archie to his sister, Claire, whose rural home is a day's drive away.
Todd and Archie hit the road, but circumstances compel them to make a detour to a quaint hotel run by Todd's childhood friend, Emma Carlisle. As it happens, the hotel is hosting a colorful group of ghost hunters in town for a paranormal conference, and when Archie starts howling into the air vent, it isn't long before their road trip turns bumpier than an unpaved country lane.
But with Archie's unerring canine instincts and loyal heart, he may help Todd and Emma see the happiness that's waiting just under their noses . . .
Buy Pet Friendly at Amazon
October's Best of the Bunch
October was a
huge month reading
-wise with 15 books read. It was filled with Halloween reads and a favorite author released a new book, but my pick for the best was one that surprised me by how much I enjoyed it.
Recent art school graduate Bekah thought she'd hit the jackpot: an unknown relative died, and she inherited a small fortune and a huge house in the mountains of North Carolina.
Trey Howard, the lawyer who handled the estate, is a handsome man in his twenties, and they hit it off right away, and soon become more than friends. Bekah expected a pleasant year to get her head together and have a romantic fling. Problem is, the house is full of junk...and siblings she didn't know she had are willing to kill her for it.
More important, the junk in her new house is magical, she's surrounded by monsters, and her life seems to be in mortal peril every time she ventures into a new room. As Bekah discovers more about her mysterious benefactor and the magical world he inhabited, she realizes that as tough and resourceful as she is, she might just be in over her head...
Buy Heirs of Grace at Amazon
November's Best of Brunch
Heading into the home stretch and it is getting a little easier to pick the best of the bunch.
In November, I read 10 books.
My pick is the only book that received 5 stars. It was a highly anticipated book that a friend loaned to me -
Time's Convert.
On the battlefields of the American Revolution, Matthew de Clermont meets Marcus MacNeil, a young surgeon from Massachusetts, during a moment of political awakening when it seems that the world is on the brink of a brighter future. When Matthew offers him a chance at immortality and a new life free from the restraints of his puritanical upbringing, Marcus seizes the opportunity to become a vampire. But his transformation is not an easy one and the ancient traditions and responsibilities of the de Clermont family clash with Marcus's deeply held beliefs in liberty, equality, and brotherhood.
Fast-forward to contemporary Paris, where Phoebe Taylor—the young employee at Sotheby's whom Marcus has fallen for—is about to embark on her own journey to immortality. Though the modernized version of the process at first seems uncomplicated, the couple discovers that the challenges facing a human who wishes to be a vampire are no less formidable than they were in the eighteenth century. The shadows that Marcus believed he'd escaped centuries ago may return to haunt them both—forever.
Buy Time's Convert at Amazon
December's Best of the Bunch
December isn't over yet, but I think I can already pick my favorite book. I love Christmas books, especially anthologies. My sister gave me
A Norman Rockwell Christmas Book
many years ago and I have loved the stories, artwork, poems, and songs included. Earlier this month I bought for myself A Christmas Treasury and it is beautiful.
Christmas comes but once a year so celebrate it in style with A Christmas Treasury, a collection of classic stories and poems that commemorate the yuletide season. Abundantly illustrated with the work of Arthur Rackham, Mary Cowles Clark, Alice Ercle Hunt, and other titans of the Golden Age of Illustration, the book features the full texts of Charles Dickens's A Christmas Carol and L. Frank Baum's The Life and Adventures of Santa Claus, as well as stories by Louisa May Alcott, Lucretia Hale, Harriet Beecher Stowe, L. M. Montgomery, Mary E. Wilkins Freeman, O. Henry, and William Dean Howells.
Of course it wouldn't be Christmas without "A Visit from St. Nicholas," and this volume includes, in addition to that timeless classic from Clement Clarke Moore, a selection of poems by Lewis Carroll, Mary Mapes Dodge, Harriet Prescott Spofford, William Cotter Wilson, and others.
So trim the tree, hang the stockings, and deck the halls! A Christmas Treasury is the perfect accompaniment to all of the holiday's festivities, with stories and poems that will appeal to readers young and old and continue to delight and entertain into the new year and beyond.
Buy A Christmas Treasury at Amazon
Also be sure to check out
Sue's Best of 2018 Book List
and
MK's Year End Round Up
for more great books.
Donna Huber is an avid reader and natural encourager. She is the founder of Girl Who Reads and the author of how-to marketing book Secrets to a Successful Blog Tour.
Get even more book news in your inbox, sign up today! Girl Who Reads is an Amazon advertising affiliate; a small commission is earned when purchases are made at Amazon using any Amazon links on this site. Thank you for supporting Girl Who Reads.