by Donna Huber
My January snow day - fuzzy socks, good books, hot tea
I'm still shocked that I read 115 books last year. I credit audiobooks for the win, and if my list of books read this month is an indication, audiobooks are going to play a big part in reaching my 2018 reading goals. Do you listen to audiobooks? I prefer to read books, but it is a nice way to fit in books when I have other things that need doing - cleaning the house or at work.
Amazon affiliate links are used on this site. Covers and descriptions are from Goodreads.com
Read:
Saving the Sheriff
by Roxanne Snopek
Over Christmas, I discovered the Marrietta, MT universe. I went looking for other books in that universe and came across this free short story (it's now 99 cents). While Snopek does write in the Marrietta universe, this book is not. As far as clean romances go, I really liked it.
The power might be out…but the heat is on.
Every year, free-spirited Frankie Sylva banishes her holiday loneliness with good deeds. This time, she's rescuing a truckload of neglected reindeer—until a blizzard sidetracks her scheme, and now she's stuck…literally.
Local sheriff Red LeClair is shocked to find a very cute, half-frozen woman trespassing on Three River Ranch in a ditched rig, with a suspiciously empty trailer. Is she a horse thief? Is she on the run? Is she out of her mind? He has no choice but to take her back to the ranch and keep an eye on her.
But when the power goes out, Red and Frankie are forced to depend on each other in a way that both have avoided for years. The sheriff's quiet holiday is suddenly festive: a crackling fire, candles, carols, and an irresistible stranger…who might be a felon.
Buy Saving the Sheriff at Amazon
A Rancher's Surrender
by Michelle Beattie
This is another Marietta, MT story. It is set in the 1880 and features Jillian whom I briefly see in Away in Montana. This book is more steamy than the other titles I've read in this universe. It reminded me a bit of the television show Dr. Quinn Medicine Woman.
Denied entrance into vet school because of her gender, fiery and determined Jillian Matthews trained at her father's side and then headed west to Montana Territory after answering an ad using only her father's initials and last name. She is convinced that her skills will override local ranchers prejudice. She's wrong and handsome Wade Parker, the one who hired her, is the first to make his displeasure public. But Jillian refuses to back down and sets out to win Wade's approval. Soon that's not all she hopes to win.
Widower Wade Parker is furious the new vet he helped hire is a woman. The fact that she's beautiful, smart and wakes parts of him that he thought dead burns even more. Feeling tricked, Wade is determined to send her back east but when the town turns on Jillian and her enemies become dangerous, he steps up to be her protector. And that's not the only role Jillian has him contemplating.
Buy A Rancher's Surrender at Amazon
(the ebook was still free when I prepared this post this weekend)
Betrayed
by Lisa Scottoline
I discovered this series last year when looking for audiobooks. I really enjoyed the story. I liked the main character Judy. I'm undecided on how I feel about the family twist at the end.
The women of Rosato & Associates return, after the relaunch of the series that started with Accused. This second entry, Betrayed, stars Judy Carrier, who has had the starring role in only one previous Rosato book. When Betrayed opens, Judy Carrier finds herself at a crossroads in her life. Her best friend, Mary DiNunzio, has just become partner and is about to become a bride, leaving Judy vaguely out of sorts. She's not jealous, but she's not happy either and she's wondering where her own career and love life are going. To make matters worse, she is rocked to her emotional foundations when she learns that her beloved Aunt Barb has been diagnosed with breast cancer. She races to her aunt's side, and so does Judy's mother, only to find that her aunt is dealing with the sudden death of a friend who had been helping her through chemo. The friend, Iris Juarez, was an undocumented worker at a local farm, but her death doesn't look natural at all, to Judy. Judy begins to investigate, following a path that leads her into an underground world far more dangerous than she ever imagined. Judy has to dig to uncover what happened to Iris, and at the same time unearth the secrets in her own family.
Buy Betrayed at Amazon
This Could Hurt
by Jillian Medoff
My first review book of 2018. At the start of the book, I wasn't sure if I was going to like it. I thought is might be too depressing for the start of a new year. But after getting to know the characters, I really started to like the book and it didn't feel quite as depressing. By the end, I felt that it was a bittersweet story and one I'm glad I read. Read my full review.
A funny and deeply felt novel that illuminates the pivotal role of work in our lives—a riveting fusion of The Nest, Up in the Air, and
Then We Came to the End
that captures the emotional complexities of five HR colleagues trying to balance ambition, hope, and fear as their small company is buffeted by economic forces that threaten to upend them.
Rosa Guerrero beat the odds as she rose to the top of the corporate world. An attractive woman of a certain age, the longtime chief of human resources at Ellery Consumer Research is still a formidable presence, even if her most vital days are behind her. A leader who wields power with grace and discretion, she has earned the devotion and loyalty of her staff. No one admires Rosa more than her doting lieutenant Leo Smalls, a benefits vice president whose whole world is Ellery.
While Rosa is consumed with trying to address the needs of her staff within the ever-constricting limits of the company's bottom line, her associate director, Rob Hirsch, a middle-aged, happily married father of two, finds himself drawing closer to his "work wife," Lucy Bender, an enterprising single woman searching for something—a romance, a promotion—to fill the vacuum in her personal life. For Kenny Verville, a senior manager with an MBA, Ellery is a temporary stepping-stone to bigger and better places—that is, if his high-powered wife has her way.
Compelling, flawed, and heartbreakingly human, these men and women scheme, fall in and out of love, and nurture dreams big and small. As their individual circumstances shift, one thing remains constant—Rosa, the sun around whom they all orbit. When her world begins to crumble, the implications for everyone are profound, and Leo, Rob, Lucy, and Kenny find themselves changed in ways beyond their reckoning.
Jillian Medoff explores the inner workings of an American company in all its brilliant, insane, comforting, and terrifying glory. Authentic, razor-sharp, and achingly funny, This Could Hurt is a novel about work, loneliness, love, and loyalty; about sudden reversals and unexpected windfalls; a novel about life.
Buy This Could Hurt at Amazon
Brooklyn
by Colm Tóibín
I enjoyed this audiobook. It was a sweet coming-of-age type story. The book was made into a movie, but I haven't seen it. I'll probably look for it. Have you read it or seen the movie?
Eilis Lacey has come of age in small-town Ireland in the years following World War Two. Though skilled at bookkeeping, she cannot find a job in the miserable Irish economy. When an Irish priest from Brooklyn offers to sponsor Eilis in America--to live and work in a Brooklyn neighborhood "just like Ireland"--she decides she must go, leaving her fragile mother and her charismatic sister behind.
Eilis finds work in a department store on Fulton Street, and when she least expects it, finds love. Tony, a blond Italian from a big family, slowly wins her over with patient charm. He takes Eilis to Coney Island and Ebbets Field, and home to dinner in the two-room apartment he shares with his brothers and parents. He talks of having children who are Dodgers fans. But just as Eilis begins to fall in love with Tony, devastating news from Ireland threatens the promise of her future.
By far Tóibín's most instantly engaging and emotionally resonant novel, Brooklyn will make readers fall in love with his gorgeous writing and spellbinding characters.
Buy Brooklyn at Amazon
Winter Storms
by Elin Hilderbrand
When I listened to the 4th book over Christmas, I realized I had somehow missed book 3. It filled in some of the missing gaps I had when I listened to the last book in the series. When I started this series I wasn't sure if I would stick with it, but I grew to love these characters. From the description, this was supposed to be the end of the series. I'm glad there was a 4th and I wonder if the series will spin off with some of the children.
Gather under the mistletoe for one last round of caroling with the Quinn family in this heartwarming conclusion to Elin Hilderbrand's bestselling Winter Street Trilogy. Some of the stormy weather of the past few seasons seems to have finally lifted for the Quinns. After a year apart, and an ill-fated affair with the Winter Street Inn's old Santa Claus, Mitzi has returned to rule the roost; Patrick is about to be released from prison; Kevin has a successful new business and is finally ready to tie the knot with Isabelle; and best of all, there's hopeful news about Bart, who has been captured by enemy forces in Afghanistan. That doesn't mean there aren't a few dark clouds on the horizon. Kelley has recently survived a health scare; Jennifer can't quite shake her addiction to the drugs she used as a crutch while Patrick was in jail; and Ava still can't decide between the two lovers that she's been juggling with limited success. However, if there's one holiday that brings the Quinn family together to give thanks for the good times, it's Christmas. And this year promises to be a celebration unlike any other as the Quinns prepare to host Kevin and Isabelle's wedding at the inn. But as the special day approaches, a historic once-in-a-century blizzard bears down on Nantucket, threatening to keep the Quinns away from the place--and the people--they love most. Before the snow clears, the Quinns will have to survive enough upheavals to send anyone running for the spiked eggnog, in this touching novel that proves that when the holidays roll around, you can always go home again.
Buy Winter Storms at Amazon
22 Scars
by C.M. North
It is kind of like an edgy indie film that either people hate or love. I liked the chapters with Beth as the narrator as they flowed more like a story. Read my full review.
Raised with apathy and spite, Amy's life is a monotonous drone of deep despair, broken only by coffee and nights out with her best—and only—friend. She battles depression daily, fighting to keep her sanity in a world that, to her, is set on destroying her soul.
Her future is bleak, overcast with shadow and doubt; her past harbors terrible secrets that even those closest to her couldn't begin to guess. When tragedy strikes someone she holds dear, will she succumb to the crushing weight of despair, or will she find the strength to fight—to live?
22 Scars
is a story of what it takes to live daily with depression - and how the scars of a lifetime can pass through generations and beyond.
Can the past ever truly be forgotten?
Can depression ever be beat?
Buy 22 Scars at Amazon
Busy Body
by M.C. Beaton
If you haven't tried audiobooks, and you like cozy mysteries, then I recommend picking up one in the Agatha Raisin. They are fun and easy to follow.
Agatha Raisin has always been ambivalent about holiday cheer, but her cozy little village of Carsely has long prided itself on its Christmas festivities.
But this year Mr. John Sunday, a self important officer with the Health and Safety Board, has ruled that the traditional tree on top of the church is a public menace; that lampposts are unsafe for hanging illuminations; that May Dimwoody's homemade toys are dangerous for children. Things have reached such a desperate pass that the Carsely Ladies' Society joins forces with the ladies in the neighboring village of Odley Cruesis to try to put a stop to Mr. Sunday's meddling - only to find that someone has literally put a stop to him with a kitchen knife.
Agatha's detective agency is on the case, but when a man has made as many enemies as John Sunday, it's hard to know where to start.
Buy Busy Body at Amazon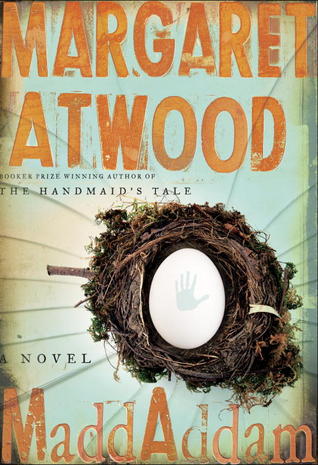 MaddAddam
by Margaret Atwood
The first book in this trilogy was a book club read and since I listened to it on audio, I decided to listen to the whole trilogy. I got it from the digital library in December, but with the holidays I kept running out of time and then would have to go back on the holds list. I don't know if it was the wait or because this one had a lot of recapping in it as the story was wrapped, but I found myself growing bored with it.
Months after the Waterless Flood pandemic has wiped out most of humanity, Toby and Ren have rescued their friend Amanda from the vicious Painballers. They return to the MaddAddamite cob house, newly fortified against man and giant pigoon alike. Accompanying them are the Crakers, the gentle, quasi-human species engineered by the brilliant but deceased Crake. Their reluctant prophet, Snowman-the-Jimmy, is recovering from a debilitating fever, so it's left to Toby to preach the Craker theology, with Crake as Creator. She must also deal with cultural misunderstandings, terrible coffee, and her jealousy over her lover, Zeb.
Zeb has been searching for Adam One, founder of the God's Gardeners, the pacifist green religion from which Zeb broke years ago to lead the MaddAddamites in active resistance against the destructive CorpSeCorps. But now, under threat of a Painballer attack, the MaddAddamites must fight back with the aid of their newfound allies, some of whom have four trotters. At the center of MaddAddam is the story of Zeb's dark and twisted past, which contains a lost brother, a hidden murder, a bear, and a bizarre act of revenge.
Combining adventure, humor, romance, superb storytelling, and an imagination at once dazzlingly inventive and grounded in a recognizable world, MaddAddam is vintage Margaret Atwood—a moving and dramatic conclusion to her internationally celebrated dystopian trilogy.
Buy MaddAddam at Amazon
Behind Closed Doors
by B.A. Paris
Susan reviewed this book back in the fall of 2016 and I've wanted to read it ever since. So I got the audiobook. It caused it me a lot of anxiety to the point I went looking for spoilers (since I couldn't just flip to the last page and find out what happens). It is an excellent psychological thriller, even knowing how it ends.
Everyone knows a couple like Jack and Grace: he has looks and wealth, she has charm and elegance. You'd like to get to know Grace better. But it's difficult, because you realize Jack and Grace are never apart. Some might call this true love.
Picture this: a dinner party at their perfect home, the conversation and wine flowing. They appear to be in their element while entertaining. And Grace's friends are eager to reciprocate with lunch the following week. Grace wants to go, but knows she never will. Her friends call—so why doesn't Grace ever answer the phone? And how can she cook such elaborate meals but remain so slim?
And why are there bars on one of the bedroom windows?
The perfect marriage? Or the perfect lie?
Buy Behind Closed Doors at Amazon
Currently Reading:
Women Float
by Maureen Foley
I've felt much like reading in the evenings so even though it is a novella I haven't made much progress.
Lonely California pastry chef Win never learned how to swim, despite growing up just miles from the Pacific Ocean. Even Janie, her flaky pro-surfer single mother, couldn't convince her to brave the water, solidifying Win's fear when she leaves her at the tender age of 9. But when Win turns 29 and decides to take swimming lessons for the first time -- finally confronting her hydrophobia and trying to make sense of why her mer-mother suddenly swam off all those years ago -- she must also deal with a desperate crush she's developed on her New Age neighbor, mysterious postcards that keep arriving in the mail, and her bad habit of pathological lying. This touching and humorous look at female relationships and the dramas that come for contemporary women turning thirty also doubles as a loving ode to the small coastal town of Carpinteria and the laid-back SoCal lifestyle that guides it. Poetic and moving, Maureen Foley's fiction debut is both a perfect beach read and an insightful look at love, accidental families and the power of friendships.
Buy Women Float at Amazon
Peregrine Island
by Diane B. Saxon
I'm not really sure where this story is going but it is interesting so far. It's won a bunch of awards.
Part "who-done-it" and part family drama, this award-winning novel reveals that neither people nor paintings are always what they appear to be
Contradictory relationships within troubled families are nothing new, but the award-winning psychological novel written by well-known journalist Diane B. Saxton elevates these relationships and the mysterious heirloom painting that both exposes and unites them to an art form.
Peregrine Island interweaves the stories of three generations of women, one valuable painting, the artist who created it, and those who would do anything to possess it – including kill.
Lush with sensory details, this psychologically complex mystery novel is set on a private island in the middle of Long Island Sound. It begins when the family's lives are turned upside-down one summer by so-called art experts, who appear on the doorstep of their isolated home to appraise a favorite heirloom painting. When incriminating papers along with two other paintings are discovered behind the painting in question, the appraisal turns into a full-fledged investigation and detectives are called into the case— but not by the family whose members grow increasingly antagonistic toward one another.
During the course of the inquiry and as the summer progresses, the family members discover new secrets about one another and new facts about their past. Above all, they learn that neither people nor paintings can be taken at face value.
Buy Peregrine Island at Amazon
The Three-Body Problem
by Liu Cixin
This is the book club read for February. I've just started it and my book club meets on Thursday! It took forever to get a copy from the library.
The Three-Body Problem is the first chance for English-speaking readers to experience this multiple award winning phenomenon from China's most beloved science fiction author, Liu Cixin.
Set against the backdrop of China's Cultural Revolution, a secret military project sends signals into space to establish contact with aliens. An alien civilization on the brink of destruction captures the signal and plans to invade Earth. Meanwhile, on Earth, different camps start forming, planning to either welcome the superior beings and help them take over a world seen as corrupt, or to fight against the invasion. The result is a science fiction masterpiece of enormous scope and vision.
Buy The Three-Body Problem at Amazon
Up Next:
I have two reviews coming up in February so they will be my next reads.
Prancing Around with Sleeping Beauty
by Stacy Juba
This Sleeping Beauty isn't sure she wants to wake up…
Dance instructor Rory Callahan likes to play it safe. When she meets Kyle, he's impulsive, persistent, and her exact opposite. He's pushing her to tango way past her comfort zone and keeping Rory on her toes more than twenty years of dance teachers ever had.
Unfortunately, he's the grandson of her family's archrival and she doesn't want to disappoint them. After all, her parents imagine her as a proper princess - hence her namesake Aurora, AKA Sleeping Beauty. Complicating matters, Rory's also dealing with a surgeon boyfriend who's perfect for her (sort of), an obnoxious boss, and desperate dance moms. Kyle wants to change her whole life, but Rory doesn't like the stakes. After all, princesses are the ones who get the happy endings. . .aren't they?
This sweet romantic comedy is a standalone and can be read on its own. All books in the series can be read in any order so jump in at any time.
Buy Prancing Around with Sleeping Beauty at Amazon
Birds of Wonder
by Cynthia Robinson
Fiction. One August morning while walking her dog, high-school English teacher Beatrice Ousterhout stumbles over the dead body of a student, Amber Inglin, who was to play the lead in Beatrice's production of John Webster's Jacobean tragedy, The Duchess of Malfi. Barely able to speak, Beatrice calls the police. That is to say, she calls her daughter. Jes is a detective with two years of experience under her belt and a personal life composed primarily of a string of one-night-stands, including the owner of the field in which Beatrice has found Amber. In addition to a house and a field, Child Services lawyer Liam Walsh owns a vineyard, where Amber Inglin, along with a handful of other teens who've had difficulty negotiating the foster system, was an intern. Set among the hills and lakes of upstate New York and told in six vibrantly distinct voices, this complex and original narrative chronicles the rippling effects of a young girl's death through a densely intertwined community. By turns funny, fierce, lyrical and horrifying, BIRDS OF WONDER probes family ties, the stresses that break them, and the pasts that never really let us go.
Buy Birds of Wonder at Amazon
What great books have you discovered this first month of 2018?
Donna Huber is an avid reader and natural encourager. She is the founder of Girl Who Reads and the author of how-to marketing book Secrets to a Successful Blog Tour.
Get even more book news in your inbox, sign up today! Girl Who Reads is an Amazon advertising affiliate; a small commission is earned when purchases are made at Amazon using any Amazon links on this site. Thank you for supporting Girl Who Reads.