by Donna Huber
I knew my reading streak wouldn't last. I'm still a couple of books ahead of schedule for my reading challenge so that isn't too bad. Two of the reasons my reading is down are pictured above. I adopt two 8-month-old kittens three weeks ago. They are now all integrated (I have 2 dogs) into the family so I'm getting more reading done. The other reason my reading is down is my library switch the digital library they use at the beginning of the month. I listened to 6 audiobooks in January and only 2 this month. The 'listen online' option at
RB Digital
is horrible - it doesn't save my spot, there is no rewind/fast forward function, and it constantly crashes and has to be reloaded. So I might be listening to fewer books from now on.
Amazon affiliate links are used on this site.
Read:
Women Float by Maureen Foley
Lonely California pastry chef Win never learned how to swim, despite growing up just miles from the Pacific Ocean. Even Janie, her flaky pro-surfer single mother, couldn't convince her to brave the water, solidifying Win's fear when she leaves her at the tender age of 9. But when Win turns 29 and decides to take swimming lessons for the first time -- finally confronting her hydrophobia and trying to make sense of why her mer-mother suddenly swam off all those years ago -- she must also deal with a desperate crush she's developed on her New Age neighbor, mysterious postcards that keep arriving in the mail, and her bad habit of pathological lying. This touching and humorous look at female relationships and the dramas that come for contemporary women turning thirty also doubles as a loving ode to the small coastal town of Carpinteria and the laid-back SoCal lifestyle that guides it. Poetic and moving, Maureen Foley's fiction debut is both a perfect beach read and an insightful look at love, accidental families and the power of friendships. Read
my review
.
Buy Women Float at Amazon
The Good Daughter by Karin Slaughter
I waited months for my hold to come up the digital library. It took me longer to get through it because as I mention my library switched who they were using on February 6. I was about halfway through it but had to wait a few days for the new vendor to get the book. It was definitely worth the wait. I loved the characters and the plot.
Two girls are forced into the woods at gunpoint. One runs for her life. One is left behind.
Twenty-eight years ago, Charlotte and Samantha Quinn's happy small-town family life was torn apart by a terrifying attack on their family home. It left their mother dead. It left their father—Pikeville's notorious defense attorney—devastated. And it left the family fractured beyond repair, consumed by secrets from that terrible night.
Twenty-eight years later, and Charlie has followed in her father's footsteps to become a lawyer herself—the ideal good daughter. But when violence comes to Pikeville again—and a shocking tragedy leaves the whole town traumatized—Charlie is plunged into a nightmare. Not only is she the first witness on the scene, but it's a case that unleashes the terrible memories she's spent so long trying to suppress. Because the shocking truth about the crime that destroyed her family nearly thirty years ago won't stay buried forever.
Buy The Good Daughter at Amazon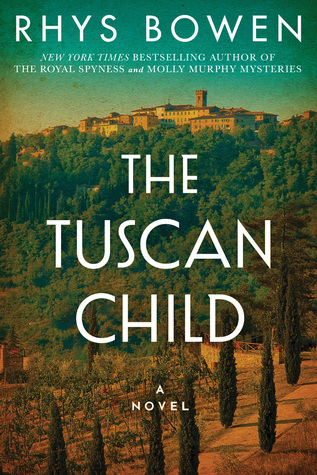 The Tuscan Child by Rhys Bowe
n
From New York Times bestselling author Rhys Bowen comes a haunting novel about a woman who braves her father's hidden past to discover his secrets…
In 1944, British bomber pilot Hugo Langley parachuted from his stricken plane into the verdant fields of German-occupied Tuscany. Badly wounded, he found refuge in a ruined monastery and in the arms of Sofia Bartoli. But the love that kindled between them was shaken by an irreversible betrayal.
Nearly thirty years later, Hugo's estranged daughter, Joanna, has returned home to the English countryside to arrange her father's funeral. Among his personal effects is an unopened letter addressed to Sofia. In it is a startling revelation.
Still dealing with the emotional wounds of her own personal trauma, Joanna embarks on a healing journey to Tuscany to understand her father's history—and maybe come to understand herself as well. Joanna soon discovers that some would prefer the past be left undisturbed, but she has come too far to let go of her father's secrets now. Read
my review
.
Buy The Tuscan Child at Amazon
A Bone to Pick by Charlaine Harris
Since my wishlist didn't transfer when the digital library changed so I had to look for other audiobooks and this one was easy to find. I found it a bit boring, but it was great background noise for my otherwise silent office.
Aurora "Roe" Teagarden's fortunes change when a deceased acquaintance names her as heir to a rather substantial estate, including money, jewelry, and a house complete with a skull hidden in a window seat. Roe concludes that the elderly women has purposely left her a murder to solve. So she must identify the victim and figure out which one of her new, ordinary-seeming neighbors is a murderer-without putting herself in deadly danger.
Buy A Bone to Pick at Amazon
Birds of Wonder by Cynthia Robinson
One August morning while walking her dog, high-school English teacher Beatrice Ousterhout stumbles over the dead body of a student, Amber Inglin, who was to play the lead in Beatrice's production of John Webster's Jacobean tragedy, The Duchess of Malfi. Barely able to speak, Beatrice calls the police. That is to say, she calls her daughter. Jes is a detective with two years of experience under her belt and a personal life composed primarily of a string of one-night-stands, including the owner of the field in which Beatrice has found Amber. In addition to a house and a field, Child Services lawyer Liam Walsh owns a vineyard, where Amber Inglin, along with a handful of other teens who've had difficulty negotiating the foster system, was an intern. Set among the hills and lakes of upstate New York and told in six vibrantly distinct voices, this complex and original narrative chronicles the rippling effects of a young girl's death through a densely intertwined community. By turns funny, fierce, lyrical and horrifying, Birds of Wonder probes family ties, the stresses that break them, and the pasts that never really let us go. Read
my review
.
Buy Birds of Wonder at Amazon
Naughty in Nice by Rhys Bowen
Still making my way through this series. I needed a quick fun read since I've been reading a lot of literary fiction lately.
The national bestselling author of Royal Blood whisks her heroine away to the French Riviera for fun-and danger. Lady Georgiana Rannoch has once again been called into service by Her Majesty the Queen. This time she's sent to Nice on a secret assignment that's nothing to sneeze at-recover the Queen's stolen snuff box.
As much of an honor as it is to be trusted by Her Majesty, an even greater honor awaits Georgie in Nice-as Coco Chanel herself asks Georgie to model her latest fashion. But when a necklace belonging to the Queen is stolen on the catwalk, Georgie has to find two priceless items-and solve a murder. How's a girl to find any time to go to the casino?
Buy Naughty in Nice at Amazon
Currently Reading:
Peregrine Island by Diane B. Saxton
Part "who-done-it" and part family drama, this award-winning novel reveals that neither people nor paintings are always what they appear to be
Contradictory relationships within troubled families are nothing new, but the award-winning psychological novel written by well-known journalist Diane B. Saxton elevates these relationships and the mysterious heirloom painting that both exposes and unites them to an art form.
Peregrine Island interweaves the stories of three generations of women, one valuable painting, the artist who created it, and those who would do anything to possess it – including kill.
Lush with sensory details, this psychologically complex mystery novel is set on a private island in the middle of Long Island Sound. It begins when the family's lives are turned upside-down one summer by so-called art experts, who appear on the doorstep of their isolated home to appraise a favorite heirloom painting. When incriminating papers along with two other paintings are discovered behind the painting in question, the appraisal turns into a full-fledged investigation and detectives are called into the case— but not by the family whose members grow increasingly antagonistic toward one another.
During the course of the inquiry and as the summer progresses, the family members discover new secrets about one another and new facts about their past. Above all, they learn that neither people nor paintings can be taken at face value.
Buy Peregrine Island at Amazon
Up Next:
The City, Not Long After by Pat Murphy
Half a generation ago, a gesture in the name of peace turned out to spread plague and disaster. In San Francisco, the survivors are heir to a city transformed. It is a haunted, dreaming place peopled with memories, and in a strange way nearly alive itself. And although it is only beginning to recover from near-ultimate disaster, the city is at risk again. An army of power-hungry men are descending on San Francisco. Teenagers Jax and Danny-boy must lead the fight for freedom using the only weapons they have art, magic, and the soul of the city itself.
Buy The City, Not Long After at Amazon
Donna Huber is an avid reader and natural encourager. She is the founder of Girl Who Reads and the author of how-to marketing book Secrets to a Successful Blog Tour.
Get even more book news in your inbox, sign up today! Girl Who Reads is an Amazon advertising affiliate; a small commission is earned when purchases are made at Amazon using any Amazon links on this site. Thank you for supporting Girl Who Reads.