by Donna Huber
Spring is just around the corner. Here is the south my yard is already green and turning a bit wild so I'll be spending my weekends with yard work and airing out the house. Then we lose an hour next weekend as we change to Daylight Savings Time. With all the new releases this month I need all the hours I can get for reading. But I guess the good news is that these books can be a reward for all that spring cleaning and yard work.
Amazon affiliate links are used on this site. Covers and descriptions are from Goodreads.com
Sunburn by Laura Lippman
What kind of woman walks out on her family? Gregg knows. The kind of woman he picked up in a bar three years ago precisely because she had that kind of wildcat energy.
And now she's vanished - at least from the life that he and his kid will live. We'll follow her, to a new town, a new job, and a new friend, who thinks he has her figured.
So who is this woman who calls herself Polly? How many times has she disappeared before? And who are the shadowy figures so interested in her whereabouts?
Laura Lippman's brilliant new novel - Anne Tyler's Ladder of Years as if written by James M. Cain - will ensnare you in the life of one of crime fiction's most unforgettable heroines.
Available March 1
Buy Sunburn at Amazon
Prancing Around With Sleeping Beauty (Storybook Valley) by Stacy Juba
This Sleeping Beauty isn't sure she wants to wake up…
Dance instructor Rory Callahan likes to play it safe. When she meets Kyle, he's impulsive, persistent, and her exact opposite. He's pushing her to tango way past her comfort zone and keeping Rory on her toes more than twenty years of dance teachers ever had.
Unfortunately, he's the grandson of her family's archrival and she doesn't want to disappoint them. After all, her parents imagine her as a proper princess - hence her namesake Aurora, AKA Sleeping Beauty. Complicating matters, Rory's also dealing with a surgeon boyfriend who's perfect for her (sort of), an obnoxious boss, and desperate dance moms. Kyle wants to change her whole life, but Rory doesn't like the stakes. After all, princesses are the ones who get the happy endings. . .aren't they?
This sweet romantic comedy is a standalone and can be read on its own. All books in the series can be read in any order so jump in at any time.
Available March 5
Buy Prancing Around with Sleeping Beauty at Amazon
Pacifica by Kristen Simmons
Marin is cosario royalty, a pirate like her father and his father before him. Sailing the ocean to chase adventure is in her blood. But these days no one cares that the island town her people call home is named after her grandfather. They have a new leader, one who promises an end to their hunger – and one who thinks that girls are meant for the kitchen or the brothel. Marin knows she's meant for more than that, and with the sudden influx of weapons on the island, and rumors of a pending deal with the enemy oil nation in her wake, she knows a big score to gain the council's favor is the only way to save her people, and herself.
Ross lives a life of privilege. As the president's son he wants for nothing, but he longs for a life of adventure. On a dare, he convinces his best friend Adam to sneak out to the Docks, the site of local race riots between the poor Shorlings and the upper class. But when Adam is arrested along with the other Shorlings, and not even the president is willing to find him, Ross finds himself taking matters into his own hands. He journeys back into the Docks, ready to make deals with anyone, even a beautiful pirate, if it means Adam's safe return.
When Marin and Ross meet in dangerous Shoreling territory he sees a way to get his friend back and she sees her ticket home. The ransom a president's son would command could feed her people for years and restore her family's legacy. But somewhere in the middle of the ocean, Marin must decide if her heart can handle handing over the only person who has ever seen her as more than a pirate.
Available March 6
Buy Pacifica at Amazon
The Flight Attendant by Chris Bohjalian
Cassandra Bowden is no stranger to hungover mornings. She's a binge drinker, her job with the airline making it easy to find adventure, and the occasional blackouts seem to be inevitable. She lives with them, and the accompanying self-loathing. When she awakes in a Dubai hotel room, she tries to piece the previous night back together, already counting the minutes until she has to catch her crew shuttle to the airport. She quietly slides out of bed, careful not to aggravate her already pounding head, and looks at the man she spent the night with. She sees his dark hair. His utter stillness. And blood, a slick, still wet pool on the crisp white sheets. Afraid to call the police--she's a single woman alone in a hotel room far from home--Cassie begins to lie. She lies as she joins the other flight attendants and pilots in the van. She lies on the way to Paris as she works the first class cabin. She lies to the FBI agents in New York who meet her at the gate. Soon it's too late to come clean-or face the truth about what really happened back in Dubai. Could she have killed him? If not, who did?
Available March 13
Buy The Flight Attendant at Amazon
Night Music: A Novel by Deanna Lynn Sletten
1968 - 1971
Charlotte Parsons is devastated over losing her brother in the Vietnam War. Desperate to learn more about the war, she joins a group of college women who send letters to soldiers and befriends Joseph Russo, a young soldier. But a few months after they begin corresponding, his letters stop coming, and Char moves on, still confused as to why so many young lives are being lost so far away from home.
Two years later, Char begins college in her small Illinois town of Grand Falls. She's been dating her brother's long-time best friend, Deke Masterson, who is a senior in college and is deep into the anti-war movement. Char isn't sure how she feels about the war. Then a stranger comes to town and changes everything.
Joseph Russo served in the Vietnam War, earning a Purple Heart for his injury as well as a life-long limp. He's ready to put the war behind him. While in Vietnam, he'd corresponded with a girl from Grand Falls and he enjoyed reading about her idyllic life. When he's discharged, he moves there to attend college. And when he meets Charlotte in person, he's taken with her sweetness, intelligence, and beauty.
The battle lines are drawn as Deke resents Joe's presence around Char. What started out as a well-deserved escape to a small town for Joe soon turns into a battle of wills between him and the idealistic Deke. And there stands Charlotte, right in the middle.
Night Music is a story about a moment in time when the world was chaotic and nothing was completely clear. In the midst of all the chaos, can Char and Joe find enough middle ground to fall in love?
Available March 13
Buy Night Music at Amazon
The Wolf Lord (Ars Numina #3) by Ann Aguirre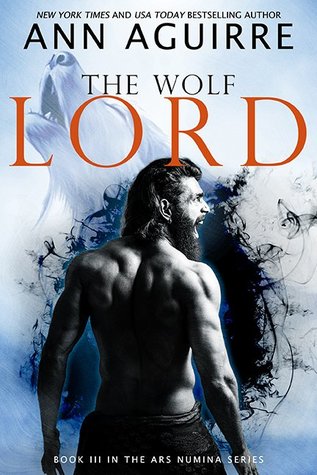 Roguish. Reckless. Unreliable.
Raff Pineda has a certain reputation among the Animari. He's the one to call if there's a party starting, not the man to rely on when all hell breaks loose. Though he's nominally the leader of the Pine Ridge pack, he defers to his second on the tough calls. Raff prefers to live fast and hard and keep his heart hidden, but a certain Eldritch princess won't fall for his usual tricks, and their contract political marriage may be anything but convenient.
Ambitious. Elegant. Isolated.
Princess Thalia Talfayen may not have been raised by a witch in a tower, but she's spent the last few decades locked up for a failed insurrection. Plotting and scheming comes naturally to her; personal connections do not. Since she's come this far in her unstoppable quest to claim the silver throne, she won't hesitate to do whatever it takes to unite her people, even if that means giving herself to the big bad wolf.
Available March 14
Buy The Wolf Lord at Amazon

The Bishop's Pawn (Cotton Malone #13) by Steve Berry
The first case of New York Times bestseller Steve Berry's iconic hero, Cotton Malone.
History notes that the ugly feud between J. Edgar Hoover and Martin Luther King, Jr., marked by years of illegal surveillance and the accumulation of secret files, ended on April 4, 1968 when King was assassinated by James Earl Ray. But that may not have been the case.
Now, fifty years later, former Justice Department agent, Cotton Malone, must reckon with the truth of what really happened that fateful day in Memphis.
It all turns on an incident from eighteen years ago, when Malone, as a young Navy lawyer, is trying hard not to live up to his burgeoning reputation as a maverick. When Stephanie Nelle, a high-level Justice Department lawyer, enlists him to help with an investigation, he jumps at the opportunity. But he soon discovers that two opposing forces―the Justice Department and the FBI―are at war over a rare coin and a cadre of secret files containing explosive revelations about the King assassination, information that could ruin innocent lives and threaten the legacy of the civil rights movement's greatest martyr.
Malone's decision to see it through to the end ― from the raucous bars of Mexico, to the clear waters of the Dry Tortugas, and ultimately into the halls of power within Washington D.C. itself ― not only changes his own life, but the course of history.
Steve Berry always mines the lost riches of history — in The Bishop's Pawn he imagines a gripping, provocative thriller about an American icon.
Available March 20
Buy The Bishop's Pawn at Amazon
Bonnie and Clyde: Dam Nation (Book 2) by Clark Hays & Kathleen McFall
THE REDEMPTION OF BONNIE AND CLYDE
Saving the working class from a river of greed.
The year is 1935 and the Great Depression has America in a death grip of poverty, unemployment and starvation. But the New Deal is rekindling hope, with federally funded infrastructure projects, like Hoover Dam, putting people back to work. Set to harness the mighty Colorado River for electricity and irrigation, the dam is an engineering marvel and symbol of American can-do spirit.
So, why is someone trying to blow it up?
When an informant on the construction site is murdered, Bonnie and Clyde--spared from their gruesome deaths and forced into a covert life working for the government--are given their second assignment: stop the bomb and protect the thousands of laborers and families in the company town. It's their most dangerous mission yet: working for a living.
Can the notorious lovers put aside their criminal ways long enough to find out who wants to extinguish the American dream, and hopefully reclaim a shred of redemption along the way?
The thrilling story cuts back and forth between the modern era where a reporter interviews the now-elderly Bonnie Parker, and the dangerous 1930s undercover exploits of Bonnie and Clyde, as they are thrust into a fight to defend the working class against corporate greed.
Dam Nation continues the explosive "what-if" series about two unlikely heroes fighting to defend the working class during America's Great Depression, a historical thriller with unsettling contemporary parallels.
Available March 24
Buy Bonnie and Clyde: Dam Nation at Amazon
I Have Lost My Way by Gayle Forman
Around the time that Freya loses her voice while recording her debut album, Harun is making plans to run away from everyone he has ever loved, and Nathaniel is arriving in New York City with a backpack, a desperate plan, and nothing left to lose. When a fateful accident draws these three strangers together, their secrets start to unravel as they begin to understand that the way out of their own loss might just lie in help­ing the others out of theirs.
Available March 27
Donna Huber is an avid reader and natural encourager. She is the founder of Girl Who Reads and the author of how-to marketing book Secrets to a Successful Blog Tour.
Get even more book news in your inbox, sign up today! Girl Who Reads is an Amazon advertising affiliate; a small commission is earned when purchases are made at Amazon using any Amazon links on this site. Thank you for supporting Girl Who Reads.