by Susan Roberts
"In Alaska you can make one mistake. One. The second one will kill you."
Before I read
The Great Alone
I didn't know much about Alaska - about the people who went there to live a different life or about the beauty of the state. Kristin Hannah does a wonderful job giving the reader a beautiful story along with wonderful descriptions of Alaska. I must admit that I felt cold sitting in my warm house when I read her descriptions of the blowing snow and the cold temperatures. This is a wonderful novel about love and family - both your family by blood and those you collect along the way.
Amazon affiliate links are used on this site. A free book was provided for an honest review.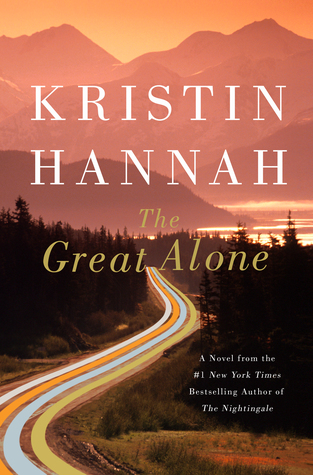 February 2018; St Martin's Press; 9780312577230
audio, ebook, print (448 pages); women's fiction
In the early 70s, Cora and Ernt decide to move to Alaska because an Army friend has left them a cabin in a remote area. Ernt is a Vietnam veteran who has spent time in a POW camp and is suffering from what we would refer to today as PTSD. Along with their 13-year-old daughter Leni, they drive to Alaska to their new lives. They are totally unprepared for what is ahead of them and people in their small town help them get started. Life is tough and the family lives right on the edge of survival. Along with physical survival, Ernt is a violent man and Cora and Leni are always trying to keep him happy. At times you aren't sure if the real violence is from the weather and the elements or if it's from the danger inside their cabin. Leni is a wonderful character and this is a real coming of age story for her as she grows from a 13-year-old to an adult.
This is a wonderful story of survival - physical as well as mental - love, and family. I highly recommend it!
Buy The Great Alone at Amazon
Susan Roberts lives in North Carolina when she isn't traveling. She and her husband enjoy traveling, gardening and spending time with their family and friends. She reads almost anything (and the piles of books in her house prove that) but her favorite genres are Southern fiction, women's fiction, and thrillers. Susan is a top 1% Goodreads Reviewer. You can connect with Susan on Facebook, Goodreads, or Twitter.
Get even more book news in your inbox, sign up today! Girl Who Reads is an Amazon advertising affiliate; a small commission is earned when purchases are made at Amazon using any Amazon links on this site. Thank you for supporting Girl Who Reads.