by Donna Huber
Another great reading month. I've read 10 books so far this month and I hope to finish my book club read by the end of the month (we meet on May 3). I've also had a pretty big book haul this month as you can see above - 2 I bought, 2 were sent for review, and 1 I won through Goodreads. I've also been busy getting my yard ready for summer. I planted a bunch of beautiful blooms yesterday.
Let's get to what I've read, what I'm reading, and what might be next.
Amazon affiliate links are used on this site.
Read:
In audio...
The Tangled Lands
by Paolo Bacigalupi and Tobias S. Buckell
Because it isn't clear from the description, this is a collection of 4 short stories based in the same place - Khaim. I'm familiar with Paolo Bacigalupi having read The Water Knife for my book club, but I was unfamiliar with Tobias Buckell. I enjoyed the stories even though fantasy is not one my top genres. Read my review.
Khaim, The Blue City, is the last remaining city in a crumbled empire that overly relied upon magic until it became toxic. It is run by a tyrant known as The Jolly Mayor and his devious right hand, the last archmage in the world. Together they try to collect all the magic for themselves so they can control the citizens of the city. But when their decadence reaches new heights and begins to destroy the environment, the people stage an uprising to stop them.
Buy The Tangled Lands at Amazon
Chocolate Chip Cookie Murder
by Joanne Fluke
I had seen a few blogs mentioning Joanne Fluke's cozy mysteries. I was in need of an audiobook and my digital library (though I still don't like the new service) had a few books in her Hannah Swenson series. You'll notice a Joanne Fluke in my book haul this month too. I found the Lake Eden Cookbook on the discount rack at Barnes & Noble. Since I'm listening to the series, I thought this was the best way to get to get the recipes. I want to make the chocolate covered cherry delights, which is featured in Chocolate Chip Cookie Murder. I like the characters and the mysteries are pretty good.
No one cooks up a delectable, suspense-filled mystery quite like Hannah Swensen, Joanne Fluke s dessert-baking, red-haired heroine whose gingersnaps are as tart as her comebacks, and whose penchant for solving crimes one delicious clue at a time has made her a bestselling favorite. And it all began on these pages, with a bakery, a murder, and some suddenly scandalous chocolate-chip crunchies. Featuring a bonus short story and brand new, mouthwatering recipes, this limited edition of the very first Hannah Swensen mystery is sure to have readers coming back for seconds.
Hannah Swenson already has her hands full trying to dodge her mother s attempts to marry her off while running The Cookie Jar, Lake Eden, Minnesota s most popular bakery. But once Ron LaSalle, the beloved delivery man from the Cozy Cow Dairy, is found murdered behind her bakery with Hannah s famous Chocolate Chip Crunchies scattered around him, her life just can't get any worse. Determined not to let her cookies get a bad reputation, she sets out to track down a killer.
Who would have the sheer audacity and the motive to kill the most punctual delivery man Hannah ever had? Topping the list is the high school football coach. What exactly was his wife doing, making the rounds with the milkman? Could Max Turner, owner of Cozy Cow Dairy, have had a secret he didn't want to share with his top employee? The more Hannah snoops, the more suspects turn up. Why has Lake Eden s most prominent prodigal son, Benton Woodley, just resurfaced? And what about the mysterious Mr. Harris who seemed interested in buying the property next to the dairy, but then disappeared? This is one murder that s starting to leave a very bad taste in Hannah s mouth. And if she doesn't watch her back, Hannah s sweet life may get burned to a crisp.
Filled with a healthy sprinkling of humor and a delightful assortment of nuts, CHOCOLATE CHIP COOKIE MURDER serves up a great new mystery series and introduces a delicious, down-home sleuth that mystery readers will surely savor for years to come.
Buy Chocolate Chip Cookie Murder at Amazon
Strawberry Shortcake Murder
by Joanne Fluke
These books make me want to bake, but I wish the recipes weren't at the end of each chapter. Since I'm listening to the books I can't easily skip the recipe and it disrupts the story.
Hannah Swensen, amateur sleuth and boutique bake store proprietor extraordinaire, is judging a dessert contest when fellow judge Coach Boyd Watson is found dead, face down in a delicate confection no less.
Buy Strawberry Shortcake Murder at Amazon
Blueberry Muffin Murder
by Joanne Fluke
These books are really quick listens and a lot of fun, but I think I'm going to need to take a break. The murders are all starting to run together.
Preparations are underway for Lake Eden, Minnesota's annual Winter Carnival--and Hannah Swensen is set to bake up a storm at her popular shop, The Cookie Jar. Too bad the honor of creating the official Winter Carnival cake went to famous lifestyle maven Connie Mac--a half-baked idea, in Hannah's opinion. She suspects Connie Mac is a lot like the confections she whips up on her cable TV cooking show--sweet, light, and scrumptious-looking, but likely to leave a bitter taste in your mouth.
Hannah's suspicions are confirmed when Connie Mac's limo rolls into town. Turns out America's "Cooking Sweetheart" is bossy, bad-tempered, and downright domineering. Things finally boil over when Hannah arrives at The Cookie Jar to find the Winter Carnival cake burnt to a crisp—and Connie Mac lying dead in her pantry, struck down while eating one of Hannah's famous blueberry muffins.
Next thing Hannah knows, the police have declared The Cookie Jar's kitchen crime scene off-limits. She's a baker without an oven--and the Carnival is right around the corner. Hannah's only alternative is to cook up a plan to save her business--by finding the killer herself.
Buy Blueberry Muffin Murder at Amazon
Bookworm: A Memoir of Childhood Reading
by Lucy Mangan
The author is British so I was unfamiliar with several of the early reader children's books, but as she moved into middle-grade literature I enjoyed the trip down memory lane with her as she is only a few years older than me. She gives not only her own personal history with the books but also historical facts about the book or authors place in literature and culture. My full review is coming soon.
The Cat in the Hat? Barbar? The Very Hungry Caterpillar? Whoever it was for you, it's very hard to forget the vivid intensity of your first encounter with a book.
As a bespectacled young bookworm, Lucy Mangan devoured books: from early picture books, to Swallows and Amazons, Enid Blyton to Little Women, and from trashy teen romances to her first proper 'grown-up' novels. In Bookworm, she revisits this early enthusiasm; celebrating the enduring classics, and disinterring some forgotten treasures.
This is a love letter to the joys of childhood reading, full of enthusiasm and wit, telling the colourful story of our best-loved children's books, the extraordinary people who created them, and the thousand subtle ways they shape our lives. It also comes packed with brilliant recommendations to inspire the next generation of bookworms and set them on their way.
This impassioned book will bring the unforgettable characters of our collective childhoods back to life – prompting endless re-readings, rediscoveries, and, inevitably, fierce debate. It will also act as an invaluable guide to anyone looking to build a children's library and wondering where to start, or where to go next.
Buy Bookworm at Amazon
In print...
Swimming Between Worlds
by Elaine Neil Orr
I really liked this book. I don't read much southern fiction or books set during the 1960s, but I've been trying to expand my reading horizons. Read my full review.
The lives of one young woman and two young men collide in a small neighborhood in Winston-Salem, North Carolina.
Kate, a recent college graduate, is still reeling from the deaths of her beloved parents when the discovery of hidden letters forces her to re-examine everything she knew about her family. Tacker, a young engineering student and all-around boy-hero, has returned from a West African odyssey where he fell in love with the local culture but was sent home in shame. Kate's and Tacker's stories come together when, on the same day and in different moments, they encounter a young African-American man named Gaines. The relationship that develops between the three is complicated, as each one searches for love, freedom, and new beginnings.
Buy Swimming Between Worlds at Amazon
In ebook
...
A Zen for Murder
by Leighann Dobbs
One day I found myself out waiting and my Nook was dead so I pulled up one of the books I had on my reading app (I hate reading on my phone), but this was a very good cozy mystery so I didn't mind as much as I usually do.
Tourist season is about to start, and murder is the last thing on the minds of the locals in Mooseamuck Island, Maine ... but that's about to change.
When local psychic Zoila Rivers is found dead at the zen garden, retired police consultants Dominic Benedetti and Claire Watkins are forced to team up to catch the killer. Too bad Claire and Dom don't always see eye to eye.
But with an island full of locals who all have secrets, Claire and Dom have to put aside their differences in order to solve the case before the police arrest the wrong person and a killer goes free.
Will Claire and Dom figure out whose secret was worth killing for in time to stop the killer from claiming another victim?
Buy A Zen for Murder at Amazon
The Advice Column Murders
by Leslie Nagel
This is the 3rd book in the Oakwood Mysteries series. I haven't read the first two. I didn't enjoy it as much as A Zen for Murder or the Hannah Swenson mysteries. It was still a good cozy. Read my full review.
What's the couple next door really hiding? Vintage fashionista and amateur sleuth Charley Carpenter finds out in this engrossing cozy mystery from the USA Today bestselling author of The Book Club Murders.
In a small town like Oakwood, Ohio, everyone knows everyone else's business—except for Charley Carpenter's standoffish new neighbors, who tend to keep to themselves. But behind closed doors, Paxton Sharpe's habit of screaming bloody murder at all hours of the day keeps Charley awake all night. Coupled with the stress of the increasingly delayed expansion of her shop, Old Hat Vintage Fashions, the insomnia is driving Charley crazy. Her only distraction? The local paper's irreverent new advice column, "Ask Jackie."
Jackie's biting commentary usually leaves Charley and her employees rolling on the floor, but her latest column is no laughing matter. An oddly phrased query hinting at a child in peril immediately puts Charley on high alert. After arriving home to a bloodcurdling scream next door, she follows the noise into the basement and makes a grisly discovery: the body of Judith Sharpe's adult daughter.
With Detective Marcus Trenault off in Chicago, Charley decides to take matters into her own hands. Convinced that the murder is connected to the desperate plea for help in "Ask Jackie," she embarks on a twisted investigation that has her keeping up with the Sharpes—before a killer strikes again.
Buy The Advice Column Murder at Amazon
Finding Her Montana Cowboy
by Lara Van Hulzen
This one of the series set in Marietta, MT. I haven't read the other books in this particular series, but that isn't really necessary. It's a nice, clean romance. I'll post my full review soon.
Former rodeo star Wyatt Emmerson leads a quiet life. He's busy working with his dad and raising his daughter on his own. Romance is the last thing on his mind, but when McKenna St. Claire crosses his path, life takes a turn that Wyatt never saw coming.
McKenna doesn't sit still well; traveling the world has always been her favorite pastime. She's vowed to stay in Marietta for her family, but is ready to pack her bags as soon as her twin nephews are born. But a wounded cowboy and his young daughter steal her heart, making her question what she really wants in life. Will she take a risk on love and call Marietta her home?
Buy Finding Her Montana Cowboy at Amazon
Wedding at the Graff
by Jeannie Watt
I've been trying to read the books in this series for a while, but I usually discover it on Netgalley too late. It is a holiday-themed series set in Marietta, MT. I'll post my full review soon.
Luck of the Irish?
If only!
Collie Flanigan fled Chicago for Marietta, Montana to start a new life after breaking her engagement, but immediately hits a snag. Her ex-fiancé wants the ring back and sends his most trusted confidant and employee to get it. But the ring was stolen from her family years ago, and Collie has no intention of ever parting with the beloved family heirloom.
Collie's college friend, Michael Donovan, thinks his mission is simple—quietly retrieve the ring to keep Collie out of jail and himself employed. He books a stay at the historic Graff Hotel, where Collie works in housekeeping, intending to quickly persuade her to part with the ring. Not so easy when Michael realizes he's in too deep. The chemistry between him and Collie is still there, stronger than ever, but their timing's always been off. Is now finally their time, and will Collie accept his ultimate sacrifice?
Buy Wedding at the Graff at Amazon
Currently Reading
Do Androids Dream of Electric Sheep?
by Philip K. Dick
This is the book for my post-apocalyptic book club. I haven't watched either of the Blade Runner movies. I hope to have it finished by the time we meet on May 3.
By 2021, the World War has killed millions, driving entire species into extinction and sending mankind off-planet. Those who remain covet any living creature, and for people who can't afford one, companies build incredibly realistic simulacra: horses, birds, cats, sheep. They've even built humans. Immigrants to Mars receive androids so sophisticated they are indistinguishable from true men or women. Fearful of the havoc these artificial humans can wreak, the government bans them from Earth. Driven into hiding, unauthorized androids live among human beings, undetected. Rick Deckard, an officially sanctioned bounty hunter, is commissioned to find rogue androids and "retire" them. But when cornered, androids fight back--with lethal force.
Buy Do Androids Dream of Electric Sheep at Amazon
Up Next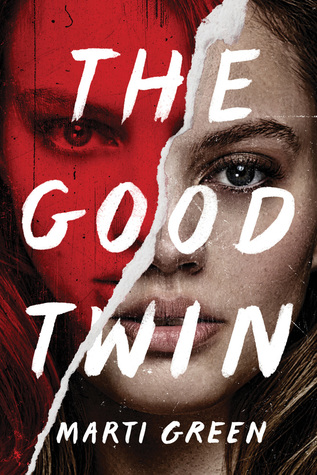 The Good Twin
by Marti Green
Mallory Holcolm is an unfulfilled waitress and aspiring artist living in a Queens boardinghouse when she learns something astonishing about her past: she has an identical twin sister named Charly she never knew existed.
Charly is a Princeton graduate, a respected gallery owner, and an heiress married to her handsome college sweetheart, Ben. Charly got everything she ever wanted. Everything Mallory wanted, too. And now it might be easier than Mallory ever imagined. Because Ben has reasons of his own for wanting to help her.
It begins with his startling proposal. All Mallory has to do is say yes.
But as their devious plan falls into place, piece by piece, Mallory learns more about her sister and herself than she ever meant to—a discovery that comes with an unexpected twist. A chilling deception is about to become a dangerous double cross. And it's going to change the rules of Ben and Mallory's game to the very end.
Buy The Good Twin at Amazon
Donna Huber is an avid reader and natural encourager. She is the founder of Girl Who Reads and the author of how-to marketing book Secrets to a Successful Blog Tour.
Get even more book news in your inbox, sign up today! Girl Who Reads is an Amazon advertising affiliate; a small commission is earned when purchases are made at Amazon using any Amazon links on this site. Thank you for supporting Girl Who Reads.