by MK French
Celebrate May Day with a new book and there are plenty of new books hitting shelves today.
Amazon affiliate links are used on this site. Free books were provided for an honest review.
Song of Blood & Stone
by L. Penelope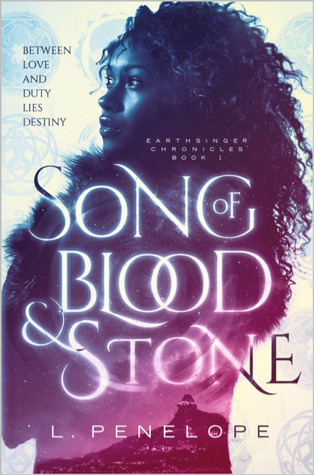 May 2018; St. Martin's Press; 9781250148070
audio, ebook, print (384 pages)
fantasy, romance
The Mantle is a barrier between the kingdoms of Langrimar and Elsira. Jasminda is Elsiran by birth, but an outcast in her own country because her father had been a refugee from Langrimar. Soldiers from Langrimar with a captured Elsiran spy named Jack invade her home, drawing her into a wider conflict between the two nations. She has a weak form of Earthsong, the magic that most Elsirans distrust, but Jack believes it's enough to save the Mantle and their country from being destroyed.
The world building is wonderfully shown in little ways. There are folk tales introducing chapters, as well as the casual ways that people talk about religion, politics, the war between nations, the Breaches through the Mantle, the Queen Who Sleeps, and the Earthsong itself. Technology is at a more steampunk kind of level, as there are trucks and airships as well as radios and telephones, but the political system is based on royalty and a patriarchal inheritance structure.
Langrimari people are dark skinned and Elsirans tend to be lighter skinned with red hair; the prejudice against Langrimari in Elsira is shown in large and small ways from the very beginning of the novel. As much as Jack and Jasminda have a mutual respect and love for each other, that isn't seen as the balm to heal all wounds between the nations as it might be in some fantasy novels. The prejudice against Jasminda for her appearance as well as her lack of status is another hurdle for them, and does add a grounding measure to the fantasy world. The nature of right and wrong, morality within politics and ruling a country, and handling differences in a mature way were all depicted wonderfully in this novel.
This novel had a very satisfying conclusion, with just enough hints for future works to keep the anticipation flowing. I can't wait to see what else is in store for the series.
Buy Song of Blood & Stone at Amazon
A Duke Like No Other by Valerie Bowman
May 2018; St. Martin's Paperbacks
978-1250121738; ebook, print (368 pages)
Regency romance
Mark Grimaldi had worked his way through the military, and all of his dedication is about to be rewarded with a promotion to Home Secretary. However, he has to be married as part of the conditions of the post. Mark has no intention of being married, especially when he already has an estranged wife he hadn't seen in ten years. Nicole Huntington Grimaldi had spent ten years estranged from him but is amenable to the charade of being Mark's loving wife for his promotion. However, feelings are rekindled, and there are further secrets waiting in the wings that can change their future.
This is the ninth and final book in the "Playful Brides" series, so there are references to characters from earlier novels. It isn't necessary to have read those, because this one focuses on Mark and Nicole entirely. They were estranged for such a long time, and initially, Mark's only concerns are his career and his continued attraction to Nicole. She had been lonely even with friends in France and longs to have a child. It's like the fake marriage trope was tweaked a bit, because they're indeed married and have every reason to be together, yet aren't.
It's always interesting to see Regency romances that feature characters a little older than usual. Instead of being a teenager just being presented for marriage, Nicole is old enough to know what she wants and have the strength of character to follow through. The conflicts she had with Mark were based on his own character as well as misconceptions they each had of each other when younger. There is a mystery for them to solve, and Nicole is flexible enough to think outside of the box. Mark is almost proud of his inflexibility, but he does change enough for the two of them to have their happily ever after. Neither are wrong, and there isn't a big disaster to overcome. They simply have to communicate their needs with each other, which scary enough for adults to do!
Buy A Duke Like No Other at Amazon
The Luck of the Bride by Janna MacGregor
May 2018; St. Martin's Paperbacks
978-1250116161; ebook, print (384 pages)
Regency romance
March Lawson, as the eldest of four, is responsible for her siblings' welfare after the death of their parents. When her family's guardian takes no notice of her, she struggles to make ends meet by doing farm work on her own. The new guardian is no different, so she starts forging his signature to make withdrawals from her trust fund to pay for repairs in the home and other needs. The Marquess of McCalpin, once he learns that he is the family's new guardian, soon is alerted to the embezzlement. He is drawn to March, and feels sorry for the sad state of affairs left by her prior guardian. While he seeks to make amends, he also gets to know her, and she gets to know him as well.
March is a very sympathetic character, struggling for eight years to help her two younger sisters and younger brother survive and still maintain some kind of dignity as befits the family's rank. She foregoes any thought of herself, and the number of troubles that she goes through over the course of the novel are borne for the sake of her siblings. Michael is hardly a distant man, but his own difficulty with numbers and math made him wary of looking into the Lawson family's situation. It's to his credit that he stepped up, and it's obvious from the start to everyone that he and March would suit each other very well. Their interactions from the start are fun to read about, because even when they're not friends yet there is an unmistakable connection.
The Lawson siblings band together and support each other emotionally, which is also wonderful to see. As much as March sacrifices for their comfort, they would be just as willing to sacrifice for her. Michael has similar relationships with his siblings, and I love seeing that side of people. Even when Michael's brother is skeptical about March and her embezzling, it's done out of love and concern for Michael's welfare and less because he simply wants to humiliate March. Her cousin is there for that function, actually.
This is a great Regency romance, with everything neatly tied together at the end of the novel. I really enjoyed reading this book, and look forward to more books from this author.
Buy The Luck of the Bride at Amazon
Born and raised in New York City, M.K. French started writing stories when very young, dreaming of different worlds and places to visit. She always had an interest in folklore, fairy tales, and the macabre, which has definitely influenced her work. She currently lives in the Midwest with her husband, three young children, and golden retriever.
Get even more book news in your inbox, sign up today! Girl Who Reads is an Amazon advertising affiliate; a small commission is earned when purchases are made at Amazon using any Amazon links on this site. Thank you for supporting Girl Who Reads.