by Susan Roberts
What is Independent Bookstore Day?
Independent Bookstore Day is a one-day national party that takes place at indie bookstores across the country on the last Saturday in April. Every store is unique and independent, and every party is different. But in addition to authors, live music, cupcakes, scavenger hunts, kids events, art tables, readings, barbecues, contests, and other fun stuff, there are exclusive books and literary items that you can only get on that day. Not before. Not after. Not online.
We've missed it for 2018 but mark your calendar for April 27, 2019!
Do you use independent bookstores? I am lucky to be in an area that has several fantastic indie bookstores. I can always depend on getting great book recommendations and never leave without at least one new book. One other reason that I love independent bookstores is that they often have author events where you get a chance to meet authors and get your books signed. I have had the time this year to attend several of these events. Do you go to author events? Who is your favorite author that you met?
My Author Events in 2018
John Hart, McIntyre's Books, Pittsboro, NC. March 10
John talked about his new book
The Hush
and gave some background to the novel.
Chris Bohjalian, Quail Ridge Books, Raleigh, NC. March 14
Chris talked about his new book
The Flight Attendant
and shared some funny stories that he'd heard from airline employees while doing research for this book.
Sally Hepworth and Barbara Claypole White, McIntyre's Books, Pittsboro, NC. March 17
Sally and Barbara talked about their new books (
The Family Next Door
for Sally and
Echoes of Family
for Barbara). It was a small group and felt like sitting down with a group of friends over coffee.
Anna Quindlen, McIntyre's Books, Pittsboro, NC. March 23
Anna had a new book published in March (
Alternate Side)
but the Pulitzer Prize-winning author gave an inspiring to a very crowded room about how books have helped her become the person she is today.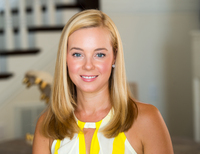 Kristy Woodson Harvey, South Main Street Books, Salisbury, NC. April 3
This was just a meet and greet but it was worth an hour's drive in rush hour traffic to get a signed copy of her new book The Secret to Southern Charm.
Elaine Neil Orr, McIntyre's Books, Pittsboro, NC. April 7
Elaine talked about how growing up in Rwanda contributed to her new book Swimming Between Worlds.
Bren McClain, McIntyre's Books, Pittsboro, NC. April 14
Bren gave a very enthusiastic talk about her book One Good Mama Bone.
Susan Roberts lives in North Carolina when she isn't traveling. She and her husband enjoy traveling, gardening and spending time with their family and friends. She reads almost anything (and the piles of books in her house prove that) but her favorite genres are Southern fiction, women's fiction, and thrillers. Susan is a top 1% Goodreads Reviewer. You can connect with Susan on Facebook, Goodreads, or Twitter.
Get even more book news in your inbox, sign up today! Girl Who Reads is an Amazon advertising affiliate; a small commission is earned when purchases are made at Amazon using any Amazon links on this site. Thank you for supporting Girl Who Reads.