by MK French
Sword and sorcery literature was first coined for this subgenre of fantasy in 1961. As the name suggests, it features sword-wielding heroes with typically magic or elements of the supernatural present in the story. While there are similarities to other types of fantasy, it tends to fast-paced and action-packed. It is also considered to lend itself more to series format than say epic fantasy.
As sword and sorcery stories appeal to all age groups of readers, today I review three - one targeted towards middle grades, one that is more for teens, and one for adults.
Amazon affiliate links are used on this site. Free books were provided for an honest review.
TwoSpells by Mark Morrison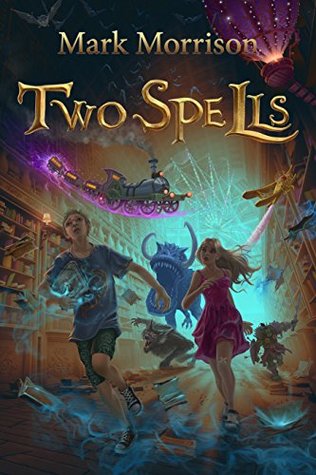 February 2018; 978-1983962158
ebook, print (316 pages); middle grades
Sarah and her twin brother Jon are visiting their grandparents in Wales when they discover they are heirs to a magical realm and its library. The library allows readers to enter the second dimension, but an interdimensional war is brewing and the twins have to try to save the kingdom from the dark wizard Jeremy Sermack.
The story of TwoSpells is told to the twins by their grandparents and outlines those with magic and those who are the Regulars, who have none. It isn't all fun and games in the library, and we're given that warning early on when Clyde Shyfoss, the grandparents' handyman, tells the story of visiting Captain Ahab in Moby Dick with his two children and getting attacked by the whale. Initially, the sense of menace ebbs and flows: Collectors come crashing into the house, but then the grandparents' status at TwoSpells minimizes any danger or oddness the twins might feel. About halfway through the book, it definitely picks up, and there are more hints that there is Something Very Wrong in TwoSpells and there is more of a mystery surrounding the magic involved in the library than the twins know.
This book is geared more for middle-grade readers. The protagonists are preteens, and the dangers involving them involve magic, other realms, and creatures real and imagined. Some of the characters are guilty of the info dump style of letting other characters (and thus the readers) know what's going on, rather than letting us figure out for ourselves what the driving forces are. At times it feels as though characters appear and disappear without much explanation. Sarah isn't the type of girl to back down, even under constant threat, which is an admirable trait. I definitely liked her, even when I felt rather indifferent toward some of the other characters in the book. With the epilogue ending on a cliffhanger, it does make me wonder if there is going to be a follow-up or a series of books exploring TwoSpells.
Buy TwoSpells at Amazon
Sword by Amy Bai
February 2015; Candlemark & Gleam
978-1936460618; ebook, print (438 pages)
young adult
Kyali Corwynall didn't want to believe in nursery rhymes and fairy tales, but she has a glimmer of magic and is better at swordcraft than she thinks she is. Her brother Devin can break glass and twist shadows by playing an instrument. Her best friend Taireasa is heir to the throne, without any magic at all. The three of them seem to be the Sword, Song, and Crown of the nursery rhyme, meaning they are the ones to save the kingdom from harm, especially when there is a coup and they have to escape in the middle of a brutal attack.
The trauma of the coup has clear repercussions for everyone, Kyali especially. The assault is not explicitly told, but it's easy enough to picture what had happened. That terrifying event that Kyali experiences and Taireasa vicariously experiences when their consciousnesses are linked echo throughout the rest of the book. Still, the trauma is realistically dealt with. That may be triggering for those that experienced similar sexual and physical assault, so perhaps older teens would be a better target group in the YA range.
Regaining the country, after all of that, involves more politicking and planning than battles, so the "Sword" title isn't referring to frequent battles. The ones that are present are very emotionally charged, however, and the sweeping drama of the story sucks you right into it. The "Sword" also refers to Kyali and her part of the prophecy, and the novel definitely tracks her development into the Lady Captain of the exiled guards, coming into her own as a strategist and military leader. Along the way, she is able to reclaim pieces of herself from the trauma. Those aspects, sprinkled liberally throughout the parts told from her point of view, are heartbreaking to read about. The conclusion of the book gives a measure of peace, and I feel that there is plenty of possibility for further stories in this world. There's still a long way left to go for healing, as well as reclaiming Taireasa's kingdom from the Barons that took it.
Buy Sword at Amazon
Fallen Star (The Demon's Blade Book 4) by Steven Drake
November 2017; 978-1973411130
ebook, print (288 pages); adult
The Star Blade was found, but not without casualties. The casualties worsen as factions separate and the tenuous alliances fall apart. Meanwhile, the town of Exire is full of misfits and those that don't fit in with the kingdoms around them. Darien is found by Marisia, who he needs to help him continually heal and recover from his mysterious wounds. He discovers that she has other abilities, such as seeing the demonic energy of the Demon Blade.
Having not read the first three books before this one, I was at a bit of a disadvantage in the beginning. It's a lot of new characters to keep track of, but after a while, enough of backstory is woven in that I could at least pick up where they left off and keep going with the plot of this particular book. I do have to simply accept certain facts that the characters state without knowing the actual backstory involved, so I don't know if there's any unreliable narration involved. Most of them seem fairly straightforward in how they approach each other, so that's not as likely.
There's a lot of set up before Darien discovers Marisia's powers, but it's also a long book with a lot of material to cover. We start off more with the Exire plot thread, and then we switch to the politicking of Darien's former comrades, who believe him to be dead. The plot threads switch back and forth, each with a lot of detail and long, drawn-out conversations where characters are filled in things they didn't know about the other. This level of detail helped me learn the background, though admittedly there were times I skimmed, too. The world building and landscapes are exquisitely described and have a very cinematic feel to it. Fight scenes are well done, and really give the tension for an outcome that matters.
Where there are a lot of questions answered, there is a number still left to ponder in both story threads, and it's clear that there will be more in this series. It's epic in scope and easily grips you in the drama.
Buy Fallen Star at Amazon
Born and raised in New York City, M.K. French started writing stories when very young, dreaming of different worlds and places to visit. She always had an interest in folklore, fairy tales, and the macabre, which has definitely influenced her work. She currently lives in the Midwest with her husband, three young children, and golden retriever.
Get even more book news in your inbox, sign up today! Girl Who Reads is an Amazon advertising affiliate; a small commission is earned when purchases are made at Amazon using any Amazon links on this site. Thank you for supporting Girl Who Reads.