by Donna Huber
I've read some really great books this year. Many of them I would recommend you buy for the book lover on your holiday gift list, both adults and kids. Since I listened to a lot more audiobooks this year, I'm grouping them into their own category. With Amazon giving $5 off book purchases of $20 or more until 11:59 pm PT on December 21, now is the time to check the readers off your list. Use Promo Code
GIFTBOOK18
at checkout. (
Amazon's Terms & Conditions
)
Amazon affiliate links are used on this site.
Did you know that you don't have to have a Kindle to read ebooks from Amazon? Just
download the Kindle Reading App
to your phone, tablet, or desktop and start reading.
For Kids and Young Adults
The Gateway Chronicles by K. B. Hoyle
This series, which consists of 6 books, was re-released this year. It is a wonderful young adult series that has been enjoyed by kids of all ages as well as adults. My niece started reading the series on her own when she was in 4th grade (we read them to her before then). She still loves this series. I re-read it this year (for the 3rd time) and I thought it was even better.
Check out my reviews as well as read interviews and guest posts by K.B. Hoyle
.
If you have young adult readers on your list who loves fantasy, fairytales, and happily ever after (even if there are a bunch of bumps along the way), then definitely get this series for them. And for the first time EVER, the series is coming to audiobook.
The Six
is
now available at Audible
.
Buy The Six at Amazon
Buy The Oracle at Amazon
Buy The White Thread at Amazon
Buy The Enchanted at Amazon
Buy The Scroll at Amazon
Buy The Bone Whistle at Amazon
The Beedog by Addie Broussard
This is an adorable book. This would be a great book to share with your child to encourage them to explore the world around them this summer. Or if you are homeschool, you may want to add it to your fall curriculum. There are extra resources (activity pages, etc) at the publisher's website. Read
my full review
.
While building a unique sandcastle, Cora and Manny spot a rather curious little insect.
Soon, the intrepid scientists keep a watchful eye on the insect's movements, while learning about the natural environment along the way. A world of discovery awaits little adventurers in this delightful picture book for children aged 4-8.
Buy The Beedog at Amazon
Historical Fiction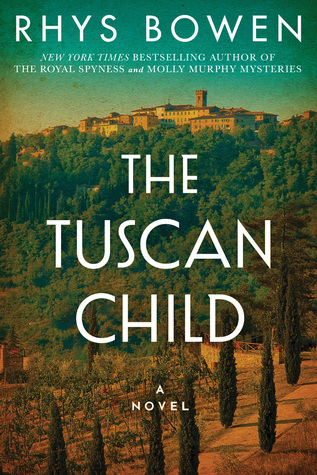 The Tucson Child by Rhys Bowen
This was the first non-cozy mystery that I read by Rhys Bowen and I loved it. There is still a mystery to be solved, but it is more along the lines of what really happened to a downed airman during WWII. It was such a great book, so well written, that I've already requested an advance copy of Bowen's new historical novel
The Victory Garden
that comes out in February 2019. You can
check out my review
of
The Tucson Child
, but it would be a great book for the reader who enjoys WWII novels.
In 1944, British bomber pilot Hugo Langley parachuted from his stricken plane into the verdant fields of German-occupied Tuscany. Badly wounded, he found refuge in a ruined monastery and in the arms of Sofia Bartoli. But the love that kindled between them was shaken by an irreversible betrayal.
Nearly thirty years later, Hugo's estranged daughter, Joanna, has returned home to the English countryside to arrange her father's funeral. Among his personal effects is an unopened letter addressed to Sofia. In it is a startling revelation.
Still dealing with the emotional wounds of her own personal trauma, Joanna embarks on a healing journey to Tuscany to understand her father's history—and maybe come to understand herself as well. Joanna soon discovers that some would prefer the past be left undisturbed, but she has come too far to let go of her father's secrets now.
Buy The Tuscan Child at Amazon
Swimming Between Worlds by Elaine Neil Orr
This is a great novel set in the 1960s and deals with civil rights and desegregation. Definitely well written and poignant. In this case, you don't have to take just
my word
, but you can also
read Susan's review
. Also, she included it on
her Best of 2018
.
The lives of one young woman and two young men collide in a small neighborhood in Winston-Salem, North Carolina.
Kate, a recent college graduate, is still reeling from the deaths of her beloved parents when the discovery of hidden letters forces her to re-examine everything she knew about her family. Tacker, a young engineering student and all-around boy-hero, has returned from a West African odyssey where he fell in love with the local culture but was sent home in shame. Kate's and Tacker's stories come together when, on the same day and in different moments, they encounter a young African-American man named Gaines. The relationship that develops between the three is complicated, as each one searches for love, freedom, and new beginnings.
Buy Swimming Between Worlds at Amazon
Cozy Mysteries
Four Funerals and Maybe a Wedding by Rhys Bowen
I've spent the past year reading through Bowen's Her Royal Spyness series and have loved it. If a reader on your list is also a Downton Abbey fan they may enjoy this series. It's set in the 1930s, but a lot of the same themes on DA can also be seen in this series. I love the characters and the mysteries are usually fun. This is book 12 so you could give a year of reading (if they read one a month like I did). Read
my review
.
If only Darcy and I had eloped! What I thought would be a simple wedding has been transformed into a grand affair, thanks to the attendance of the queen, who has offered up the princesses as bridesmaids. Silly me! I thought that withdrawing from the royal line of succession would simplify my life. But before Darcy and I tie the knot in front of queen and country, we have to find a place to live as man and wife...
House hunting turns out to be a pretty grim affair. Just as we start to lose hope, my globetrotting godfather offers us his fully staffed country estate. Mistress of Eynsleigh I shall be! With Darcy off in parts unknown, I head to Eynsleigh alone, only to have my hopes dashed. The grounds are in disarray and the small staff is suspiciously incompetent. Not to mention the gas tap leak in my bedroom, which I can only imagine was an attempt on my life. Something rotten is afoot—and bringing the place up to snuff may put me six feet under before I even get a chance to walk down the aisle.
Buy Four Funerals and Maybe a Wedding at Amazon
The Hitwoman and the Gold Digger by JB Lynn
I LOVE this series. It is so much fun and about the only series that has animals in it that I'll read (I usually avoid animal books because I end of crying). If I cry with series it is tears from laughing too hard. This is book 19 in the series, but it reads pretty quickly and an avid cozy mystery reader would love you for getting the whole series (they are only as ebooks and pretty reasonably priced).
Read my review
.
ust when she thinks she may be catching a break, Maggie Lee is saddled with babysitting her psychic friend, Armani, whose spirit guides have suddenly deserted her. They never warned Armani that she'd be robbed while waiting for an online date who stood her up or that someone would break into her home.
But investigating the trouble in her friend's world isn't Maggie's only problem. Someone shoots her avian pal, Mike, and Maggie is determined to find out whom.
Neither task is easy, but Maggie's difficulties are intensified by trying to keep her unruly household running in the absence of Aunt Susan, who seems to have dropped off the planet.
And oh yeah, Maggie's ne'er-do-well dad has returned to town.
Can Maggie successfully juggle her investigations, cops, bad guys, a reporter, her menagerie and her crazy family? Or will it all be too much for her?
Buy The Hitwoman and the Gold Digger at Amazon
Romance
Prancing Around with Sleeping Beauty by Stacy Juba
This is a fun chick-lit novel. It's a bit predictable but it doesn't diminish the enjoyment of the story and characters. If the reader on your list likes chick-lit, there is another book in this series (they can be read as stand alones) -
Fooling Around with Cinderella
.
Read my review
of
Prancing Around with Sleeping Beauty
.
This Sleeping Beauty isn't sure she wants to wake up…
Dance instructor Rory Callahan likes to play it safe. When she meets Kyle, he's impulsive, persistent, and her exact opposite. He's pushing her to tango way past her comfort zone and keeping Rory on her toes more than twenty years of dance teachers ever had.
Unfortunately, he's the grandson of her family's archrival and she doesn't want to disappoint them. After all, her parents imagine her as a proper princess - hence her namesake Aurora, AKA Sleeping Beauty. Complicating matters, Rory's also dealing with a surgeon boyfriend who's perfect for her (sort of), an obnoxious boss, and desperate dance moms. Kyle wants to change her whole life, but Rory doesn't like the stakes. After all, princesses are the ones who get the happy endings. . .aren't they?
Buy Prancing Around with Sleeping Beauty at Amazon
Sweet Home Cowboy by Marin Thomas
I really enjoy all the books set in Marietta, Montana, but the Love at the Chocolate Shop series is my favorite. They are cute and sweet. The characters and town are so endearing.
When Marietta newcomer Elena Puente is coerced into attending a speed dating event at the popular Copper Mountain Chocolate Shop, she's blindsided by a serious attraction to local cowboy, Wesley Banks.
Still recovering from a broken engagement, the first-grade teacher from Las Vegas isn't looking for romance. She's in Montana to get to know the great-grandfather she never knew existed until she found some hidden family letters. Judge Kingsley is a grouchy recluse and he's far from welcoming, but Elena is determined to stay in town long enough to give his neglected estate on Bramble Lane a facelift.
Elena's resolve to avoid romance is tested when she discovers Wesley is the caretaker of her grandfather's rural property. Soon, she and the cowboy are attending more speed dating events at the chocolate shop and she's seeking his advice on how to deal with his ornery boss. Local gossips wager the old Judge will run Elena out of town before anything serious develops between her and Wesley. But Wesley's a determined man, too, and he's betting Elena belongs in Marietta forever…with him.
Buy Sweet Home Cowboy at Amazon
Thriller
The Flight Attendant by Chris Bohjalian
The first book I reviewed on this blog was by Chris Bhjalian. He is a masterful storyteller in a number of genres, so if your reader doesn't care for thrillers there are a number of other books by him for you to choose from. This book caused be anxiety on behalf of the character. It got under my skin.
Read my review
, but you can also
see why Susan enjoyed it
. She also included on
her list of Best of 2018
.
Cassandra Bowden is no stranger to hungover mornings. She's a binge drinker, her job with the airline making it easy to find adventure, and the occasional blackouts seem to be inevitable. She lives with them, and the accompanying self-loathing. When she awakes in a Dubai hotel room, she tries to piece the previous night back together, already counting the minutes until she has to catch her crew shuttle to the airport. She quietly slides out of bed, careful not to aggravate her already pounding head, and looks at the man she spent the night with. She sees his dark hair. His utter stillness. And blood, a slick, still wet pool on the crisp white sheets. Afraid to call the police—she's a single woman alone in a hotel room far from home—Cassie begins to lie. She lies as she joins the other flight attendants and pilots in the van. She lies on the way to Paris as she works the first class cabin. She lies to the FBI agents in New York who meet her at the gate. Soon it's too late to come clean—or face the truth about what really happened back in Dubai. Could she have killed him? If not, who did?
Buy The Flight Attendant at Amazon
After Anna by Lisa Scottoline
Scottoline has at least one series, but
After Anna
is one of her stand-alone novels. It is so good. I didn't want to put it down. I just wanted to know what happened. Read
my full review
.
Noah Alderman, a doctor and a widower, has remarried a wonderful woman, Maggie, and for the first time in a long time he and his son are happy. But their lives are turned upside down when Maggie's daughter Anna moves in with them. Anna is a gorgeous seventeen-year-old who balks at living under their rules though Maggie, ecstatic to have her daughter back, ignores the red flags that hint at the trouble that is brewing. Events take a deadly turn when Anna is murdered and Noah is accused of the crime. Maggie must face not only the devastation of losing her only daughter, but the realization that her daughter's murder was at the hands of a husband she loves. New information sends Maggie searching for the truth, leading her to discover something darker than she could have ever imagined.
Buy After Anna at Amazon
Fantasy
Time's Convert by Deborah Harkness
Since the end of the All Souls Trilogy, fans have been asked for more and Harkness answered. First, there was the television show (which is air early next year in the US), and then there was the companion guide (a beautiful book), and now there is a whole new book. This one tells Marcus's story, but instead of being a spin-off it feels like a continuation of the trilogy. It is every bit as good as I was expecting and I look forward to more books in the series. Read
my review
.
On the battlefields of the American Revolution, Matthew de Clermont meets Marcus MacNeil, a young surgeon from Massachusetts, during a moment of political awakening when it seems that the world is on the brink of a brighter future. When Matthew offers him a chance at immortality and a new life free from the restraints of his puritanical upbringing, Marcus seizes the opportunity to become a vampire. But his transformation is not an easy one and the ancient traditions and responsibilities of the de Clermont family clash with Marcus's deeply held beliefs in liberty, equality, and brotherhood.
Fast-forward to contemporary Paris, where Phoebe Taylor—the young employee at Sotheby's whom Marcus has fallen for—is about to embark on her own journey to immortality. Though the modernized version of the process at first seems uncomplicated, the couple discovers that the challenges facing a human who wishes to be a vampire are no less formidable than they were in the eighteenth century. The shadows that Marcus believed he'd escaped centuries ago may return to haunt them both—forever.
A passionate love story and a fascinating exploration of the power of tradition and the possibilities not just for change but for revolution, Time's Convert channels the supernatural world-building and slow-burning romance that made the All Souls Trilogy instant bestsellers to illuminate a new and vital moment in history, and a love affair that will bridge centuries.
Buy Time's Convert at Amazon
Non-Fiction
The Feather Thief by Kirk Wallace Johnson
Non-fiction doesn't usually make it on to my holiday buying guide but this one was so good. It reads like fiction. And the theft is fascinating though probably most people don't know it even happened. I can't believe I enjoyed it as much as I did as I don't usually care about true crime. It really is a testament to Johnson's writing and stroytelling ability.
Read my review
.
On a cool June evening in 2009, after performing a concert at London's Royal Academy of Music, twenty-year-old American flautist Edwin Rist boarded a train for a suburban outpost of the British Museum of Natural History, armed with a pair of latex gloves, a miniature LED flashlight, and a diamond-blade glass cutter. Home to one of the largest ornithological collections in the world, the Tring museum was full of rare bird specimens whose coppery orange, emerald, and iridescent blue feathers were worth staggering amounts of money to the men who shared Edwin's obsession: the Victorian art of salmon fly-tying, in which exotic feathers are fastened in intricate patterns around fishing hooks. Over the next few hours, the champion fly-tier grabbed hundreds of bird skins--some collected 150 years earlier by a contemporary of Darwin's, Alfred Russel Wallace, who'd risked everything to gather them--and escaped into the darkness.
Two years later, Kirk Wallace Johnson was waist high in a river in northern New Mexico, fly-fishing for trout, when his guide told him about the heist. He was soon consumed by the strange case of the feather thief. What would possess a person to steal dead birds from a museum? Had Edwin paid the price for his crime? What became of the missing skins? In his search for answers, Johnson was catapulted into a years-long, worldwide investigation, infiltrating the underground network of fly-tiers and feather smugglers, and tracking down the thief and his suspected accomplices in a single-minded search for the missing birds. The gripping story of a bizarre and shocking crime, and one man's relentless pursuit of justice, The Feather Thief is also a fascinating exploration of obsession, and man's destructive instinct to harvest the beauty of nature.
Buy The Feather Thief at Amazon
Audiobooks
If you want to try any of these for FREE you can
sign up for an Audible free trial
and get 2 FREE audiobooks.
Behind Closed Doors by B.A. Paris
This is an older title, but it is a terrific psychological thriller. The audiobook is done well. Susan
reviewed the book
in 2016.
Everyone knows a couple like Jack and Grace: he has looks and wealth, she has charm and elegance. You'd like to get to know Grace better. But it's difficult, because you realize Jack and Grace are never apart. Some might call this true love.
Picture this: a dinner party at their perfect home, the conversation and wine flowing. They appear to be in their element while entertaining. And Grace's friends are eager to reciprocate with lunch the following week. Grace wants to go, but knows she never will. Her friends call—so why doesn't Grace ever answer the phone? And how can she cook such elaborate meals but remain so slim?
And why are there bars on one of the bedroom windows?
The perfect marriage? Or the perfect lie?
Buy Behind Closed Doors at Amazon
The Secret Life of Mrs. London by Rebecca Rosenberg
I didn't know much about Jack London's life and I found this glimpse into his life through his wife to be interesting. The audiobook was well done. It doesn't read like a biography. If you didn't know they were real people, you would just think it was a good story.
Read my full review
.
San Francisco, 1915. As America teeters on the brink of world war, Charmian and her husband, famed novelist Jack London, wrestle with genius and desire, politics and marital competitiveness. Charmian longs to be viewed as an equal partner who put her own career on hold to support her husband, but Jack doesn't see it that way…until Charmian is pulled from the audience during a magic show by escape artist Harry Houdini, a man enmeshed in his own complicated marriage. Suddenly, charmed by the attention Houdini pays her and entranced by his sexual magnetism, Charmian's eyes open to a world of possibilities that could be her escape.
As Charmian grapples with her urge to explore the forbidden, Jack's increasingly reckless behavior threatens her dedication. Now torn between two of history's most mysterious and charismatic figures, she must find the courage to forge her own path, even as she fears the loss of everything she holds dear.
Buy The Secret Life of Mrs. London at Amazon
End Game by David Baldacci
I really enjoyed this suspense novel. At first, I thought the plot might be too intricate for me to follow on audiobook, but it wasn't. I couldn't wait to get back to the story. This is book 5 in the Will Robie series. I haven't read the others but I don't think it mattered much.
London is on red alert. Will Robie, as the US government's most lethal assassin, is called in to foil a terrorist attack on the London Underground. An attack serving as a test run for a much larger plot to take place on US soil. Trained to neutralize threats without leaving a trace, he's an indispensable asset to his country.
But then reports come in that his mentor, Blue Man, real name Roger Walton, has gone missing while visiting his home town in Colorado. Fearing he's been kidnapped, Robie, and fellow agent Jessica Reel, are sent to investigate. The high-ranking CIA official holds secrets that could threaten national security if released and so only the best will do in tracking him down.
This tight-knit community close to the Rocky Mountains holds many secrets and people there are more than willing to take the law into their own hands at the first sign of trouble. To them, two government agents are just that.
As their investigation deepens, Robie and Reel come into contact with white supremacists and a cult that call themselves the King's Apostles. But are either group implicated in the disappearance of Walton? When the truth emerges it will test them both to their very limits.
Buy End Game at Amazon
The Lady Astronaut series by Mary Robinette Kowal
The first book in the series,
The Calculating Stars
was recommended to me and I loved it! I was so glad to see that the second book was coming out only a few days after I finished the first one. There is also a prequel in ebook. I'm hoping for more books in the series. Read my review of
book 1
and
book 2
.
On a cold spring night in 1952, a huge meteorite fell to earth and obliterated much of the east coast of the United States, including Washington D.C. The ensuing climate cataclysm will soon render the earth inhospitable for humanity, as the last such meteorite did for the dinosaurs. This looming threat calls for a radically accelerated effort to colonize space, and requires a much larger share of humanity to take part in the process.
Elma York's experience as a WASP pilot and mathematician earns her a place in the International Aerospace Coalition's attempts to put man on the moon, as a calculator. But with so many skilled and experienced women pilots and scientists involved with the program, it doesn't take long before Elma begins to wonder why they can't go into space, too.
Elma's drive to become the first Lady Astronaut is so strong that even the most dearly held conventions of society may not stand a chance against her.
Buy The Calculating Stars at Amazon
Buy The Fated Sky at Amazon
The Woman on the Orient Express by Lindsay Jayne Ashford
From the title, you can probably guess it is about Agatha Christie. It was a delightful look into the life of the author. While it is somewhat biographical it is fiction. I thought this was a really well-done audiobook.
Hoping to make a clean break from a fractured marriage, Agatha Christie boards the Orient Express in disguise. But unlike her famous detective Hercule Poirot, she can't neatly unravel the mysteries she encounters on this fateful journey.
Agatha isn't the only passenger on board with secrets. Her cabinmate Katharine Keeling's first marriage ended in tragedy, propelling her toward a second relationship mired in deceit. Nancy Nelson—newly married but carrying another man's child—is desperate to conceal the pregnancy and teeters on the brink of utter despair. Each woman hides her past from the others, ferociously guarding her secrets. But as the train bound for the Middle East speeds down the track, the parallel courses of their lives shift to intersect—with lasting repercussions.
Filled with evocative imagery, suspense, and emotional complexity, The Woman on the Orient Express explores the bonds of sisterhood forged by shared pain and the power of secrets.
Buy The Woman on the Orient Express at Amazon
I know it can be difficult buying for book lovers. If they read a lot, you may be wondering if they have already read this book? Or maybe you want to give more than just a book they will enjoy for a week. Did you know that you can
gift a membership to Kindle Unlimited
? Also, if you are looking for other bookish gift items like shirts and totes, then be sure to check out my post about
Literary Book Gifts
and get
the discount code
.
Need more book ideas? Check out
Susan's Best Books of 2018
.
Donna Huber is an avid reader and natural encourager. She is the founder of Girl Who Reads and the author of how-to marketing book Secrets to a Successful Blog Tour.
Get even more book news in your inbox, sign up today! Girl Who Reads is an Amazon advertising affiliate; a small commission is earned when purchases are made at Amazon using any Amazon links on this site. Thank you for supporting Girl Who Reads.