by Donna Huber
Rhys Bowen has penned an excellent family mystery that will have you turning the pages as quickly as possible.
Amazon affiliate links are used on this site. A free book was provided for an honest review.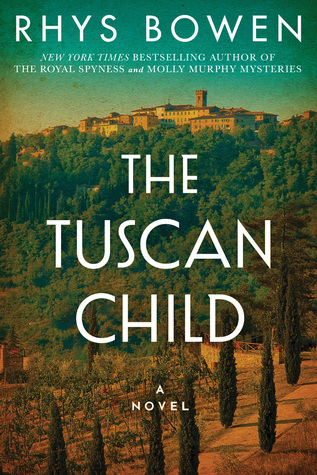 February 2018; Lake Union Publishing
9781503951822; audio, ebook, print (352 pages)
mystery, historical
I fell in love this Bowen's writing when I discovered her cozy mystery series
Her Royal Spyness
. While I love that series, I felt the writing in
The Tuscan Child
was richer and more poignant.
Sir Hugo Langley is shot down over the hills of German-occupied Tuscany during World War II. He is helped by a village woman who he falls in love with. When he dies in 1973, his daughter Joanna discovers a letter to the woman and references hiding their 'beautiful boy'. She had just discovered she had a half-brother from Hugo's first marriage and now she wonders if there is another brother no one knows about. Needing to get away to sort out what her next steps in life will be, she decides to travel to the village in Italy to see what else she can learn about her father's time there.
In alternating chapters, the mystery slowly unfolds as we get a first-hand account from Hugo in 1944 and what Joanna discovers in 1973. I enjoyed both points-of-view equally. Often when stories are told in this fashion there is one or the other that is preferred and the reader feels anxious to get back to their favorite narrator. I never felt that way.
I thought I would prefer the 1944 chapters since I love WWII set stories. But I loved the characters surrounding Joanna in 1973.
The mystery is well paced with details being revealed in small pieces while developing the characters in both time periods. This allowed me to feel as if I was there in either period.
While all appearances point to
The Tuscan Child
is a stand-alone novel, I could see it having a sequel - just because I love the characters and would like to see what comes of them as secrets from the past are revealed.
If you love family history and unearthing stories that were never fully told, then
The Tuscan Child
is your kind of novel. I absolutely loved it.
Buy The Tuscan Child at Amazon

Donna Huber is an avid reader and natural encourager. She is the founder of Girl Who Reads and the author of how-to marketing book Secrets to a Successful Blog Tour.
Get even more book news in your inbox, sign up today! Girl Who Reads is an Amazon advertising affiliate; a small commission is earned when purchases are made at Amazon using any Amazon links on this site. Thank you for supporting Girl Who Reads.