by MK French
I have always been a voracious reader, and the sheer quantity of reviews here definitely speaks to that! This has been a great opportunity to read wonderful books and let you know about them, so collecting a few highlights for the year might also help you pick out some books to give as gifts to someone else or yourself. Books always make great gifts, right? Right.
Amazon affiliate links are used on this site.
For Younger Readers
Dream of the Butterfly
vol. 1 by Richard Marazano
Dream of the Butterfly is a lovely graphic novel with great art and an East Asian feel. Its only downside is the cliffhanger ending, but by now there is another volume! So really, it's not a downside at all anymore. Read my full review of volume 1.
Tutu is lost in a village where winter is eternal and the rabbits of the secret police find her guilty of one of the worst crimes imaginable—being a little girl! The Emperor of this strange town holds the key to her redemption, but it will come at a price.
Buy Dream of the Butterful vol. 1 at Amazon
Kate's Really Good at Hockey
by Christina Frey and Howard Shapiro
Kate's Really Good at Hockey is a graphic novel with a great message for kids (and adults too!). Perspective is necessary to really understand those around us, and it's always worth pushing ourselves to get what we really want. Plus, this is a great look at mother-daughter-grandmother dynamics and intergenerational relationships, which are not things I see too often in children's books. Read my full review.
Best. Summer. Ever. At least it was supposed to be.
Kate can't wait to attend the elite girls' hockey camp in Denver and go up against some of the best players from around the world. But then Mom says Kate has to stay with her grandma in Denver, who doesn't care about Kate's hockey dreams at all. And two players at the camp have it in for Kate both on and off the ice. Toss in a tough-as-nails coach and a huge family secret, and Kate's perfect summer isn't turning out quite like she planned.
Buy Kate's Really Good at Hockey at Amazon
Romance Novels
Dark Surrender
by Erica Ridley
Dark Surrender is a romance novel that has a grittier plot to the Regency formula. Instead of the fluffy, cotton candy kind of romance, there is a little more of a sinister feel to the atmosphere in this novel. There's a Beauty and the Beast theme as well, so that can add to the appeal for this. I enjoy fairy tales and the like, so feeling that call back in this story had added to its appeal for me. Read my full review.
TRAPPED IN DARKNESS . . .
Violet Whitechapel committed an unspeakable crime to save a child. To escape the hangman's noose, she takes refuge in a crumbling abbey with secrets darker than her own. When its master offers her a temporary post, Violet cannot say no. Just as she begins to see him in a new light, her past catches up to her and endangers them all.
THEIR PASSION BURNS BRIGHT . . .
Alistair Waldegrave keeps his daughter imprisoned in the black heart of his Gothic abbey. As he searches for a cure to the disease the villagers call demonic, his new governess brings much needed light into their lives. But how can the passion between them survive the darkness encroaching from outside their sheltered walls?
Buy Dark Surrender at Amazon
The Duke with the Dragon Tattoo
by Kerrigan Byrne
The Duke With The Dragon Tattoo starts off within the Regency romance formula and veers off a bit because there is a little more Gothic drama in the Duke's background. That made it a little more fun for me, considering how many Regency romances I read. Hey, it's a fun genre and there's always the happily ever after at the end. This one has harsher conditions than the usual Regency, so even people that aren't fans of the genre will enjoy this one. Read my full review.
The bravest of heroes. The brashest of rebels. The boldest of lovers. These are the men who risk their hearts and their souls—for the passionate women who dare to love them…
He is known only as The Rook. A man with no name, no past, no memories. He awakens in a mass grave, a magnificent dragon tattoo on his muscled forearm the sole clue to his mysterious origins. His only hope for survival—and salvation—lies in the deep, fiery eyes of the beautiful stranger who finds him. Who nurses him back to health. And who calms the restless demons in his soul…
A LEGENDARY LOVE
Lorelei will never forget the night she rescued the broken dark angel in the woods, a devilishly handsome man who haunts her dreams to this day. Crippled as a child, she devoted herself to healing the poor tortured man. And when he left, he took a piece of her heart with him. Now, after all these years, The Rook has returned. Like a phantom, he sweeps back into her life and avenges those who wronged her. But can she trust a man who's been branded a rebel, a thief, and a killer? And can she trust herself to resist him when he takes her in his arms?
Buy The Duke with the Dragon Tattoo at Amazon
Sci-fi/Fantasy Novels
Foundryside
by Robert Jackson Bennett
Foundryside is a book I want to read over and over again and really revel in its details. I love the world building and the characters, messy as they are, and I think you'll grow to love them, too. Read my full review.
Sancia Grado is a thief and a damn good one. And her latest target, a heavily guarded warehouse on Tevanne's docks, is nothing her unique abilities can't handle.
But unbeknownst to her, Sancia's been sent to steal an artifact of unimaginable power, an object that could revolutionize the magical technology known as scriving. The Merchant Houses who control this magic--the art of using coded commands to imbue everyday objects with sentience--have already used it to transform Tevanne into a vast, remorseless capitalist machine. But if they can unlock the artifact's secrets, they will rewrite the world itself to suit their aims.
Now someone in those Houses wants Sancia dead and the artifact for themselves. And in the city of Tevanne, there's nobody with the power to stop them.
To have a chance at surviving—and at stopping the deadly transformation that's underway—Sancia will have to marshal unlikely allies, learn to harness the artifact's power for herself, and undergo her own transformation, one that will turn her into something she could never have imagined.
Buy Foundryside at Amazon
Domani
by Carolyn Gross
Domani is a book that is starkly written and took me on a complete roller coaster ride. This is a sci-fi novel that isn't heavy on the technobabble, but more on social issues and relationships. I simply couldn't put the book down, and I think you won't be able to, either. Read my full review.
Lulu knew the people of Dalia deserved to live in darkness. The knowledge existed in her bones as surely as she knew that the flames were coming to end their existence.
She stood hidden in the crowd gathered before the steps of the Sanctuary as she did every day to hear the doyen speak. The doyen spoke of hope in a world shrouded in darkness by the enormous gas planet spinning above it. That planet protected Dalia from the raging fires of a sun positioned too close to sustain life. But their protector planet was shifting away from them and the shadow that once sheltered them was disappearing.
The doyen normally told calming sermons to a beleaguered and frightened people, but this time was different. He would tell them that their destruction was assured. Before he could, he would have to survive an assassination attempt.
Lulu was the only one who could see it.
The strength and power Lulu discovers about herself will place her at the head of a massive uprising that will span across an entire galaxy. Will she become the catalyst needed to destroy the empire that created her?
Buy Domani at Amazon
The Book of Hidden Things
by Francesco Dimitri
Maybe this isn't seen as classically fantasy, but The Book of Hidden Things has this weird, creepy vibe to it and a twist ending that smacks of magic. Plus, it's so lavishly described, you'll feel as though you're in Italy yourself. Read my full review.
Four old school friends have a pact: to meet up every year in the small town in Puglia they grew up in. Art, the charismatic leader of the group and creator of the pact, insists that the agreement must remain unshakable and enduring. But this year, he never shows up.
A visit to his house increases the friends' worry; Art is farming marijuana. In Southern Italy doing that kind of thing can be very dangerous. They can't go to the Carabinieri so must make enquiries of their own. This is how they come across the rumours about Art; bizarre and unbelievable rumours that he miraculously cured the local mafia boss's daughter of terminal leukaemia. And among the chaos of his house, they find a document written by Art, The Book of Hidden Things, that promises to reveal dark secrets and wonders beyond anything previously known.
Buy The Book of Hidden Things at Amazon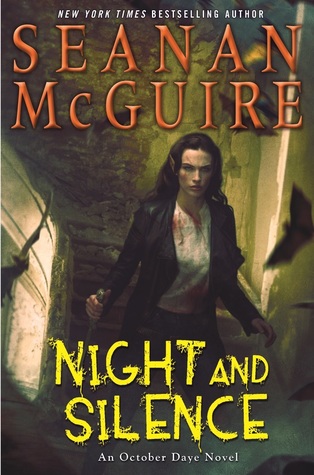 Night And Silence
by Seanan McGuire
Okay, I admit it, I am absolutely a fan of Seanan McGuire's October Daye series. Therefore, it's almost mandatory for Night And Silence to be on this list. It's part of the magical realism themed books, as the fae are alive and well and living parallel to us mere mortals. There are all sorts of complications, especially for those who are set to unveil the secrets hidden by some of the older fae. If you have read the series, you'll understand why I'm all over these books. If not, GO FIND THEM. You're welcome. Read my full review of Night and Silence.
The twelfth installment of the Hugo-nominated, New York Times-bestselling Toby Daye urban fantasy series!
Things are not okay.
In the aftermath of Amandine's latest betrayal, October "Toby" Daye's fragile self-made family is on the verge of coming apart at the seams. Jazz can't sleep, Sylvester doesn't want to see her, and worst of all, Tybalt has withdrawn from her entirely, retreating into the Court of Cats as he tries to recover from his abduction. Toby is floundering, unable to help the people she loves most heal. She needs a distraction. She needs a quest.
What she doesn't need is the abduction of her estranged human daughter, Gillian. What she doesn't need is to be accused of kidnapping her own child by her ex-boyfriend and his new wife, who seems to be harboring secrets of her own. There's no question of whether she'll take the case. The only question is whether she's emotionally prepared to survive it.
Signs of Faerie's involvement are everywhere, and it's going to take all Toby's nerve and all her allies to get her through this web of old secrets, older hatreds, and new deceits. If she can't find Gillian before time runs out, her own child will pay the price. One question remains:
Who in Faerie remembered Gillian existed? And what do they stand to gain? No matter how this ends, Toby's life will never be the same.
Buy Night and Silence at Amazon
If you need more recommendations, be sure to check out Sue's
Best of 2018
and Donna's list of
Books to Give as Gifts
.
Born and raised in New York City, M.K. French started writing stories when very young, dreaming of different worlds and places to visit. She always had an interest in folklore, fairy tales, and the macabre, which has definitely influenced her work. She currently lives in the Midwest with her husband, three young children, and golden retriever.
Get even more book news in your inbox, sign up today! Girl Who Reads is an Amazon advertising affiliate; a small commission is earned when purchases are made at Amazon using any Amazon links on this site. Thank you for supporting Girl Who Reads.