by Susan Roberts
Now that December is here, it seems like I have a lot less time to read because there is so much going on - shopping, decorating, baking and everything else connected with the holidays. I have three new women's fiction books that will be easy to read during December.
Amazon affiliate links are used on this site. Free books were provided for an honest review.
Christmas on the Island by Jenny Colgan
Oct. 2018; William Morrow; 978-0062869203
audio, ebook, print (352 pages); women's fiction
On the remote Scottish island of Mure, the Christmas season is stark, windy, and icy—yet incredibly festive and beautiful...
It's wonderful to go back to the island of Mure and spend time with our friends from the two previous books in the Summer Seaside Kitchen series. This time instead of summer, it's the coldest part of the winter and there are all sorts of new problems going on in Mure.
(Note: This series needs to be read in order to totally enjoy it.)
This book continues with the love story between Flora and Joel, the sickness of Colton and the love between him and Fintan and the acclimation of Saif and his two sons from war-torn Syria to this remote island. These are the main issues but there are lots of other characters and situations in this small town. Everyone knows everyone's business and Flora is trying to keep a secret - she has gotten pregnant and has no idea of how Joel will react to the news based on his issues with his family growing up. Colton is dying of cancer and his husband Fintan (also Flora's brother) is distraught when Colton's brother comes to visit. Saif is their well-liked town doctor who still feels very different from everyone. He is trying to help his sons acclimate to their new lives. At the same time, he is waiting to hear about whether his wife is dead or alive, he is also falling in love with the school teacher. So there is no lack of drama or quirky characters but along with it are laughs and tears.
I definitely enjoyed this book and hope that there is another book about these characters in Jenny Colgan's future plans.
Buy Christmas on the Island at Amazon
Just After Midnight by Catherine Ryan Hyde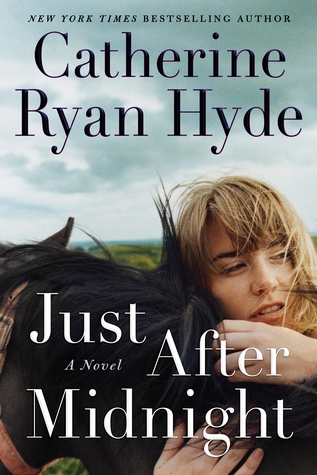 December 2018; Lake Union Publishing
978-1503904859; audio, ebook, print (334 pages)
women's fiction
"This blankness was waiting to see what Faith would do next. It could be anything. She could write the next phase of her life to be anything she wanted it to be. If she could find enough courage, she might even choose to let this new life write her."
This is a beautifully written novel about family and love and helping other people when you can. It's about a woman and a teenager with major problems that learn to help each other understand their lives and search for happier times.
Faith has left her mentally and psychologically abusive husband and is hiding in her parents' cottage on the Pacific shore. Sarah is a 14-year-old girl, living with her grandmother and hiding from her father after the suspicious death of her mother. They meet and seem to recognize the need in each other. Sarah's grandmother asks Faith to take Sarah somewhere while she works to get custody. They go to the horse farm where her beloved horse - Midnight - is stabled. Her father had just sold Midnight to pay his gambling debts which further devastates Sarah. Sarah and Midnight have a strong bond and he performs dressage with her better than with anyone so she starts helping (reluctantly) the man who bought Midnight. As the summer continues, Faith and Sarah both realize that they are stronger than they thought - but are they strong enough to face the people who brought them so much pain??
The characters are wonderful and well written - as with all of Catherine Ryan Hyde's characters. The reader is pulled into their lives and emotions and I can promise a few tears along their journeys. Along with a great story with believable characters, there is a lot of information about horses and dressage and the horse show circuits. I loved it.
Buy Just After Midnight at Amazon
Rapid Falls by Amber Cowie
December 2018; Lake Union Publishing
978-1503904743; audio, ebook, print (256 pages)
women's fiction
"I was trying to help her. That's what good sisters do."
This is a great new psychological thriller by a debut author. Given the intensity and writing in this debut novel, I can't wait to see what Amber Cowie writes next.
Cara and Anna live in the small town of Rapid Falls. Cara is the oldest but Anna is the prettiest and the two sisters always seem to be in competition. On Cara's graduation night, Anna is driving drunk and Cara's boyfriend ends up dying in a wreck. Anna's life is ruined and after jail time it goes into a downward spiral of drugs and alcohol. Happily married Cara is always available to help her sister out of her latest problem. At least all of this is what Cara would have you believe -- is it the real truth or Cara's truth?
The secrets are slowly revealed in alternating chapters - the past(1992) and present day. As past secrets unfold and nothing is what it seems anymore, Anna desperately searches for the truth. But what if Cara doesn't want her to find it?
My only problem with this book is that the two main characters are pretty unlikable. I mean Cara has absolutely no redeeming traits - she is poor sister, mother, wife and daughter. But once I decided that it was ok not to like her, the story became more enjoyable and I would definitely recommend it.
Buy Rapid Falls at Amazon
Susan Roberts lives in North Carolina when she isn't traveling. She and her husband enjoy traveling, gardening and spending time with their family and friends. She reads almost anything (and the piles of books in her house prove that) but her favorite genres are Southern fiction, women's fiction, and thrillers. Susan is a top 1% Goodreads Reviewer. You can connect with Susan on Facebook, Goodreads, or Twitter.
Get even more book news in your inbox, sign up today! Girl Who Reads is an Amazon advertising affiliate; a small commission is earned when purchases are made at Amazon using any Amazon links on this site. Thank you for supporting Girl Who Reads.