by Donna Huber
It has been another busy month at Girl Who Reads. Thankfully work has fallen into a routine again so it is more manageable. I'm loving my spin class, but it wears me out. Instead of more energy, I seem to have to take a nap every day. I hope that my body will adjust soon to the increased activity. I've picked up a couple of new TV shows this month, both on PBS -
The Miniaturist
and
The Great American Read
. I didn't read
The Miniaturist
as it isn't my kind of book, and though I'm enjoying the show I still don't think I would read the book. I enjoy hearing about a wide range of books and getting some literary history during
The Great American Read
. Fall television kicks off this week, so we'll see how much reading I get done the next couple of months. I only have to read 8 more books to meet my Goodreads Challenge of 100 books.
Here's what's happened around Girl Who Reads this month: (the links will take you to the posts)
Susan Roberts
Discussed
The Stand by Stephen King
and
The Color Purple by Alice Walker
from The Great American Read list.
Reviewed
The Space Between and
Whisper Me This, The Secret of the Irish Castle
by Santa Montefiore,
Tear Me Apart
by JT Ellison,
Warm Transfer and Thread for Pearls
,
The Boy at the Keyhole
by Stephen Giles,
When the Lights Go Out
by Mary Kubica,
Lies
by T. M. Logan, and
The Fourteen of September
by Rita Dragonette
.
MK French
Reviewed
Drawn to the Marquess
by Bronwen Evans,
The Girl in the Locked Room
by Mary Downing,
The Book of Hidden Things
by Francesco Dimitri,
The Forbidden Door
by Dean Koontz,
Set the Night on Fire
by Laura Trentham,
My Own Devices
by Dessa,
Trust Me
by Earl Javorsky,
The One Unspoken
by Sarah Bryant,
An Unexpected Adventure
by Kandi Wyatt,
Ginseng Tango
by Cheryl Pallent, and
The Christmas Wishing Tree
by Emily March (
with giveaway
).
CM North
Discussed
writing opening paragraphs to keep readers reading in
Shocking Introductions: Crafting the Perfect Start to a Story
.
Alison Deluca
Discussed
Educated: A Memoir
by Tara Westover.
Donna Huber
Reviewed
The Fated Sky
by Mary Robinette Kowal and
Clutch
by Lisa Becker, both of which I read last month.
Discussed
the
new television show,
Jack Ryan
and more
bookish TV shows to watch this fall
.
Amazon affiliate links are used on this site.
This month so far I have read 8 books: 2 print, 2 ebooks, and 4 audiobooks. 3 of them were for review. I hope to finish this week the ebook I'm currently reading, but it is very slow reading.
Read
In print...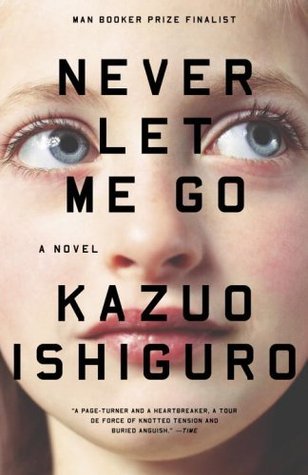 Never Let Me Go
by Kazuo Ishiguro
This was the September book for my post-apocalyptic book club. I remember when this book came out there was a lot of hype and I really looked forward to it. Unfortunately, it didn't live up to the hype for me. I found it kind of boring. I didn't really care about the characters. Unlike most dystopians of the day, the oppressed aren't fighting back or even really seem to see the injustice of their situation. It did make for a good discussion at book club. I borrowed this book from the library.
Hailsham seems like a pleasant English boarding school, far from the influences of the city. Its students are well tended and supported, trained in art and literature, and become just the sort of people the world wants them to be. But, curiously, they are taught nothing of the outside world and are allowed little contact with it.
Within the grounds of Hailsham, Kathy grows from schoolgirl to young woman, but it's only when she and her friends Ruth and Tommy leave the safe grounds of the school (as they always knew they would) that they realize the full truth of what Hailsham is.
Buy Never Let Me Go at Amazon
Pet Friendly
by Sue Pethick
This was a cute, quick read for the summer, even though a bit predictable. I liked the characters. I thought the ending kind up wrapped up too quickly. I don't usually read books that feature animals because I usually wind up crying. Though there is a scene towards the end that had my heart stopping, overall it isn't a sad animal story. It was probably this scene that made the ending feel rushed. I couldn't quite get my heart going again before I turned the last page. Out of the 5 books I picked out to read in the pool this summer, I finished 3 of them. I bought this book.
Todd Dwyer, a successful app designer, wasn't planning to adopt a dog, but when his Uncle Bertie dies and leaves his little mutt Archie homeless, Todd can't help welcoming the pooch home.
Archie could charm the marrow out of a bone, but Todd's girlfriend Gwen is less than impressed with the instant bond the fluffy white ball of fur makes with her boyfriend. When things go awry the first night, she insists that Todd give Archie to his sister, Claire, whose rural home is a day's drive away.
Todd and Archie hit the road, but circumstances compel them to make a detour to a quaint hotel run by Todd's childhood friend, Emma Carlisle. As it happens, the hotel is hosting a colorful group of ghost hunters in town for a paranormal conference, and when Archie starts howling into the air vent, it isn't long before their road trip turns bumpier than an unpaved country lane.
But with Archie's unerring canine instincts and loyal heart, he may help Todd and Emma see the happiness that's waiting just under their noses . . .
Buy Pet Friendly at Amazon
In ebook...
Broken Branches
by Ben Ellis
Overall I enjoyed the story. I'm not totally sure I like the structure it was told in and I found the ending unsatisfying unless a sequel is planned. I really liked the characters. A free book was provided by the author. Read my full review.
All men are sterile. Fertility drugs are given only to couples whose genetic matches are approved. Those without a family history to prove their genetic heritage are outcast from society.
Grace is a broken branch. As an orphan, she has no link to The National Family Tree, so she and her husband, Tom, are ecstatic when they're approved to have a baby. But that was the easy part. Grace's twin brother inadvertently gets a girl pregnant after a one-night stand, and his girlfriend isn't happy because it should've been her. Both sets of parents soon become the target of a violent terrorist group that advocates genetic purity. To make matters worse, there's something strange about the unborn children that's attracting government attention.
Buy Broken Branches at Amazon
The Bone Whistle
by K.B. Hoyle
I was kind of dreading this book. Partly because it is the last book in the awesome series, but I have never liked the strained relationship between Darcy and her parents. Even though this is the third time I've read the book, I still cried so hard I had to stop reading because I couldn't see the page through my tears. The line "I just want to make sure you have what you need before I leave" kills me. A free book was provided by the author. Read my full review.
Darcy burned with the pain of knowing she'd failed. What happened when a prophecy didn't come true? It must not have been much of a prophecy in the first place. And if they couldn't trust in that, then they couldn't trust in anything at all.
Thrust back into Alitheia through unexpected means, Darcy winds up alone, scared, and without her recent memory. As she struggles to reunite with the ones she loves, she pieces together the prophecies and the oracles to find they all converge into one story — a story that tells her just how much she'll have to give to save both worlds, and everyone she loves.
Pursued through Alitheia by forces desperate to kill them, Darcy and her friends take a journey fraught with danger that will lead them, inevitably, to the final confrontation with the Shadow. And, ultimately, the greatest courage of all belongs not to those who give something of themselves, but to those who let go of what they could never control.
Buy The Bone Whistle at Amazon
In audio...
The Woodcutter
by Kate Danley
I always say I don't read fairytale retellings, but then I started thinking that I couldn't remember when I had tried a fairytale retelling. So when I saw this book available as a Prime free read with Audible narration that I would give it a try. I was right, I don't like fairytale retellings. It was a well-written story and the audiobook was well done. Pretty much all the fairytale characters show up. I even learned about a Russian fairy tale that I hadn't heard of that features Iron Shoes. If you like fairytale retellings then you would probably enjoy this book. This was a free Prime ebook with Audible narration.
Deep within the Wood, a young woman lies dead. Not a mark on her body. No trace of her murderer. Only her chipped glass slippers hint at her identity.
The Woodcutter, keeper of the peace between the Twelve Kingdoms of Man and the Realm of the Faerie, must find the maiden's killer before others share her fate. Guided by the wind and aided by three charmed axes won from the River God, the Woodcutter begins his hunt, searching for clues in the whispering dominions of the enchanted unknown.
But quickly he finds that one murdered maiden is not the only nefarious mystery afoot: one of Odin's hellhounds has escaped, a pixie-dust drug trade runs rampant, and more young girls go missing. Looming in the shadows is a malevolent, power-hungry queen, and she will stop at nothing to destroy the Twelve Kingdoms and annihilate the Royal Fae...unless the Woodcutter can outmaneuver her and save the gentle souls of the Wood.
Buy The Woodcutter at Amazon
Save the Date
by Morgan Matson
A light, fun read about family and growing up. It is an easy-to-follow audiobook. I really liked the main character Charlie, but I felt her family relied on her too much given that she is the youngest and still in high school. A free audiobook was provided by Audible. Read my full review.
Charlie Grant's older sister is getting married this weekend at their family home, and Charlie can't wait—for the first time in years, all four of her older siblings will be under one roof. Charlie is desperate for one last perfect weekend, before the house is sold and everything changes. The house will be filled with jokes and games and laughs again. Making decisions about things like what college to attend and reuniting with longstanding crush Jesse Foster—all that can wait. She wants to focus on making the weekend perfect.
The only problem? The weekend is shaping up to be an absolute disaster.
There's the unexpected dog with a penchant for howling, house alarm that won't stop going off, and a papergirl with a grudge.
There are the relatives who aren't speaking, the (awful) girl her favorite brother brought home unannounced, and a missing tuxedo.
Not to mention the neighbor who seems to be bent on sabotage and a storm that is bent on drenching everything. The justice of the peace is missing. The band will only play covers. The guests are all crazy. And the wedding planner's nephew is unexpectedly, distractingly…cute.
Over the course of three ridiculously chaotic days, Charlie will learn more than she ever expected about the family she thought she knew by heart. And she'll realize that sometimes, trying to keep everything like it was in the past means missing out on the future.
Buy Save the Date at Amazon
A Man of Some Repute
by Elizabeth Edmondson
It was a kind of interesting mystery. It was kind of hard to keep the characters straight. I really liked the voice of the person who was reading it. This was a free Prime ebook with Audible narration.
Truth is rarely pure and never simple…
Selchester Castle in 1953 sits quiet and near-empty, its corridors echoing with glories of the past. Or so it seems to intelligence officer Hugo Hawksworth, wounded on a secret mission and now reluctantly assuming an altogether less perilous role at Selchester. The Castle's faded grandeur hides a web of secrets and scandals—the Earl has been missing for seven years, lost without a trace since the night he left his guests and walked out into a blizzard. When a skeleton is uncovered beneath the flagstones of the Old Chapel, the police produce a suspect and declare the case closed.
Hugo is not convinced. With the help of the spirited Freya Wryton, the Earl's niece, he is drawn back into active service, and the ancient town of Selchester is dragged into the intrigues and conspiracies of the Cold War era. With a touch of Downton Abbey, a whisper of Agatha Christie and a nod to Le Carré, A Man of Some Repute is the first book in this delightfully classic and witty murder mystery series.
Buy A Man of Some Repute at Amazon
Hard Road
by J. B. Turner
It kind of reminds me of a Jack Reacher novel. It is an okay suspense novel. I'm not sure if I will continue with the series. This was a free Prime ebook with Audible narration.
The first in a series featuring Jon Reznick, covert assassin for the US Government.
Since his wife died in the Twin Towers, Jon Reznick, a covert assassin for the US Government, has cared about nothing except his eleven-year-old daughter.
But when he's ordered by his handler to kill a man in an exclusive Washington DC hotel, he discovers his intended victim is really a government scientist working on a secretive military project.
Reznick is quickly ensnared in an extraordinary web of murder, extortion and double-crosses - and then his daughter's safety is threatened as well.
But Jon isn't just up against the shadowy group who want the scientist eliminated. FBI chief Martha Meyerstein wants Reznick captured as well.
And soon both Reznick and Meyerstein find themselves in the middle of a terrifying plot by a foreign government to launch a bio-terrorism strike against the United States.
Buy Hard Road at Amazon
Currently Reading
In ebook...
Putting the Science in Fiction
by Dan Koboldt
This is a collection of essays from scientists and medical professionals about how one's writing can be more authentic when it involves science. I'm finding the essays a bit dry but can see how they would be useful to authors who write science fiction or medical dramas. It comes out in October. I received this from Netgalley
.
Science and technology have starring roles in a wide range of genres--science fiction, fantasy, thriller, mystery, and more. Unfortunately, many depictions of technical subjects in literature, film, and television are pure fiction. A basic understanding of biology, physics, engineering, and medicine will help you create more realistic stories that satisfy discerning readers.
This book brings together scientists, physicians, engineers, and other experts to help you:
Understand the basic principles of science, technology, and medicine that are frequently featured in fiction.
Avoid common pitfalls and misconceptions to ensure technical accuracy.
Write realistic and compelling scientific elements that will captivate readers.
Brainstorm and develop new science- and technology-based story ideas.
Whether writing about mutant monsters, rogue viruses, giant spaceships, or even murders and espionage, Putting the Science in Fiction will have something to help every writer craft better fiction.
Putting the Science in Fiction collects articles from "Science in Sci-fi, Fact in Fantasy," Dan Koboldt's popular blog series for authors and fans of speculative fiction (dankoboldt.com/science-in-scifi). Each article discusses an element of sci-fi or fantasy with an expert in that field. Scientists, engineers, medical professionals, and others share their insights in order to debunk the myths, correct the misconceptions, and offer advice on getting the details right.
Buy Putting the Science in Fiction at Amazon
In audio...
Heirs of Grace
by Tim Pratt
It is kind of outside of my normal reading as I don't read a lot of romance or fantasy, but I'm finding it really enjoyable. I have a little more than an hour left of it. It was a free Prime ebook with Audible narration.
Recent art school graduate Bekah thought she'd hit the jackpot: an unknown relative died, and she inherited a small fortune and a huge house in the mountains of North Carolina.
Trey Howard, the lawyer who handled the estate, is a handsome man in his twenties, and they hit it off right away, and soon become more than friends. Bekah expected a pleasant year to get her head together and have a romantic fling. Problem is, the house is full of junk...and siblings she didn't know she had are willing to kill her for it.
More important, the junk in her new house is magical, she's surrounded by monsters, and her life seems to be in mortal peril every time she ventures into a new room. As Bekah discovers more about her mysterious benefactor and the magical world he inhabited, she realizes that as tough and resourceful as she is, she might just be in over her head.
Buy Heirs of Grace at Amazon
In print...
Aftermath
by Levar Burton
This is the October book for my post-apocalyptic book club
.
I loved watching Reading Rainbow with Levar Burton. Though he will always be Jordy from Star Trek to me. I checked it out from the library. I started it Saturday afternoon and I was able to read more than 100 pages. I'm glad this is a quick read as we meet on Thursday. This book was published in 1997.
The United States of 2019 is a very different place. Economic depression, an enormous earthquake, and the assassination of a black President-elect have turned the country into a war zone. Four people, each as different and troubled as the next, are the nation's last hope. But can they overcome the devastation and build a new world?
A novel on an America torn by race wars where black people are kidnaped to serve as body-part donors. The heroine is a woman who invents a machine that increases the body's immune system to the point where disease is conquered.
Buy Aftermath at Amazon
Up Next
I'm not sure what I will read next. Want to help me decide?
Donna Huber is an avid reader and natural encourager. She is the founder of Girl Who Reads and the author of how-to marketing book Secrets to a Successful Blog Tour.
Linked to
It's Monday! What are you reading?
at Book Date,
Month in Review
at Book Date, and
Monthly Wrap-up
(with giveaway) at Feed Your Fiction Addiction.
Get even more book news in your inbox, sign up today! Girl Who Reads is an Amazon advertising affiliate; a small commission is earned when purchases are made at Amazon using any Amazon links on this site. Thank you for supporting Girl Who Reads.