by Donna Huber
Both MK and Susan have provided
recommendations of books
to read at the beach this summer. I'm not much of a beach fan (I love the ocean, but not the sand). Instead, I spend my weekends at my parents' pool. I have five books that I hope to read this summer.
Amazon affiliate links are used on this site.
I have few criteria for my pool books.
They have to be in print as I don't want my Nook to get wet.
They have to be books that I don't care if they fall in the pool, so no signed copies or special editions.
They have to be fluffy or short reads. To keep up with my review pile, I try to only read my pool books on the weekends when I'm at the pool so I need books that I can remember the plot and characters even if I don't pick it up for a week.
So with those criteria in mind, I have chosen the following five books.
The Island House by Nancy Thayer
May 2016; Ballantine Books; 978-1101967041
audio, ebook, print (304 pages)
women's fiction
I loved The Guest Cottage and I enjoy stories set on Nantucket. I found this one on the bargain shelf at Barnes & Noble and knew it would be one of my pool books. I think it is the one I'm most excited about.
Courtney Hendricks will never forget the magical summers she spent on Nantucket with her college roommate, Robin Vickerey, and Robin's charismatic, turbulent, larger-than-life family, in their gorgeous island house. Now a college English professor in Kansas City, Courtney is determined to experience one more summer in this sun-swept paradise. Her reason for going is personal: Courtney needs to know whether Robin's brother James shares the feelings she's secretly had for him.
Time with the Vickerey family always involves love and laughter, and this season is no different. Vivacious matriarch Susanna Vickerey is celebrating her sixtieth birthday, but beneath the merriment, trouble is brewing. The family patriarch, Dr. Alastair Vickerey, is quiet and detached, while unspoken tension looms over oldest son Henry, a respected young surgeon. Warm and witty Robin, the most grounded of the siblings, is keeping a secret from her parents. Iris, the colorful baby of the brood, remains rudderless and in need of guidance. And the sexy, stunningly handsome, untouchable James--to Courtney's dismay--may be in love with a beautiful and vibrant local artist. As the summer unfolds, a crisis escalates, surprising truths are revealed, and Courtney will at last find out where her heart and her future lie.
Weaving the trials and uncertainty of real life into a tapestry of passion, hope, and courage, The Island House is a beautifully told story about the ties that bind us--and how the blessings of love and family heal us in ways we never dream possible.
Buy The Island House at Amazon
The Raven by Sylvain Reynard
February 2015; Berkeley, 978-0425266496
audio, ebook, print (432 pages); thriller
I picked this one up on the discount rack for my birthday, but haven't gotten around to reading it yet. I enjoyed his Gabriel Inferno series so I hope I like this one, though I think it has more of a paranormal bent to it.
Raven Wood spends her days at Florence's Uffizi Gallery restoring fine works of Renaissance art. But an innocent walk home after an evening with friends changes her life forever. When she intervenes in the senseless beating of a homeless man, his attackers turn on her, dragging her into an alley. Raven is only semi-conscious when their assault is interrupted by a cacophony of growls followed by her attacker's screams. Mercifully, she blacks out, but not before catching a glimpse of a shadowy figure who whispers to her…
Cassita vulneratus.
When Raven awakes, she is inexplicably changed. She returns to the Uffizi, but no one recognizes her and more disturbingly, she discovers that she's been absent an entire week. With no recollection of the events leading up to her disappearance, Raven also learns that her absence coincides with one of the largest robberies in Uffizi history – the theft of a set of priceless Botticelli illustrations. When the baffled police force identifies her as its prime suspect, Raven is desperate to clear her name. She seeks out one of Florence's wealthiest and elusive men in an attempt to uncover the truth about her disappearance. Their encounter leads Raven to a dark underworld whose inhabitants kill to keep their secrets…
Buy The Raven at Amazon
Pet Friendly by Sue Pethick
December 2015; Kensington


978-1617738425; ebook, print (224 pages)


humor
Another bargain book I picked up for my birthday. It just looked too cute to pass up and I thought it would make a great pool book. I just hope nothing happens to the dog.
In Sue Pethick's witty and heartwarming debut novel, a sweet dog in need of an owner brings together the perfect candidates…
Todd Dwyer, a successful app designer, wasn't planning to adopt a dog, but when his Uncle Bertie dies and leaves his little mutt Archie homeless, Todd can't help welcoming the pooch home.
Archie could charm the marrow out of a bone, but Todd's girlfriend Gwen is less than impressed with the instant bond the fluffy white ball of fur makes with her boyfriend. When things go awry the first night, she insists that Todd give Archie to his sister, Claire, whose rural home is a day's drive away.
Todd and Archie hit the road, but circumstances compel them to make a detour to a quaint hotel run by Todd's childhood friend, Emma Carlisle. As it happens, the hotel is hosting a colorful group of ghost hunters in town for a paranormal conference, and when Archie starts howling into the air vent, it isn't long before their road trip turns bumpier than an unpaved country lane.
But with Archie's unerring canine instincts and loyal heart, he may help Todd and Emma see the happiness that's waiting just under their noses . . .
Buy Pet Friendly at Amazon
Troubled Daughters, Twisted Wives by Sarah Weinman (editor)
August 2013; Penguin Books; 978-0143122548
ebook, print (384 pages); anthology
This is from my books to review shelf. It's been there a while and I thought a book of short stories would make a good pool book.
Fourteen chilling tales from the pioneering women who created the domestic suspense genre
Murderous wives, deranged husbands, deceitful children, and vengeful friends. Few know these characters—and their creators—better than Sarah Weinman. One of today's preeminent authorities on crime fiction, Weinman asks: Where would bestselling authors like Gillian Flynn, Sue Grafton, or Tana French be without the women writers who came before them?
In Troubled Daughters, Twisted Wives, Weinman brings together fourteen hair-raising tales by women who—from the 1940s through the mid-1970s—took a scalpel to contemporary society and sliced away to reveal its dark essence. Lovers of crime fiction from any era will welcome this deliciously dark tribute to a largely forgotten generation of women writers.
Buy Troubled Daughters, Twisted Wives at Amazon
The Catcher in the Rye by J.D. Salinger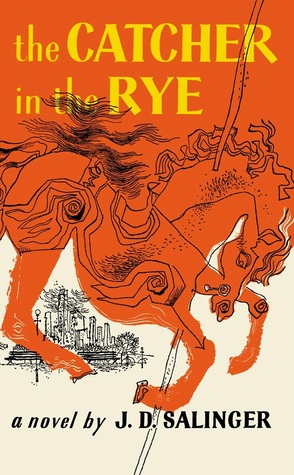 May 1991; Little, Brown and Company
78-7543321724; print (240 pages); classics
When I finished college, I tried to read some of the books that were on my high school reading lists that I never got to in high school. I more or less abandoned that project, but with The Great American Read, I thought I might take it back up. So I'm starting with this one.
The hero-narrator of
The Catcher in the Rye
is an ancient child of sixteen, a native New Yorker named Holden Caulfield. Through circumstances that tend to preclude adult, secondhand description, he leaves his prep school in Pennsylvania and goes underground in New York City for three days. The boy himself is at once too simple and too complex for us to make any final comment about him or his story. Perhaps the safest thing we can say about Holden is that he was born in the world not just strongly attracted to beauty but, almost, hopelessly impaled on it. There are many voices in this novel: children's voices, adult voices, underground voices-but Holden's voice is the most eloquent of all. Transcending his own vernacular, yet remaining marvelously faithful to it, he issues a perfectly articulated cry of mixed pain and pleasure. However, like most lovers and clowns and poets of the higher orders, he keeps most of the pain to, and for, himself. The pleasure he gives away, or sets aside, with all his heart. It is there for the reader who can handle it to keep.
Buy The Catcher in the Rye at Amazon
What is on your summer reading list?
Donna Huber is an avid reader and natural encourager. She is the founder of Girl Who Reads and the author of how-to marketing book Secrets to a Successful Blog Tour.
Get even more book news in your inbox, sign up today! Girl Who Reads is an Amazon advertising affiliate; a small commission is earned when purchases are made at Amazon using any Amazon links on this site. Thank you for supporting Girl Who Reads.