by Susan Roberts
Now that the holidays are over, there are lots of new books being published. There are some fantastic new historical fiction books set during the WWII era. Here are reviews of five of them.
Amazon affiliate links are used on this site. Free books were provided for an honest review.
The Gown: A Novel of the Royal Wedding by Jennifer Robson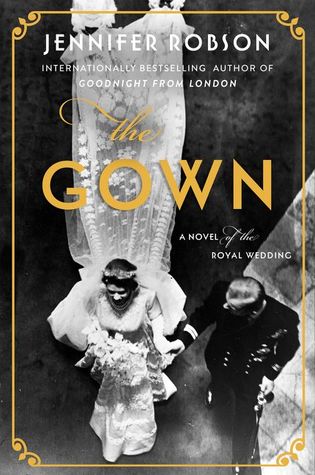 December 2018; William Morrow
978-0062884275
audio, ebook, print (400 pages)
family saga
This wonderful new book by Jennifer Robson is a dual timeline historical fiction novel about the wedding gown worn by Princess Elizabeth in 1947. The book is about so much more than the wedding gown - it's about the friendship between two women who helped to make the dress and how their friendship helped them both survive.
The first time period in the novel is 1947 in London. The war is over but there are still shortages of food and coal. Ann loves her job as an embroiderer at a fashion house and when a new woman arrives from France, Ann and Miriam become friends and share a house. Despite their friendship, Miriam is not able to share what happened to her in France during the war. Ann and Miriam are both chosen to embroider the wedding gown which was a great honor in their dreary lives. The wedding was very exciting for the British - it represented Britain coming out of the bad years of the war.
The second time period is modern day in Canada when Heather's beloved grandmother dies and leaves her some embroidered flowers. Heather knows nothing of her grandmother's life in England so goes on a search to find out more about her grandmother's early years. As she learns more about her grandmother and her work on the royal wedding dress, she is drawn to an artist who knew her grandmother and shares past history with her.
This wonderfully researched novel was very interesting on several levels. I had never given much thought to the amount of work that would go into a gown like this and I found it very interesting to learn about. Along with that was the wonderful friendship between Ann and Miriam that lasted throughout the years and was so crucial to the survival of both of them.
Buy The Gown at Amazon
The Light Over London by Julia Kelly
January 2018; 978-1501196416; Gallery Books
audio, ebook, print (304 pages); historical
I don't like it when a book is compared to other books in the same genre. This book is compared to The Nightingale and The Lilac Girls. The only similarity is that they are all about WWII. The Light over London stands on its own as another historical fiction WWII book about a little-known group in England during WWII.
This is a dual timeline novel and both stories are equally interesting and exciting. In the present day, Cara is working for an antique dealer when she finds a diary stuck into a drawer. She is intrigued and because of her love of history so she takes it home to read. She is living a solitary life after leaving her husband and her parent's deaths so her work is very important to her. As she reads the diary, she reaches out to her new neighbor who is a history professor for his input on who wrote the diary and to try to track down the family so that it can be returned to them. The other timeline is in 1941 when Louise is waiting for her rich suitor to come back from the war. When she meets a dashing RAF pilot, she decides that she needs to change her life and pursue a life with Paul. While she is waiting, she joins the women's branch of the British Army in the anti-aircraft gun unit as a Gunner Girl. When she moves to London and faces daily danger from the bombs being dropped on the city, it's only her love for Paul that gets her through her fear.
This is a wonderful book about the strength of women through adversity and their resilience in life no matter what is holding them back. The author did considerable research into WWII history to present this well-written novel. If you enjoy WWII fiction, this one needs to go on your TBR list.
Buy The Light over London at Amazon
Annelies by David R. Gillham
January 2019; Viking; 978-0399162589
ebook, print (416 pages); world lit
Every once in a while, a book comes along that just takes your breath away...a book that you wish you could give more than five stars...a book that speaks to your deepest feelings. For me.
Annelies
is one of those rare books. It is so beautifully written that I lived the story with the characters, I felt Anne's pain as well as her anger and confusion after the war. I think it's because I read The Diary of Anne Frank at a very impressionable age when it was difficult to read that she had died in the camps. Annelies is based on the premise that Anne survived and is reconciled with her father in Amsterdam after the war. All of the pain from the camps leads to great anger and survivor's guilt when she tries to regain her old life.
I must admit that I cried a lot of tears while reading this book. Anne's time in the camps was so physically demeaning and her anger and confusion after the war were so mentally harsh. This was a beautiful, well written and well-researched novel. Suspend your knowledge that you know Anne didn't survive and read this author's story about what her life could have been like -- you'll be glad that you did.
Buy Annelies at Amazon
The Wartime Sisters by Lynda Cohen Loigman
January 2019; St. Martin's; 978-1250140708
audio, ebook, print (304 pages); Jewish
If you are a fan of WWII fiction or books about sisters or just love a well written well researched historical fiction novel, this is the book for you. Not only was this novel well written but it was well researched and based on work that was going on in the US during WWII. I knew that a lot of women went to work during the war but had never heard of the Springfield Armory or been aware of the number of workers that were employed there.
Ruth is three years older than Millie. When they are growing up in Brooklyn in the 1930s, Ruth is seen as dependable and trustworthy and boring. Millie is seen as cute and needy for attention so everyone pays attention to her - she even gets preferential treatment from their mother. The different way that the girls are treated causes a big rift between them on Ruth's part. In later years, when Ruth is married to an Army scientist and has twin daughters and Ruth's husband has disappeared and left her with a small son, they end up living in the same house and working at the Armory in Springfield. As the sisters struggle to maintain a relationship, secrets are revealed that may drive them even further apart. Will the rift between them cause them to remain estranged or will they find the way to truly become sisters??
I loved both of the sisters - they were so well written that it was impossible to take sides and assign blame for their estrangement because both of them had valid reasons for the way they acted toward each other. I loved the location of the Armory and learning more about the women that worked in American to support the men away at war. I highly recommend this book.
Buy The Wartime Sisters at Amazon
At the Wolf's Table by Rosella Postorino, Leah Janeczko (Translator)
January 2019; Flatiron Books; 978-1250179142
audio, ebook, print (288 pages); historical
"The past doesn't go away, but there's no need to dredge it up, you can try to let it rest, hold your peace. The one thing I've learned from life is survival".
I was aware of the women who tasted food for Hitler to make sure he wasn't poisoned from reading The Taster by VS Alexander earlier this year. What makes this version of the story even more interesting is that it's based on a real person - Margot Wölk. . She was Hitler's last living food taster. She had never told anyone about her experience until she was 96 and decided to tell her story. She died later the same year that she first told her story. You can read more about her and read her story if you goggle her name.
In 1943, Rosa moved to the town where her husband's parents live. Her mother has just died in a bombing in Berlin and she hasn't seen her husband since he joined the army the year before. Instead of the quiet life that she is yearning for, the SS arrive at the door and tell her that will become one of the tasters of Hitler's food. They were very worried that the Allies would try to poison Hitler so they forced a group of women to eat his food before he did. If the tasters didn't die of poison, then the food was safe for him. The ten women in the group become friends and enemies as the stress becomes unbearable.
This is a horrific story of women being forced into possible death with every bite of food that they ate. The stress of this time affected Margot for the rest of her life.
Buy At the Wolf's Table at Amazon
Susan Roberts lives in North Carolina when she isn't traveling. She and her husband enjoy traveling, gardening and spending time with their family and friends. She reads almost anything (and the piles of books in her house prove that) but her favorite genres are Southern fiction, women's fiction, and thrillers. Susan is a top 1% Goodreads Reviewer. You can connect with Susan on Facebook, Goodreads, or Twitter.
Get even more book news in your inbox, sign up today! Girl Who Reads is an Amazon advertising affiliate; a small commission is earned when purchases are made at Amazon using any Amazon links on this site. Thank you for supporting Girl Who Reads.