by Donna Huber
What do you do when a corset and parasol or top hat and driving goggles are too conspicuous to wear, but you want to show your love for the steampunk genre? The Dover collection of watches from JORD, with their open gear face, is the perfect accessory. And today you can enter to win a $100 gift certificate, plus all other entrants will receive a 10% off coupon. Enter below.
About JORD Watches
JORD (pronounced Yode - like Yoda without the -a!) watches are beautifully hand-crafted from a variety of wood. They have a wide selection of styles and wood types to choose from for both men and women so you can choose the perfect combination that uniquely fits you.
JORD was founded in 2013 to create true designer watches from natural materials. Each JORD series incorporates conversation provoking natural wood with a premium quartz, chronograph, or automatic movement. JORD is located in St. Louis, Missouri, USA.
The Dover Olive and Acacia Watch
As part of this sponsored promotion, I chose (and received for free) the
Dover Olive and Acacia watch
. The open watch face with exposed gears, combined with the color and texture of olive and acacia wood, is absolutely gorgeous. I was really blown away by its beauty when I opened the box. I knew from the pictures it was pretty, but WOW!
The visible gears are what really drew me to the Dover collection. It instantly made me think of steampunk novels. Clocks and watches are often depicted in the steampunk genre. Watches became popular in Victorian society as they became more reliable; therefore, it makes sense to be featured in writings about that time period.
Another cool feature of these watches is the fact they are
automatic watches
. You wind it initially and then your daily movements keep the timepiece going. There's no battery to replace, ever! This "bio-mechanical" working is definitely something you would see in a steampunk novel.
The Olive Tree has deeply rooted meaning dating back to ancient Greece and often appears in Greek mythology. It signifies friendship and peace, hence the saying, "extending the olive branch", when you want to make peace with someone.
Acacia wood is dense and extremely strong. According to an
Old Dominion University website
, due to deposits in the heartwood, it is unpalatable to insects and its denseness makes it impenetrable by water. These factors help the tree resist decay. Acacia wood is what was used to build the tabernacle described in Exodus 37 and 38.
This watch could signify a 'strong friendship' when given as a gift.
Watches, Clocks and Time in Steampunk Novels
Steampunk is a subgenre of science fiction and often has elements of fantasy. As the name indicates, it features technology that is steam-powered, but there is also a focus on all mechanical things. As the
concept of time and ways of telling time
had greatly changed during the 18th century, these often Victorian-set novels feature watches, clocks, and time. Here are just 5 steampunk novels and series that use these elements. You can find even more on the
Best Steampunk Books list
at Goodreads.
What is your favorite steampunk novel that uses watches, clocks, and/or time in its story?
Boneshaker (The Clockwork Century #1) by Cherie Priest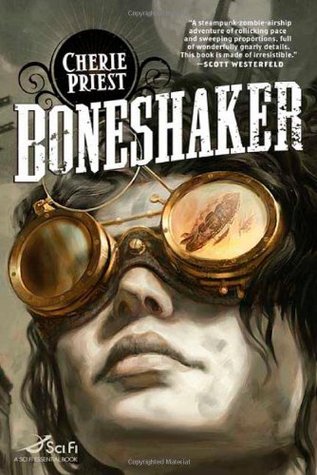 In the early days of the Civil War, rumors of gold in the frozen Klondike brought hordes of newcomers to the Pacific Northwest. Anxious to compete, Russian prospectors commissioned inventor Leviticus Blue to create a great machine that could mine through Alaska's ice. Thus was Dr. Blue's Incredible Bone-Shaking Drill Engine born.
But on its first test run the Boneshaker went terribly awry, destroying several blocks of downtown Seattle and unearthing a subterranean vein of blight gas that turned anyone who breathed it into the living dead.
Now it is sixteen years later, and a wall has been built to enclose the devastated and toxic city. Just beyond it lives Blue's widow, Briar Wilkes. Life is hard with a ruined reputation and a teenaged boy to support, but she and Ezekiel are managing. Until Ezekiel undertakes a secret crusade to rewrite history.
His quest will take him under the wall and into a city teeming with ravenous undead, air pirates, criminal overlords, and heavily armed refugees. And only Briar can bring him out alive.
Clockwork Angel by Cassandra Clare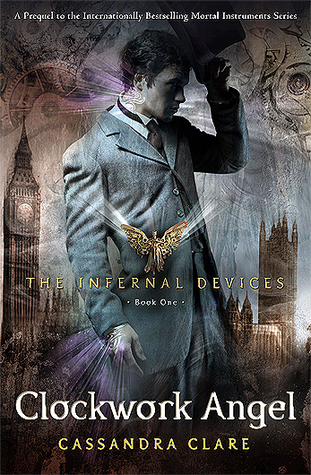 Magic is dangerous—but love is more dangerous still.
The year is 1878. Tessa Gray descends into London's dark supernatural underworld in search of her missing brother. She soon discovers that her only allies are the demon-slaying Shadowhunters—including Will and Jem, the mysterious boys she is attracted to. Soon they find themselves up against the Pandemonium Club, a secret organization of vampires, demons, warlocks, and humans. Equipped with a magical army of unstoppable clockwork creatures, the Club is out to rule the British Empire, and only Tessa and her allies can stop them.
The Infernal Devices trilogy includes
Clockwork Angel
,
Clockwork Prince
, and
Clockwork
Princess
.
The Girl in the Clockwork Collar by Kady Cross
In New York City, 1897, life has never been more thrilling-or dangerous Finley Jayne and her "straynge band of mysfits" have journeyed from London to America to rescue their friend Jasper from the clutches of a devious criminal demanding a trade-the dangerous device Jasper stole from him... for the life of the girl Jasper loves.
One false move from Jasper, and the strange clockwork collar around Mei's neck tightens and tightens. From the rough streets of lower Manhattan to elegant Fifth Avenue, the motley crew of teens follows Jasper's elusive trail. And they're about to discover how far they'll go for friendship.
More than ever, Finley must rely on powerful English duke Griffin King to balance her dark magic with her good side. Yet Griffin is at war with himself over his secret attraction to Finley... and will risk his life and reputation to save her.
Now, to help those she's come to care for so deeply, Finley must infiltrate the criminal gang. Only problem is, she might like the dark side a little too much.
Timekeeper by Tara Sim
I was in an accident. I got out. I'm safe now.
An alternate Victorian world controlled by clock towers, where a damaged clock can fracture time—and a destroyed one can stop it completely.
A prodigy mechanic who can repair not only clockwork but time itself, determined to rescue his father from a Stopped town.
A series of mysterious bombings that could jeopardize all of England.
A boy who would give anything to relive his past, and one who would give anything to live at all.
A romance that will shake the very foundations of time.
The Watchmaker of Filigree Street by Natasha Pulley
In 1883, Thaniel Steepleton returns to his tiny flat to find a gold pocketwatch on his pillow. But he has worse fears than generous burglars; he is a telegraphist at the Home Office, which has just received a threat for what could be the largest-scale Fenian bombing in history.
When the watch saves Thaniel's life in a blast that destroys Scotland Yard, he goes in search of its maker, Keita Mori—a kind, lonely immigrant who sweeps him into a new world of clockwork and music. Although Mori seems harmless at first, a chain of unexpected slips soon proves that he must be hiding something.
Meanwhile, Grace Carrow is sneaking into an Oxford library dressed as a man. A theoretical physicist, she is desperate to prove the existence of the luminiferous ether before her mother can force her to marry.
As the lives of these three characters become entwined, events spiral out of control until Thaniel is torn between loyalties, futures and opposing geniuses.
Also, check out
our list of Steampunk novels
at Amazon.
The Giveaway
The JORD watch would make an awesome gift. Especially with high school and college graduations coming up, a hand-crafted wood watch would make a timeless (sorry about the pun) gift that the graduate in your life would cherish. Now is your chance to win a $100 gift code (all other entrants will receive a 10% off code) to use when choosing the watch that uniquely matches their personality. (If you want to keep the watch for yourself, I won't tell nor would I blame you as I love mine).
Follow this link to enter the giveaway and check out the other beautiful watches at JORD:
www.jordwatches.com/g/girlwhoreads
The fine print: The giveaway is open to everyone. The giveaway ends April 14, 2019. JORD is the sponsor of this giveaway and is responsible for delivery of prizes.
Donna Huber is an avid reader and natural encourager. She is the founder of Girl Who Reads and the author of how-to marketing book Secrets to a Successful Blog Tour.
Wooden Wrist Watch
Get even more book news in your inbox, sign up today! Girl Who Reads is an Amazon advertising affiliate; a small commission is earned when purchases are made at Amazon using any Amazon links on this site. Thank you for supporting Girl Who Reads.