by MK French
Bonnie Blythe is an English professor enamored with literature and hoping for a set wedding date with her fiance when he finishes his dissertation. When it all falls apart once she catches him cheating, her entire staid world has to change. She accepts a new summer teaching position in England, a dream she wouldn't have otherwise gone through with, and decides to see where her prior infatuation with Theo Wharton will go.
Amazon affiliate links are used on this site. A free book was provided for an honest review.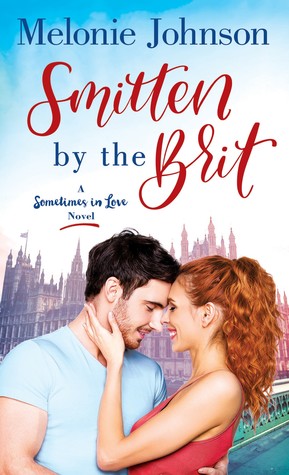 May 2019; St. Martin's Press; 978-1250193056
ebook, print (384 pages); romantic comedy
Smitten by the Brit
is the second book in the "Sometimes in Love" series, but it's absolutely not necessary to have read that one first. Enough of the plot is explained in the course of the text, and it's still fun to see Cassie and Logan in the middle of wedding planning. It's terrible that Bonnie walked in on Gabe cheating, and she's in a lot of shock. She handles herself a lot better than she thought she would, and she does have a lot of experiences teaching and traveling that she would have limited herself otherwise. Theo is still every inch a British gentleman, asking if she's sure she wants to proceed with their not-quite-dating. The fact that he might be the rebound guy is dealt with honestly, and he never once oversteps her comfort level.
I really enjoyed the back and forth between Bonnie and Theo, as well as the various interactions between Bonnie and her friends. There are a lot of humorous bits as well as the dramatic ones involving the end of her engagement and the fact that Theo's mother wants him to marry someone rich to restore the family finances. It's a great balance and is a fun read before we get to the happily ever after.
Buy Smitten by the Brit at Amazon
Born and raised in New York City, M.K. French started writing stories when very young, dreaming of different worlds and places to visit. She always had an interest in folklore, fairy tales, and the macabre, which has definitely influenced her work. She currently lives in the Midwest with her husband, three young children, and golden retriever.
Get even more book news in your inbox, sign up today! Girl Who Reads is an Amazon advertising affiliate; a small commission is earned when purchases are made at Amazon using any Amazon links on this site. Thank you for supporting Girl Who Reads.