by Susan Roberts
Growing up, I didn't like surprises. Not surprise parties, not presents. Even losing a tooth was steeped in horror, as I couldn't stand the idea of some tiny Tinkerbell sneaking under my pillow unannounced. My grandmother, the one who lived her entire life in what was now my white clapboard house on the waterfront in Peachtree Bluff, Georgia's historic downtown, used to say 'Honey, you better get used to that, because life is nothing but one big surprise after another, you can plot and plan, but God will always have the last word." (Chapter 1)
Amazon affiliate links are used on this site. A free book was provided for an honest review.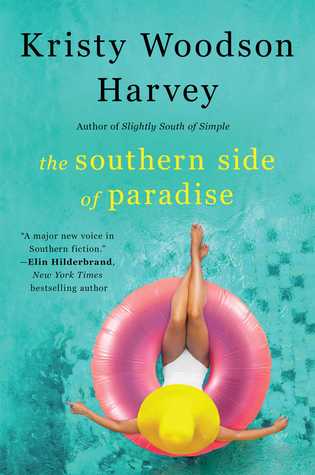 May 2019; Gallery Books; 978-1982122096
audio, ebook, print (400 pages); southern fiction
This is the third and final book in the Peachtree Bluff series and even though I'm sad to say goodbye to this family, the story ended perfectly with all of the issues wrapped up.
This book takes us back to Peachtree Bluff and the Murphy family. Mother Ansley and daughters Caroline, Sloane, and Emerson. Book 1 was Caroline's story (read
my review of Slightly South of Simple
), book 2 was Sloane's story (read
my review of The Secret to Southern Charm
) and
The Southern Side of Paradise
is Emerson's story.
Emerson left Peachtree Bluff right out of high school to go to Hollywood and pursue her dream of becoming an actress. She has started getting small parts and finally felt that she was making some headway with her dream when she came home for the summer. She re-connected with her high school boyfriend and had a major health scare all of which made her decision of what to do with her life even more difficult. Should she stay in Peachtree Bluff and marry her boyfriend or should she continue her goal to become an actress or was there a way she could have both? Along with her dilemma, a secret that her mother had been keeping for years comes to light which further affects her life-altering decisions.
This entire series about the Murphy family has been fantastic and I am sad to say goodbye to them. I wouldn't mind seeing another book about this family in the future so we can keep up with them because I feel like they're friends after reading this series.
The perfect ending to a perfect series from a wonderful Southern author. Loved loved loved it!
Buy The Southern Side of Paradise at Amazon
Susan Roberts lives in North Carolina when she isn't traveling. She and her husband enjoy traveling, gardening and spending time with their family and friends. She reads almost anything (and the piles of books in her house prove that) but her favorite genres are Southern fiction, women's fiction, and thrillers. Susan is a top 1% Goodreads Reviewer. You can connect with Susan on Facebook, Goodreads, or Twitter.
Get even more book news in your inbox, sign up today! Girl Who Reads is an Amazon advertising affiliate; a small commission is earned when purchases are made at Amazon using any Amazon links on this site. Thank you for supporting Girl Who Reads.