by Donna Huber
I came down with a horrible upper respiratory infection and spent the past week in varying degrees of sickness. I spiked a high fever on Thursday night which meant a day home from work on Friday. I was thinking, "yeah, a day of reading". But as the illness worsened the less focus I had for a book. So what do you when you are too sick to read? Watch bookish television and of course, audiobooks.
Amazon affiliate links are used on this site.
I did finish reading a book on Friday as I didn't feel too bad. I had a low-grade fever but few other symptoms. It was my post-apocalyptic book club. I missed the meeting, but I enjoyed the book enough to want to finish it anyways. I'm sad I missed the discussion as the book had a lot of interesting points, even though I don't care too much for alternative history novels.
The Plot Against America by Philip Roth
When the renowned aviation hero and rabid isolationist Charles A. Lindbergh defeated Franklin Roosevelt by a landslide in the 1940 presidential election, fear invaded every Jewish household in America. Not only had Lindbergh, in a nationwide radio address, publicly blamed the Jews for selfishly pushing America toward a pointless war with Nazi Germany, but upon taking office as the thirty-third president of the United States, he negotiated a cordial "understanding" with Adolf Hitler, whose conquest of Europe and virulent anti-Semitic policies he appeared to accept without difficulty. What then followed in America is the historical setting for this startling new book by Pulitzer Prize–winner Philip Roth, who recounts what it was like for his Newark family — and for a million such families all over the country — during the menacing years of the Lindbergh presidency, when American citizens who happened to be Jews had every reason to expect the worst.
Buy The Plot Against America at Amazon
I tried to start my next book
Meltdown
on Saturday, but by then the head congestion had settled into my ears and was draining down my throat (yeah, I know gross). It sounds interesting, but I just couldn't focus.
Meltdown by GP James
Bear Mountain Nuclear Energy Center sits one mile outside the active Ramapo fault line, thirty-five miles from the center of New York City. The fault line rocks causing a massive earthquake in the town of Peekskill; power is clipped and control of one of the reactors at Bear Mountain is abruptly lost.
Plant supervisor Trace Crane fights to save the reactor while his wife Avi searches for their daughter in the destroyed Northeast. As the condition of the reactor plummets and radiation is released into the environment, Trace is left to choose between saving the nuclear plant, the East Coast, and the twenty million residents of the NYC metro area or finding his family and saving himself.
Buy Meltdown at Amazon
I've been binge watching
Little House of the Prairie
on Amazon Prime and still had about half of the last season to watch. I've never read the books as a kid. My sister did, but I could never get into the series. But I enjoyed the show, though it started airing before I was born and I was only 5 or 6 when the last season aired. I have a biography of Laura Ingalls Wilder in my TBR pile that I'm even more excited to read. I'm disappointed that the last season did not actually include the season finale. It was apparently a television movie. I want to know how the storyline played out that led to the town being blown up.
Prairie Fires by Caroline Fraser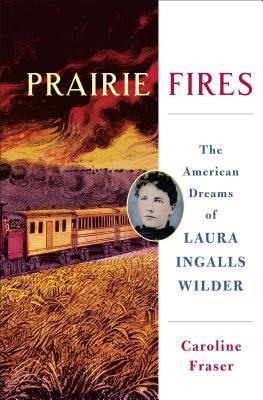 Millions of readers of
Little House on the Prairie
believe they know Laura Ingalls—the pioneer girl who survived blizzards and near-starvation on the Great Plains, and the woman who wrote the famous autobiographical books. But the true saga of her life has never been fully told. Now, drawing on unpublished manuscripts, letters, diaries, and land and financial records, Caroline Fraser—the editor of the Library of America edition of the Little House series—masterfully fills in the gaps in Wilder's biography. Revealing the grown-up story behind the most influential childhood epic of pioneer life, she also chronicles Wilder's tumultuous relationship with her journalist daughter, Rose Wilder Lane, setting the record straight regarding charges of ghostwriting that have swirled around the books.
The
Little House
books, for all the hardships they describe, are paeans to the pioneer spirit, portraying it as triumphant against all odds. But Wilder's real life was harder and grittier than that, a story of relentless struggle, rootlessness, and poverty. It was only in her sixties, after losing nearly everything in the Great Depression, that she turned to children's books, recasting her hardscrabble childhood as a celebratory vision of homesteading—and achieving fame and fortune in the process, in one of the most astonishing rags-to-riches episodes in American letters.
Spanning nearly a century of epochal change, from the Indian Wars to the Dust Bowl, Wilder's dramatic life provides a unique perspective on American history and our national mythology of self-reliance. With fresh insights and new discoveries, Prairie Fires reveals the complex woman whose classic stories grip us to this day.
Buy
Prairie Fires
at Amazon
I continued to feel crappy on Sunday and I slept until noon, only waking to take sips of Gatorade. I stopped running the low-grade fever so it looked like I would be heading back to work on Monday. I still had a lot of time to kill and didn't feel like doing much of anything. The new season of
Bosch
is available on Amazon Prime. It isn't a must watch show for me, but I enjoy it enough. It is based on a series of books from Michael Connelly. Have you read this series? Do you watch the show?
Bosch - Season 5
Fifteen months after bringing his mother's killer to justice, Bosch finds himself seeking the truth on two fronts. New evidence in an old case leaves everyone wondering whether Bosch planted evidence to convict the wrong guy. And a murder at a Hollywood pharmacy exposes a sophisticated opioid pill mill, sending Bosch down a dark and perilous path in pursuit of the killers.
Watch
Bosch
on Amazon
I did indeed return to work on Monday, though it wore me out and I had an awful cough. I still didn't feel like reading, but I was back to my audiobooks. One was okay and the other one I'm really enjoying. Both are free ebooks with Audible narration for Amazon Prime members.
Sweet Lake by Christine Nolfi
Linnie Wayfair knows just how many people are counting on her. But knowing doesn't make doing any easier.
Everyone in Sweet Lake, Ohio, wants her to muster all her business sense and return the Wayfair Inn to its former glory. Her parents hope she'll forgive her scoundrel of a brother and reconcile the family. The eccentric Sweet Lake Sirens want her to open the inn—and her heart—to new possibilities. And her hilarious lifelong friends Jada and Cat are dropping none-too-subtle hints for her to ignite a romance with Daniel Kettering, the sexy attorney who's been pining for her for years…
Now a shocking turn of events will open old wounds and upend the world Linnie has carefully built. She has to make changes quickly—and the results, though not entirely what she expected, might be what she's been yearning for all along.
Buy Sweet Lake at Amazon
Truth and Lies by Caroline Mitchell
DI Amy Winter is hoping to follow in the footsteps of her highly respected police officer father. But when a letter arrives from the prison cell of Lillian Grimes, one half of a notorious husband-and-wife serial-killer team, it contains a revelation that will tear her life apart.
Responsible for a string of heinous killings decades ago, Lillian is pure evil. A psychopathic murderer. And Amy's biological mother. Now, she is ready to reveal the location of three of her victims—but only if Amy plays along with her twisted game.
While her fellow detectives frantically search for a young girl taken from her mother's doorstep, Amy must confront her own dark past. Haunted by blurred memories of a sister who sacrificed herself to save her, Amy faces a race against time to uncover the missing bodies.
But what if, from behind bars, Grimes has been pulling the strings even tighter than Amy thought? And can she overcome her demons to prevent another murder?
Buy Truth and Lies at Amazon
Finally a week later and I'm feeling much better. I've even started reading a bit again. I want to go back to
Meltdown
, but I think I will work on the ARC I have for this month.
What do you do when you are sick and not feeling up to reading?
Donna Huber is an avid reader and natural encourager. She is the founder of Girl Who Reads and the author of how-to marketing book Secrets to a Successful Blog Tour.
Get even more book news in your inbox, sign up today! Girl Who Reads is an Amazon advertising affiliate; a small commission is earned when purchases are made at Amazon using any Amazon links on this site. Thank you for supporting Girl Who Reads.