by Donna Huber
(be sure to enter the giveaway at the end)
On Wednesday evening I went to my local indie bookstore - Avid Bookshop - for MacMillan Teen's Fierce Reads Tour stop. Even though Avid has done a great job bringing authors to Athens for events, it is still a bit rare to get a nationwide tour to add this college town to their schedule. But what a great night it was.
This leg of the Fierce Reads YA Tour featured (from left to right)
Marie Rutkoski
, Katie Finn, Anna Banks, and Lindsay Smith. They were a fun bunch. Which is definitely something to note given they had to take a long drive from Charlotte, NC to Athens without their luggage due to a delayed flight to make it to Athens on time. Arriving moments before the event, they barely had time to get their bearings before the questions started. And perhaps being slightly off-kilter and definitely caffeinated, played in the audience's favor. A few never before revealed tidbits slipped out. What secrets, you ask? Read on for what was heard at this book signing.
Marie Rutkoski, an associate professor in the English department at Brooklyn College (her specialty is Renaissance Literature), shared the title of her newest novel
The Winner's Curse
comes from an economic theory that is often seen in sport drafts. Wanting to see how the theory played out when the stakes were higher than whether or not you got a great player, she began asking what if life and love where on the line.
About The Winner's Curse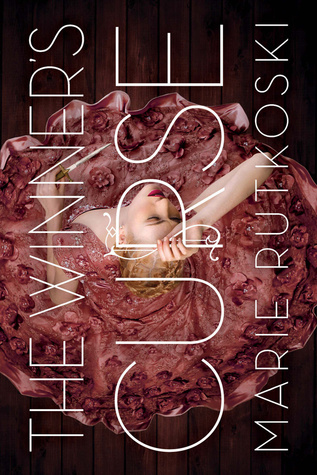 Winning what you want may cost you everything you love
As a general's daughter in a vast empire that revels in war and enslaves those it conquers, seventeen-year-old Kestrel has two choices: she can join the military or get married. But Kestrel has other intentions.
One day, she is startled to find a kindred spirit in a young slave up for auction. Arin's eyes seem to defy everything and everyone. Following her instinct, Kestrel buys him—with unexpected consequences. It's not long before she has to hide her growing love for Arin.
But he, too, has a secret, and Kestrel quickly learns that the price she paid for a fellow human is much higher than she ever could have imagined.
Set in a richly imagined new world, The Winner's Curse by Marie Rutkoski is a story of deadly games where everything is at stake, and the gamble is whether you will keep your head or lose your heart.
Rutkoski proposed that "message could also just be passion; what makes the author want to put words on the page." Though not necessarily aiming for a message, she did want to write a book where being smart was sexy. Kestrel's intelligence is her defining characteristic.
When questioned about gender roles/issues as portrayed in her novel, Rutkoski revealed that the main reason Kestrel requires an escort to go out in public is so she had a reason to spend time with Arin.
A method she employed during her world building was to create a game that was specific to that world. Inspired by the writings of
Katherine Paterson
, Rutkoski's goal was not only to tell an entertaining story, but to create something beautiful.
Buy The Winner's Curse at Amazon
When I got my giveaway copies in the mail, I was most drawn to the cover of Katie Finn's
Broken Hearts, Fences, and Other Things to Mend
. If I wasn't afraid of dropping it in the pool, it would so be my pool read this summer.The first book in the Broken Hearts and Revenge series introduces Gemma who struggles to do the right thing.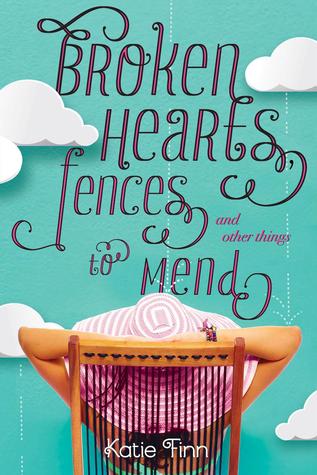 About Broken Hearts, Fences, and Other Things to Mend
Summer, boys, and friendships gone sour. This new series has everything that perfect beach reads are made of!
Gemma just got dumped and is devastated. She finds herself back in the Hamptons for the summer—which puts her at risk of bumping into Hallie, her former best friend that she wronged five years earlier. Do people hold grudges that long?
When a small case of mistaken identity causes everyone, including Hallie and her dreamy brother Josh, to think she's someone else, Gemma decides to go along with it.
Gemma's plan is working (she's finding it hard to resist Josh), but she's finding herself in embarrassing situations (how could a bathing suit fall apart like that!?). Is it coincidence or is someone trying to expose her true identity? And how will Josh react if he finds out who she is?
Katie Finn hits all the right notes in this perfect beginning to a new summer series: A Broken Hearts & Revenge novel.
Unlike the other three authors, Finn didn't have as much world building to do for her book. Instead she said she struggled with "tone building" as she wanted to make the story realistic, but also humorous. "Find the right balance was challenging, " confided Finn. She further compared her writing process to taking a road trip. One knows the general direction and the high points of the trip, but not all the stops along the way. In the same way, she plots just enough to know she will get to the final line that she has in mind, but lets the story find its way.
Fun Fact - The story idea came to Finn while eating ice cream and the phrase "revenge is a dish best served cold" popped into her head. But you will have to wait until book two to get that particular title.
Buy Broken Hearts, Fences, and Other Things to Mend at Amazon
Anna Banks, who was curiously the only one not with a cup of coffee, brought several laughs to the standing room only crowd. Like more than a few authors, she decided to write a book after reading the
Twilight series
. She soon discovered a book that is "easy reading is not easy writing". However, she had her first writing piece published in the local newspaper at the age of 17- a letter to the editor about people not tipping well. She admitted at the time she didn't realize it was because she was a bad waitress.
About Of Poseidon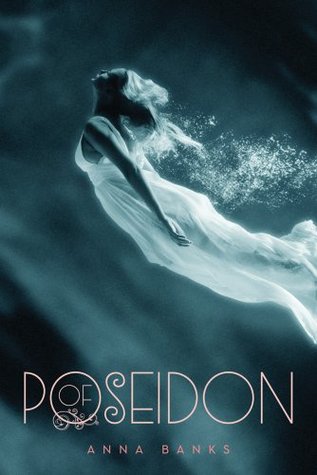 Galen is the prince of the Syrena, sent to land to find a girl he's heard can communicate with fish. Emma is on vacation at the beach. When she runs into Galen—literally, ouch!—both teens sense a connection. But it will take several encounters, including a deadly one with a shark, for Galen to be convinced of Emma's gifts. Now, if he can only convince Emma that she holds the key to his kingdom...
Told from both Emma and Galen's points of view, here is a fish-out-of-water story that sparkles with intrigue, humor, and waves of romance.
Inspired to explore the world below the ocean surface by a documentary on the giant squid may have led Banks to learn more about marine life than she ever had interest in before. Scientists weren't sure if the giant squid existed until one washed ashore. What else lay below the surface? It was this question that spurred Banks to dive into the world of mermaids.
Asked whether she is a plotter or a pantser, she responded that to outline is like "getting in the shower with your bra on" - it just feels wrong.
Banks confessed to lifting a lot from her husband, though he doesn't know it since he hasn't read the books. To discover more skeletons from her closet, you will need to read her upcoming novel
Joyride
.
Do you like to accompany your reading with a playlist? Then
Sekret
by Lindsay Smith will be your cup of tea as the questions she gets most are in regards to the music mentioned in the book. Smith's goal was to explore the emotional stakes in living in an oppressive state and Russia in the 1960s was the perfect setting for her novel. A bonus she got to put her degree in Russian studies to use.
About Sekrets
An empty mind is a safe mind.

Yulia's father always taught her to hide her thoughts and control her emotions to survive the harsh realities of Soviet Russia. But when she's captured by the KGB and forced to work as a psychic spy with a mission to undermine the U.S. space program, she's thrust into a world of suspicion, deceit, and horrifying power. Yulia quickly realizes she can trust no one--not her KGB superiors or the other operatives vying for her attention--and must rely on her own wits and skills to survive in this world where no SEKRET can stay hidden for long.
Smith created a conflicted character in Yulia. She struggles with staying true to herself while doing what is required of her. To bring her readers into the story and the world in which Yulia lives, Smith sought out the fine details as that is what life is made of. It is what defines a character.
Smith has found that outlining makes writing go faster and a little smoother. However, her preferred writing method is "to allow the story to brew itself."
As you can see, a lot was discussed and I think the crowd had a great time getting to know these four authors a little more. Even if you don't get to see them in person, I hope my recounting of the night made you feel a little part of the tour. Several people purchased the books and had them signed. As a girl who grew up in rural America and a little jealous of my city counterparts who get to go to big name author signings all the time, I made sure to grab their autographs on the books I have for giveaway.
Yes that's right you have the chance to win a signed copy of one the featured books. (Sorry it is only open to US addresses.) There are also a few extra signed copies at
Avid Bookshop
and they ship.
a Rafflecopter giveaway
Girl Who Reads is an Amazon advertising affiliate; a small fee is earned when purchases are made at Amazon through the links above.