by
Donna Huber
This weekly meme is hosted by Should Be Reading and requires you to answer 3 questions:
1. What are you currently reading?
2. What did you recently finish reading?
3. What do you think you'll read next?
What I'm Currently Reading:
The Bleiberg Project by David S. Khara

An adrenaline-pumping ride to save the world from a conspiracy straight out of the darkest hours of history.
Are Hitler's atrocities really over?
1942, Poland. The head of the SS meets secretly with a scientist in charge of a major Third Reich project.
Present day. After another late night with yet another woman whose name he doesn't remember, self-pitying golden boy trader Jay Novacek learns that his long-lost father has died, precipitating events that lead him to board a plane to Zurich. He's got a Nazi medallion in his pocket, a hot CIA bodyguard next to him, and a clearly dangerous Mossad agent on his tail. What was his father investigating? Why was his mother assassinated? Why are unknown sides fighting over him with automatic weapons? Far from his posh apartment, he races to save the world from a horrific conspiracy. Can it be stopped?
Buy The Bleiberg Project at Amazon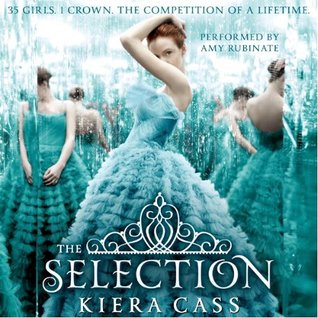 The Selection by Kiera Cass
(Narrated by Amy Rubinate)
For thirty-five girls, the Selection is the chance of a lifetime. The opportunity to escape the life laid out for them since birth. To be swept up in a world of glittering gowns and priceless jewels. To live in a palace and compete for the heart of gorgeous Prince Maxon.
But for America Singer, being Selected is a nightmare. It means turning her back on her secret love with Aspen, who is a caste below her. Leaving her home to enter a fierce competition for a crown she doesn't want. Living in a palace that is constantly threatened by violent rebel attacks.
Then America meets Prince Maxon. Gradually, she starts to question all the plans she's made for herself—and realizes that the life she's always dreamed of may not compare to a future she never imagined.
What I Recently Finished
The Amber Room by Steve Berry
(Narrated by Scott Brick)
The Amber Room is one of the greatest treasures ever made by man: an entire room forged of exquisite amber, from its four massive walls to its finely crafted furniture. But it is also the subject of one of history's most intriguing mysteries. Originally commissioned in 1701 by Frederick I of Prussia, the Room was later perfected Tsarskoe Selo, the Russian imperial city. In 1941, German troops invaded the Soviet Union, looting everything in their wake and seizing the Amber Room. When the Allies began the bombing of Germany in August 1944, the Room was hidden. And despite the best efforts of treasure hunters and art collectors from around the world, it has never been seen again.
Now, two powerful men have set their best operatives loose in pursuit, and the hunt has begun once more. . .
Life is good for Atlanta judge Rachel Cutler. She loves her job, loves her kids, and remains civil to her ex-husband, Paul. But everything changes when her father, a man who survived the horrors of World War II, dies under strange circumstances—and leaves behind clues to a secret he kept his entire life . . . a secret about something called the Amber Room.
Desperate to know the truth about her father's suspicious dealings, Rachel takes off for Germany, with Paul close behind. Shortly after arriving, they find themselves involved with a cast of shadowy characters who all claim to share their quest. But as they learn more about the history of the treasure they seek, Rachel and Paul realize they're in way over their heads. Locked in a treacherous game with ruthless professional killers and embroiled in a treasure hunt of epic proportions, Rachel and Paul suddenly find themselves on a collision course with the forces of power, evil, and history itself.
Glow by Jessica Maria Tuccelli
On the eve of World War II, young Ella McGee sits on a bus bound for her Southern hometown. Behind her in Washington, D.C., lie the broken pieces of her parents' love story—a black father drafted; an activist mother of Scotch-Irish and Cherokee descent confronting racist thugs.
But Ella's journey is just beginning when she reaches Hopewell County, and her disappearance into the Georgia mountains will stir up memories long suppressed. As the secrets of Ella's family history unfold in a vivid generational saga, Glow transports us to the Blue Ridge frontier of 1836, where slave plantations adjoin the haunted glades of a razed Cherokee Nation. Ron Rash's Appalachia cascades into Alice Walker's Georgia red clay in this lushly written debut announcing a major new voice in Southern fiction.
What I'll Read Next
The Elite by Kiera Cass
(Narrated by Amy Rubinate)
The selection began with 35 girls. Now, with the group narrowed down to the Elite, the competition to win Prince Maxon's love is fiercer than ever. The closer America gets to the crown, the more she struggles to figure out where her heart truly lies. Each moment she spends with Maxon is like a fairy tale, filled with breathless, glittering romance. But whenever she sees her first love, Aspen, standing guard, she's swept up in longing for the life they'd planned to share.
America is desperate for more time. But while she's torn between her two futures, the rest of the Elite know exactly what they want—and America's chance to choose is about to slip away.
The Last Winter of Dani Lancing by P.D. Viner
Twenty years ago, college student Dani Lancing was kidnapped and brutally murdered. The killer was never found, and the case has long gone cold. Her parents, Patty and Jim, were utterly devastated, their marriage destroyed. While Jim fell apart, Patty was consumed by the unsolved case. She abandoned her journalism career and her marriage to spend every waking hour searching and plotting. She keeps contact with Tom, Dani's childhood sweetheart, who has become a detective intent on solving murders like Dani's. When he finds a lead that seems ironclad, he brings Patty in on it. After years of dead ends, her obsession is rekindled, and she will do anything for revenge, even become a killer herself-dragging her whole family into the nightmare once again, as lies and secrets are uncovered.
Buy The Last Winter Dani Lancing at Amazon
Girl Who Reads is an Amazon advertising affiliate; a small fee is earned when purchases are made through the above links.