With the weather getting cooler, it is perfect time to curl up inside with a good book. And some favorite authors have you covered with new books coming out this month.
Sequel to the Amazon Bestseller Night Chill.
Ten years after her abduction and near-sacrifice to the Source, Sarah Tremont struggles to be a normal teenager. As much as she's tried to suppress the power inside of her, it's grown dangerously strong and has drawn the attention of those who want to possess her power for themselves.
The nightmare that she thought was long over starts again as powerful forces descend upon Prescott City to seek her out. With help from her parents and Joseph Lonetree, Sarah must stand up to an evil much more powerful than the one she faced in the caves a decade earlier. But in the end, she discovers the greatest danger might come from the power living inside of her.
Available October 1
After years of protecting Dreamscape from the tyranny of the evil king, and fighting for their freedom, the rebellion's last hope lies with the Golden Hero. When the enchantment brings Alexis Stone from the real world, both get more than they bargained for.
Alexis realizes too late that in this fantasy world, the consequences and enemies are real. When the stakes rise, surviving the dangerous game may be easier than facing her feelings. Can she help the rebellion's cause, or will the difference between their worlds prove deadly?
And if she does succeed, who will rescue her?
Buy Dreamscape at Amazon
Val McDermid is one of the finest crime writers we have, whose novels have captivated millions of readers worldwide with their riveting narratives of characters who solve complex crimes and confront unimaginable evil. In the course of researching her bestselling novels McDermid has become familiar with every branch of forensics, and now she uncovers the history of this science, real-world murders and the people who must solve them.
The dead talk—to the right listener. They can tell us all about themselves: where they came from, how they lived, how they died, and, of course, who killed them. Forensic scientists can unlock the mysteries of the past and help serve justice using the messages left by a corpse, a crime scene, or the faintest of human traces. Forensics draws on interviews with some of these top-level professionals, ground-breaking research, and McDermid's own original interviews and firsthand experience on scene with top forensic scientists.
Along the way, McDermid discovers how maggots collected from a corpse can help determine one's time of death; how a DNA trace a millionth the size of a grain of salt can be used to convict a killer; and how a team of young Argentine scientists led by a maverick American anthropologist were able to uncover the victims of a genocide. It's a journey that will take McDermid to war zones, fire scenes, and autopsy suites, and bring her into contact with both extraordinary bravery and wickedness, as she traces the history of forensics from its earliest beginnings to the cutting-edge science of the modern day.
Buy Forensics: The Anatomy of Crime at Amazon
"What I was currently doing with my time and money . . . didn't really deserve anyone else's attention. If I was feeling romantic about it, I'd call it a quest, but all I was really doing was trying to answer a question I'd been ignoring for a thousand years."
In his very long life, Adam had encountered only one person who appeared to share his longevity: the mysterious red-haired woman. She appeared throughout history, usually from a distance, nearly always vanishing before he could speak to her.
In his last encounter, she actually did vanish—into thin air, right in front of him. The question was how did she do it? To answer, Adam will have to complete a quest he gave up on a thousand years earlier, for an object that may no longer exist.
If he can find it, he might be able to do what the red-haired woman did, and if he can do that, maybe he can find her again and ask her who she is . . . and why she seems to hate him.
"You are being watched. Move your loved ones to safety . . . trust nobody."
But Adam isn't the only one who wants the red-haired woman. There are other forces at work, and after a warning from one of the few men he trusts, Adam realizes how much danger everyone is in. To save his friends and finish his quest he may be forced to bankrupt himself, call in every favor he can, and ultimately trade the one thing he'd never been able to give up before: his life.
Buy Immortal at the Edge of the World at Amazon
The future world is at peace.
Ella Shepherd has dedicated her life to using her unique gift—the ability to enter people's dreams and memories using technology developed by her mother—to help others relive their happy memories.
But not all is at it seems.
Ella starts seeing impossible things—images of her dead father, warnings of who she cannot trust. Her government recruits her to spy on a rebel group, using her ability to experience—and influence—the memories of traitors. But the leader of the rebels claims they used to be in love—even though Ella's never met him before in her life. Which can only mean one thing…
Someone's altered her memory.
Ella's gift is enough to overthrow a corrupt government or crush a growing rebel group. She is the key to stopping a war she didn't even know was happening. But if someone else has been inside Ella's head, she cannot trust her own memories, thoughts, or feelings.
So who can she trust?
Buy The Body Electric at Amazon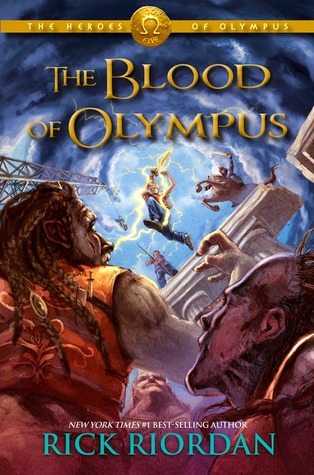 Though the Greek and Roman crewmembers of the Argo II have made progress in their many quests, they still seem no closer to defeating the earth mother, Gaea. Her giants have risen—all of them—and they're stronger than ever. They must be stopped before the Feast of Spes, when Gaea plans to have two demigods sacrificed in Athens. She needs their blood—the blood of Olympus—in order to wake.
The demigods are having more frequent visions of a terrible battle at Camp Half-Blood. The Roman legion from Camp Jupiter, led by Octavian, is almost within striking distance. Though it is tempting to take the Athena Parthenos to Athens to use as a secret weapon, the friends know that the huge statue belongs back on Long Island, where it "might" be able to stop a war between the two camps.
The Athena Parthenos will go west; the Argo II will go east. The gods, still suffering from multiple personality disorder, are useless. How can a handful of young demigods hope to persevere against Gaea's army of powerful giants? As dangerous as it is to head to Athens, they have no other option. They have sacrificed too much already. And if Gaea wakes, it is game over.
Buy The Blood of Olympus at Amazon
Cinderella meets Falling Down in this wickedly funny tale about having it all
Carol is perfect… at least that's what everyone thinks. In reality she's sinking fast – her family treats her like their personal assistant and her boyfriend is so busy with work that he's got her single-handedly running their relationship. Not that her job is any easier. As the only woman on the bank's trading floor she spends twelve-hour days trying not to get sworn at or felt up by colleagues who put the "W" in banker.
How long can she go on pleasing everyone else before she snaps and loses it all?
With humor and empathy, Perfect Girl lays bare the balancing act that working women face in a man's world.
Kelley Quinn is the owner of Nantucket's Winter Street Inn and the proud father of four, all of them grown and living in varying states of disarray. Patrick, the eldest, is a hedge fund manager with a guilty conscience. Kevin, a bartender, is secretly sleeping with a French housekeeper named Isabelle. Ava, a school teacher, is finally dating the perfect guy but can't get him to commit. And Bart, the youngest and only child of Kelley's second marriage to Mitzi, has recently shocked everyone by joining the Marines.
As Christmas approaches, Kelley is looking forward to getting the family together for some quality time at the inn. But when he walks in on Mitzi kissing Santa Claus (or the guy who's playing Santa at the inn's annual party), utter chaos descends. With the three older children each reeling in their own dramas and Bart unreachable in Afghanistan, it might be up to Kelley's ex-wife, nightly news anchor Margaret Quinn, to save Christmas at the Winter Street Inn.
Before the mulled cider is gone, the delightfully dysfunctional Quinn family will survive a love triangle, an unplanned pregnancy, a federal crime, a small house fire, many shots of whiskey, and endless rounds of Christmas caroling, in this heart-warming novel about coming home for the holidays.
Girl Who Reads is an Amazon advertising affiliate; a small fee is earned when purchases are made at Amazon through the above links. Covers and descriptions courtesy of Goodreads.com