by Elisabeth Scherer
I decided to include two books in this review because both were short stories or short story collections and as they didn't take me long to read I put them in the mystery, light summer/weekend reading category.
I am including these books in the Teaser Tuesday Meme hosted by
A Daily Rhythm
. Teaser Tuesday is a weekly meme where you share two (2) "teaser" sentences from your current read to try to entice others to want to seek it out.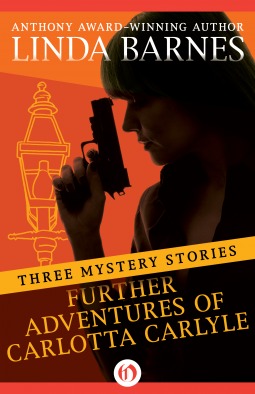 The Further Adventures of Carlotta Carlyle by Linda Barnes is a collection of 3 short mysteries revolving around a Private Investigator Carlotta, who is not your average PI. She is a six foot one with red hair, and an ex-cop who drives a taxi cab. The first story finds Carlotta held up in her own taxi cab. In the second story Carlotta flies to the aid of a famous friend who has a stalker, and in the third story Carlotta solves a mystery while attending a baseball game at Fenway Park.
What I like about this series is the character is very much what you would expect when reading a book from a private investigator standpoint. She is funny and creatively thinks outside the box when solving the mysteries that find her. Reading this book makes me want to go read the full length novels of this character. I think that anyone who opens this book will have a nice sampling of who Carlotta Carlyle is and why they would like to put the entire series on the to be read pile.
Here are the Teasers from the three short stories included in the book:
"Now you wanna vacate my cab and go rob a phone booth?" My heart was beating like a tin drum, but I didn't let my voice shake, and all the time I was gabbing at him, I kept trying to catch his face in the mirror. He must have been crouching way back on the passenger side. I couldn't see a damn thing. - from Lucky Penny
The vision of the Reverend Davis's Gibson keeping company with my old National Steel guitar had me up above the clouds, grasping the armrests, trying to fly the plane via mind control.
Ridiculous. I took six deep breaths, accepted the futility of telekinesis, and lapsed into fitful sleep. - from Miss Gibson
You see everybody at Fenway...Some seem familiar, but only because you've seen them at the park before. Me, I semi-recognize a lot of guys, and often it's because I've arrested them. I had that itchy feeling a couple of times waiting in line at the entry gates on Yawkey Way, but none of the faces screamed a warning, and nobody stopped to schmooze. - from Stealing First
Buy The Further Adventures of Carlotta Carlyle at Amazon
The second book I am including this week is
The Book of the Lion
by Thomas Perry. I picked this book because the description of the book had me thinking of
The DaVinci Code
by Dan Brown and as a good bookworm that I am, I was intrigued with the idea of a lost work of a famous writer like Chaucer being found. I will admit to not realizing the book was a short story until after I finished it. That shaded how I felt about the book overall. Taking that minor hiccup under consideration I really do like the idea of this book and felt that the storytelling moved along enough to keep me interested. I was disappointed at how the plot was resolved but won't say anything to ruin your experience with this book if you decide to go read it. I think the story could be fleshed out into a longer and more thrilling novel that I would definitely want to read. All things considered I still enjoyed the short story and would definitely recommend this to others.
Here is the teaser for Teaser Tuesday:
Chaucer, first of the big three of English - the one from whom Shakespeare learned his true trade, not plays but deep understanding of human beings, and from whom Milton learned to write poetic narrative - was the one who wrote when the language itself was still in its childhood and could be exercised by one writer to grow into its mature strength. And what if, contrary to what everyone had thought for over half a millennium, a copy of The Book of the Lion had survived? - Teaser from The Book of the Lion by Thomas Perry (5% through the ebook)
I would recommend both books as light easy reads that will get you through an afternoon or three during the summer or maybe a rainy weekend with a glass of wine, a bowl of thick and creamy soup, and a fire in the fireplace (I cannot wait for autumn to be here).
Buy The Book of the Lion at Amazon
Book info:
The Further Adventures of Carlotta Carlyle
available format: ebook
published: July 2015 by Open Road Media Mystery & Thriller
Genre: Mystery
source: publisher
read: July 2015
The Book of the Lion
available format: ebook
Published: July 2015 by MysteriousPress.com/Open Road
genre: Mystery
source: publisher
read: July 2015
Free egalleys were provided for this review.Girl Who Reads is an Amazon advertising affiliate; a small commission is earned when purchases are made at Amazon using any Amazon links on this site. Thank you for supporting Girl Who Reads.