Fall is always filled with a ton of new releases each month and as the weather cools it is the perfect time to curl up with a new book. Here is what we recommend.
In this first book of the Tales from the Goose Creek B&B, you'll fall in love with a small town that feels like coming home. Its quirky characters and their many shenanigans will make you laugh out loud as they touch a place in your heart.
Even though retirement is still three years away, Al Richardson is counting the days. He anticipates many enjoyable years in which every day feels like Saturday. But Al's wife, Millie, has different plans for their retirement. When she learns that a Victorian-era home is up for sale, Millie launches a full-blown campaign to convince Al that God's plan for them is to turn that house into a B&B.
But a B&B won't be the only change for the small Kentucky town. A new veterinarian has hung up her shingle, but she's only got one patient--the smelly dog belonging to her part-time receptionist. And sides are being taken in the issue of the water tower, which needs a new coat of paint...but no one can agree who should paint it.
The situation is coming to a head. Who could have imagined a town protest over a water tower? And who would believe it could culminate in an illegal parade?
Get lost in a novel that reminds you why you love reading.
Available September 1
Buy The Most Famous Illegal Goose Creek Parade at Amazon
Nicolas Fox is a charming con man and master thief on the run. Kate O'Hare is the FBI agent who is hot on his trail. At least that's what everyone thinks. In reality, Fox and O'Hare are secretly working together to bring down super-criminals the law can't touch. Criminals like brutal casino magnate Evan Trace.
Evan Trace is running a money-laundering operation through his casino in Macau. Some of his best customers are mobsters, dictators, and global terrorists. Nick and Kate will have to go deep undercover as high-stakes gamblers, wagering millions of dollars—and their lives—in an attempt to topple Trace's empire.
It's a scam that will take Fox and O'Hare from the Las Vegas strip, to the sun-soaked beaches of Oahu's North Shore, and into the dark back alleys of Macau. Their only backup—a self-absorbed actor, a Somali pirate, and Kate's father, and an ex-soldier who believes a rocket launcher is the best way to solve every problem. What could possibly go wrong?
Available September 15
The wilderness. Maybe you know it well.
The Israelites sure did. After all, they spent forty years wandering the desert. Victories were scarce. Progress was slow. They were free from Pharaoh but not free from fear. Saved but stuck.
Sounds a lot like midlife misery. Caught in a rut. Stalled out. Running on empty. Are you mired in the same?
You can name the day you became a Christian and escaped Egypt. But you can't remember the last time you defeated a temptation or experienced an answered prayer. You're fighting the same battles you fought the day you came to Christ. You're out of Egypt, but Egypt's not out of you.
Isn't the Christian life supposed to be better than this?
Jesus offers abundant joy. Yet you live with oppressive grief. The epistles speak of grace. You shoulder guilt. You are more than a conqueror yet are commonly conquered by temptation or weaknesses.
But there's good news. With God's help you can close the gap between the person you are and the person you want to be. Like Joshua and the Israelites, you can move from a wilderness existence into a promised inheritance.
This is God's vision for your life. You, at full throttle. You, as you were intended. You, as victor over the Jerichos and giants. You, minus the stumbles, hurts, and hate.
You and your Promised Land life.
New York Times
bestselling author Max Lucado invites readers to leave the wilderness and discover a life defined by grace, refined by challenge, and aligned with a heavenly call. By studying the life of Joshua and the biblical book that bears his name, Lucado reveals God's promises for every step and reminds readers that God still fights for them.
Available September 15
From Saving Lucas Biggs
authors Marisa de los Santos and David Teague comes another heartwarming middle grade adventure about two misfits who discover the importance of just being themselves.
When thirteen-year-olds Aaron and Audrey meet at a wilderness camp in the desert, they think their quirks are enough to prevent them from ever having friends. But as they trek through the challenging and unforgiving landscape, they learn that they each have what it takes to make the other whole.
Luminous and clever, Connect the Stars has Marisa de los Santos and David Teague's trademark beautiful prose, delicate humor, swooping emotions, and keen middle grade friendships. This novel takes on the hefty topics of the day—bullying, understanding where you fit in, and learning to live with physical and mental challenges—all in a joyous adventure kids will love!
Available September 22
Buy Connect the Stars at Amazon
Readers of all ages and walks of life have drawn inspiration from Elizabeth Gilbert. Now, this beloved author digs deep into her own life to share her wisdom and unique perspective about creativity. With profound empathy and generosity, she ponders the mysterious nature of inspiration, asking us to embrace our curiosity, tackle what we most love and face down what we most fear. Whether we are looking to create art, address challenges in our work, give ourselves permission to embark on a dream long deferred, or simply to infuse our everyday lives with more mindfulness and passion, Big Magic cracks open a world of wonder and joy.
Available September 22
Mike Adams has always been a pretty average kid. He hates homework, loves sports, and spends a lot of his day bugging his twin sister Maddie—because, after all, she deserves it.
But one day, everything changes. Nic Chang's dog goes missing.
Mike, his sister and their two best friends join forces to search for the truth and, with it, the missing pet. Will Mike and Maddie find a way to put their differences aside and save the day? And just where did that dog-gone labradoodle go?
Put your thinking caps on and prepare to find the answers in the premier installment of The Pet Shop Society, a brand new mystery series for readers aged 7-11.
Available September 26
Buy Mike and the Dog-Gone Labradoodle at Amazon
I'm thrilled to be the maid of honor in my friend's wedding, but the best man, Andrew McCormick, is a chauvinistic pig with a God complex.
And I can't stop kissing him in closets.
(Don't ask.)
He's the brother of the groom and the CEO of my biggest mystery shopping account, but suddenly he's refusing to be in the wedding. He won't talk about it. Won't see reason.
He's such a man.
And he still won't stop kissing me in random closets.
(Thank goodness.)
I'm a fixer. That's what I do. I can fix anything if given the chance. But when the game is fixed there's only so much I can do.
The ball's in his court now.
Game on.
* * *
Shopping for a CEO is the 7th book in the New York Times and USA Today bestselling Shopping series. When CEO Andrew McCormick and mystery shopper Amanda Harrington find themselves in the unlikely position as maid of honor and best man in the Boston society wedding of the year, an undeniable attraction and dual stubborn streaks add fuel to the fire in this romantic comedy from Julia Kent.
Available September 29
Buy Shopping for a CEO at Amazon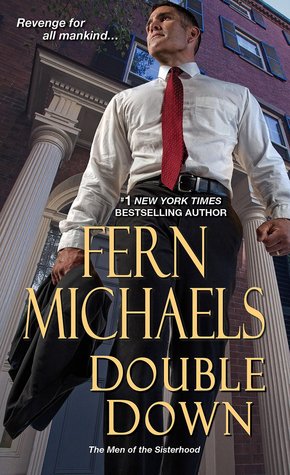 For the first time the menfolk are stepping out of the pages of #1 New York Times bestselling author Fern Michaels' beloved Sisterhood series and into the spotlight…
After years of standing by their women, the Sisterhood's significant others have also become loyal friends. And now Jack Emery, Nikki's husband, has enlisted Ted, Joe, Jay, Bert, Dennis, and Abner to form a top-secret organization known as BOLO Consultants.
Jack has two missions in mind. The first: offering some behind-the-scenes help to Nikki's law firm as they take on the all-powerful Andover Pharmaceuticals. Andover's anti-leukemia drug causes terrible side effects in young patients, but a class-action suit seems doomed to fail. BOLO Consultants have a prescription to cure that. Meanwhile, Virginia's lieutenant governor has a sideline as a slum landlord, and his impoverished tenants are suffering. Tyler Sandford believes his status puts him above the law. But when the Sisterhood and their allies decide to get involved, no one is beyond the reach of true justice…
Available September 29
Covers and descriptions are from Goodreads.com. Availability dates are based on expected publication date listed at Goodreads and is subject to change. Girl Who Reads is an Amazon advertising affiliate; a small commission is earned when purchases are made at Amazon using any Amazon links on this site. Thank you for supporting Girl Who Reads.