review by Susan Roberts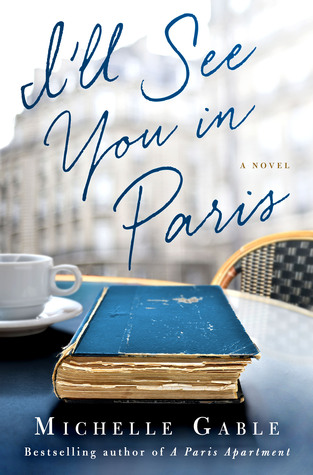 I will start off this review where I usually end my reviews --
I'll See You In Paris
by Michelle Gable is a great book and you need to read it!
The author does a fantastic job with her main characters and with a story line that keeps you guessing until the very end. I thought that I had it figured out about 3/4 of the way through but I was way off. Its a page turner that is part mystery, part love story with some laughs in between.
The main characters are Annie, a recent college graduate, just engaged to Eric who is deployed to the Middle East and doesn't seem to know quite what to do with her life; her mom Laurel, a very straight laced lawyer who also teaches horse back riding to handicapped students and Gladys Spencer-Churchill who may or may not be the Duchess of Marlborough.
The story takes place in the early 70s, in 2001 and in the late 1800s. As difficult as it may sound to weave those time periods and women together, Gable does a fantastic job of doing just that in a very entertaining way.
The main setting of the book is not Paris as the title would have you believe but at a run-down estate in England. Don't worry because Paris plays a very large role in the ultimate outcome of the story. There is so much more that I could say about this novel but I don't want to give anything away so I will just say again - it's a terrific book and you're going to love it!
Buy I'll See You In Paris at Amazon
available formats: ebook, audio, print (400 pages)
published: February 2016 by Thomas Dunne Books
ISBN13: 9781250070630
genres: historical fiction, women's fiction
source: Book Browse
Get even more book news in your inbox by signing up for our newsletter: http://eepurl.com/mHTVL. A free book was provided for this review. Girl Who Reads is an Amazon advertising affiliate; a small commission is earned when purchases are made at Amazon using any Amazon links on this site. Thank you for supporting Girl Who Reads.