by Donna Huber
Girl Who Reads is participating in its first
A to Z Challenge
. Chris kicked it off yesterday with a great 'A' post. As you might have guessed our theme is books. I hope you enjoy our collection of literary offerings this month. Today, I'm featuring a few books coming out this month.
As avid readers, even if our bookshelves are sagging, we cannot pass up more books. Will any of these be making its way to your shelves?
Shot down over Siberia in what was to be a simple meet-and-greet-mission, ex-Justice Department agent Cotton Malone is forced into a fight for survival against Aleksandr Zorin, whose loyalty to the former Soviet Union has festered for decades into an intense hatred of the United States.
Before escaping, Malone learns that Zorin and another ex-KGB officer, this one a sleeper still imbedded in the West, are headed overseas to Washington D.C. Inauguration Day-noon on January 20th-is only hours away. A flaw in the Constitution, and an even more flawed presidential succession act, have opened the door to political chaos and Zorin intends to exploit both weaknesses to their fullest.
Armed with a weapon leftover from the Cold War, one long thought to be just a myth, Zorin plans to attack. He's aided by a shocking secret hidden in the archives of America's oldest fraternal organization-the Society of Cincinnati-a group that once lent out its military savvy to presidents, including helping to formulate three covert invasion plans of Canada.
Official Sword & Laser Selection!
When a lone goblin researcher stumbles across an artifact containing a terrifying message—that the world is in grave and immediate peril—she scrambles to find help. A very unusual asteroid (one constructed as a cage for dragons) is headed straight for the planet, and Xenon is the only person in the world who knows. As she clambers across hill and dale with her quill, journal, and dwindling coin purse to untangle the mystery, she'll need plenty of luck to find the right clues and the right sort of help.
Meanwhile, our heroes have their own problems. They have a bank to rob, a sea to cross, and a kingdom to infiltrate. Luckily, Rime is a wild mage—the laws of reality quiver when she gives them a stern look—and her guardian, Jonas, wields a reasonably sharp sword. But Rime is slipping ever closer to the abyss of madness, and Jonas is wanted for murder at their final port of call. To make matters worse, the mage-killing Hunt and its commander, Linus, follow the duo like a patient shadow, bent on Rime's destruction.
When the wise are underfunded, the brave are overbooked, and the cruel are unconcerned, can the world be saved from destruction?
Buy Asteroid Made of Dragons at Amazon
Another moving installment in Laurie Halse Anderson's award-winning Vet Volunteers series!
When Sunita joins Dr. Gabe and another Vet Volunteer on a house call at a local horse farm, she is concerned to discover a lone lamb housed in one of the stalls. She knows that sheep are flock animals, and that without other sheep and lambs around, this little lamb will not thrive. Can she and her fellow Vet Volunteers help educate the owner, and find a new home for it with others of its kind?
Juliet Lyman is a senior executive at Yesterday Records. Music is her passion and she's very good at her job. That's why her famously philanthropic boss Gideon sends her to Majorca, Spain to work with a very tortured, but talented client. Lionel Harding is one of the best song writers of the 20th century, the multi-Grammy award-winning lyricist of the third most recorded song in history. But now he's 42 and six months overdue on the his latest paid assignment. Juliet is not leaving Majorca without either new lyrics or a very large check.
To Juliet, business comes first. Emotions are secondary, and love isn't even on the menu. But to Lionel, love is everything, and he blames Gideon for his broken heart. He's determined to show Juliet that nothing is more important than love, but Juliet is just as determined to get Lionel to create the music that made him famous. If she can sign up local talent, even better. Her new friend Gabriella has a voice like an angel, but she's not interested in fame. Her grandmother, Lydia, wants the world for Gabriella, and she wants Juliet's help to give it to her.
As her professional and personal lives start to mix for the first time, Juliet is forced to reevaluate her priorities. Gideon hasn't been totally honest, and love may be the only thing that gives them all what they need.
Island in the Sea is Anita Hughes' captivating sixth novel, filled with exotic descriptions of food, fashion, and romance.
Buy Island in the Sea at Amazon
Bridesmaid in Training
is the second in the Notebooks of a Middle-School Princess, a funny, heart-warming illustrated Princess Diaries series by Meg Cabot.
Olivia Grace Clarisse Mignonette Harrison still finds it hard to believe that she's a princess! Not only does she get to live in an actual palace with her newly discovered family and two fabulous poodles, but she also gets her very own pony!
Of course, not everything is going exactly as she imagined . . . her half-sister, Mia, is very busy learning how to run the country while trying to plan a wedding, and her father is getting remarried himself - to Mia's mother! - and spends most of his time 'renovating' the summer palace, although Grandmère says he is just hiding from the wedding madness. Olivia hardly gets to see either of them.
Fortunately Grandmère has her own plans for Mia's wedding, and needs Olivia's help to pull them off. Just when Olivia starts to think that things are going to work out after all, the palace is invaded by a host of new cousins and other royals who all seem to be angry at Olivia (although Grandmère says they are just jealous).
As the day of the wedding gets closer and closer, Olivia becomes more and more worried. For such a carefully planned event, it seems as if a LOT of things are going wrong . . . Can Olivia keep this royal wedding from becoming a royal disaster?
Olivia chronicles her transformation from ordinary girl to princess in her notebook, with illustrations from author Meg Cabot, who studied Fine Arts as an undergraduate.
Buy Bridesmaid-in-Training at Amazon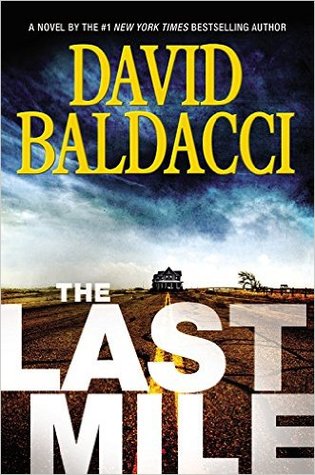 In his #1 New York Times bestseller Memory Man, David Baldacci introduced the extraordinary detective Amos Decker-the man who can forget nothing. Now, Decker returns in a spectacular new thriller . . .
THE LAST MILE
Convicted murderer Melvin Mars is counting down the last hours before his execution--for the violent killing of his parents twenty years earlier--when he's granted an unexpected reprieve. Another man has confessed to the crime.
Amos Decker, newly hired on an FBI special task force, takes an interest in Mars's case after discovering the striking similarities to his own life: Both men were talented football players with promising careers cut short by tragedy. Both men's families were brutally murdered. And in both cases, another suspect came forward, years after the killing, to confess to the crime. A suspect who may or may not have been telling the truth.
The confession has the potential to make Melvin Mars--guilty or not--a free man. Who wants Mars out of prison? And why now?
But when a member of Decker's team disappears, it becomes clear that something much larger--and more sinister--than just one convicted criminal's life hangs in the balance. Decker will need all of his extraordinary brainpower to stop an innocent man from being executed.
Donna Huber: founder & publisher.

Donna is an avid reader and natural encourager. She is the founder of Girl Who Reads and the author of how-to marketing book Secrets to a Successful Blog Tour. She reads most genres (NO horror or erotica), but her favorite books are psychological thrillers and stories that highlight the survival of the human spirit against unbelievable circumstances.
Get even more book news in your inbox by signing up for our newsletter: http://eepurl.com/mHTVL. Girl Who Reads is an Amazon advertising affiliate; a small commission is earned when purchases are made at Amazon using any Amazon links on this site. Thank you for supporting Girl Who Reads.