review by Elisa Hordon
An extremely emotional story of love, loss,grief and trying to move on.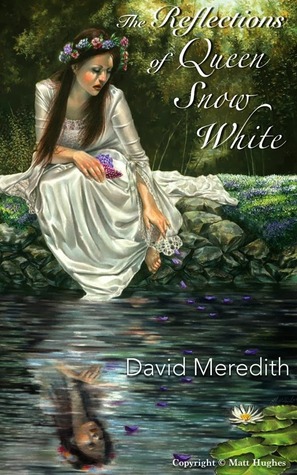 The Reflections of Queen Snow White
by David Meredith was well written and takes the reader beyond the fairy-tale. Snow White reflects on her life, how she got to where she was and everything she went through to get there, what a life she has lived and her love for Charming was for eternity.
I felt a whole gambit of emotions while reading this story, Love, Anger, Sadness, Loss and it was beautifully written even with the language from the period, which I must admit I had fun researching.
Snow Whites character was amazing after everything she had been through in her life and then facing the last loss of her Charming. The Mirror as a character was interesting, was the Mirror really evil or did it depend on the person asking it questions? Personally, I felt the Mirror was just honest and wanted to show Snow White what she needed to see to get through the grief and depression she was feeling even if as the reader I felt it was cruel at times it was also necessary within the context of the story.
When Snow White finds her mirror, the mirror helps her reflect on her life with memories which is not always a good memory and the mirror comes off a bit mad at times and cruel towards Snow White, but in the end she needed to see what the mirror showed her to get through her grief and loss.
I loved the whole grief, loss and depression as it really hit home for me about how hard losing a loved one is and it really was beautifully written, but then I also wanted to shake Snow White because she still had so much to live for, her daughter Raven was about to get married and she would eventually have children of her own Snow White might have lost her true love but she still had a future and it would be a full future with lot's happy family moments if only she could let go of her grief.
I was skeptical about reading this book as a long-time lover of classic fairy tales I was not sure I wanted to read about what happened after Snow and Charming got their happily ever after, but I am glad I did, this book is by no means for children as the original fairy-tale is, this beautifully written book is for adults who love their fairy tales and dream of what happened next, but I also feel the need to put a disclaimer that there is some graphic violence within the story which may not be for everyone, I understood it in the context it was written but I still struggled to read it as I'm not a fan of reading violent scenes especially in a story that stems from a much loved childhood classic fairy-tale.
Buy The Reflections of Queen Snow White at Amazon
Book info:
available formats: ebook (155 pages)
published: October 2013
genres: romance, fantasy
source: author
Get even more book news in your inbox by signing up for our newsletter: http://eepurl.com/mHTVL. A free ebook was provided for this review. Girl Who Reads is an Amazon advertising affiliate; a small commission is earned when purchases are made at Amazon using any Amazon links on this site. Thank you for supporting Girl Who Reads.