by Elisa Hordon
I love a really good shifter book, I love a great shifter series even more. Kenzie Cox is the new persona for bestselling author Deanna Chase. Deanna writes the awesome Jade Calhoun series which is full of everything witchy you could ever imagine, then there is her ghostly spin off series featuring Pyper Rayne ....... but this blog post is all about Kenzie Cox and her magical shifter series. It's going to be a 2 part series, first up are the wolves..... Yes that's right a family of gorgeous hunks who get themselves in and out of trouble while finding their fated mates along the way... Oh so much fun rolled into these magical short stories and even though they are short stories there is depth to them. They tie into each other well and flow from one to the next.
This is what Kenzie Cox has to say about Shifters
"The best thing about shifters is their hearts. When one falls for his heroine he falls hard, and it's fun to watch him come to terms with that."
Wolves of the Rising Sun
When it comes to wolf mating season girls better watch out or you just might find yourself the prey of a gorgeous sexy man who can shift into a wolf, hmmmm I'm not convinced that would be a bad thing ..lol
Jace
First up we have
Jace
, sexy gorgeous misunderstood....lol
Jace Riveaux, gorgeous, sexy and dangerous, is someone Skye Michaels should definitely stay away from, but she finds that an impossible task. Especially as Skye is trying to hide from the world and Jace has secrets of his own but their worlds are about to collide in more ways than one. Get set for the beginning of an exciting new adventure into a shifter world, Jace and Skye's story sets the scene for the rest of the wonderful stories in this series. I highly recommend reading then in order from
Jace
through to
Wren.
You will get a true love of wolves and how they will do anything to protect their family and especially their mate.
Aiden
I love the way the books describe the scene: you really feel like you're in the Bayou. So much so, you can swat at mosquitoes while your reading...lol Aiden and Rayna Vincent know a quick fling is wrong especially when Rayna is Aiden's brother Luc's best friend. Plus the three brothers have always treated Rayna like a sister, but Aiden and Rayna just can't stay away from each other no matter how hard they try which is not that hard at all....lol Aiden does not do relationships but there is something different about Rayna, Aiden has tried to ignore the pull he feels toward his brother's best friend, but he just cannot stay away from her any longer. On top of them hiding their non-relationship someone torches the brothers' bar. Are the wolf hunters back? Does this have anything to do with Rayna? Is she in trouble? Is there other trouble for the brothers? Well if there is the brothers will sort it even if they have to bring in their cousins to help. This is what wolves do they protect what is their own no matter the cost.
Luc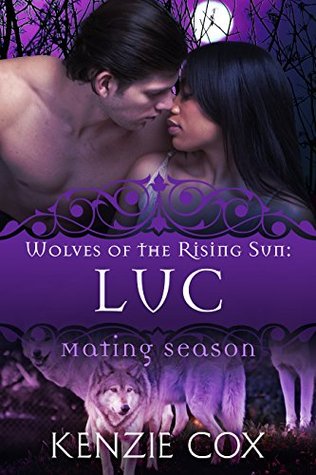 Luc Rivaeux meets Arianna Simms through his brother's mate Skye. Arianna is a model and Skye's best friend. She is also drop dead gorgeous, only in the bayou for a few weeks and the perfect woman for Luc to lose himself in for a short time. Arianna and Luc both have things in their past they want to keep buried. Arianna wants to forget all about her drug dealing family, while Luc wants to forget the scars left behind by his mother's abandonment. So the two try to lose themselves in each other thinking it would just be a fun holiday fling but when wolf hunters threaten the Riveaux clan again they bring their cousins into the mix to help and Arianna calls in her brother Smoke for help. Amidst all of this adventure Luc and Arianna find more between themselves than either of them bargained for.
Craved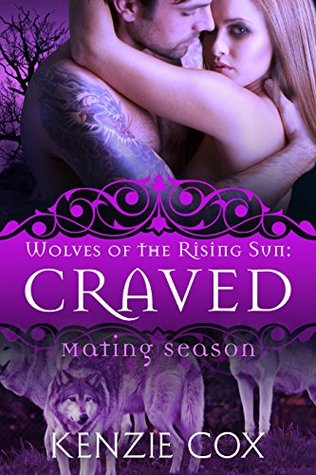 Craved
is the 4th book in this series and it ties everything together for me. Devon Michelson aka 'Smoke" is a hacker extraordinaire who we met in the last book. He is also Arianna's brother and
Craved
is his story about how even after 5yrs of not being near the woman he has always loved, that love never dies and when she walks back into his life the craving he feels for her gets stronger by the second. Scarlett Jacobs needs help and she needs it fast. What Scarlett didn't expect was where the help she needed would come from: the one man she has never forgotten but sometimes wishes she could.
Silas
Silas Davenne promised his mother 6 years ago he would keep sweet innocent Hanna Valentine away from his dangerous shifter life, that promise is getting harder and harder to keep when Silas is drawn to Hanna like a moth to a flame and Hanna is seriously over waiting for Silas to come to her, but could she be biting off more than she can chew.
Silas's story was all kinds of tragic, suspenseful and ultimately fated from the beginning to the point he wasn't given a choice, not that he didn't want Hanna he clearly did but he would have preferred a different story I think and I love that we got to see behind Silas's tough exterior.
Darien
Darien Davenne, what can I say? It really sucks to be a gentleman at times when all a guy wants is the girl he knows he shouldn't touch...lol Thea Johnson has been through hell after being kidnapped. All she wants now is time to recover. Oh and Darien. She really wants Darien but there is so much going on in her world she knows she should get herself together before she starts anything. It's just so hard to stay away when he is right there protecting her.
Wren
Wren Davenne and Bella Stone spent a couple of hot steamy nights together and then Bella disappointed. With Bella MIA, Wren realises his feelings for Bella may run deeper than he originally thought. Those feelings are confirmed even more when she comes back into his life and someone is threatening her life, now there is nothing Wren won't do for his woman.
Black Bear Outlaws
Now we meet the Bears who having Mating Fever on the brain. Even if it's not what they start out to do, finding their fated mates is just that, fated. So why fight it? It would be too easy to just give into it....lol and Bear Shifters are not cuddly teddy bears at all. They are all alpha male with hard edges and soft hearts all rolled into one sexy package.
Cyrus, Chase and Cole Doucet were raised to be bad boys through and through, but once they got away from their father they decided to go straight and live a better life. So the brothers started Black Bear Outlaw Security together. They take on the tough cases the police can't solve and they protect the people who hire them.
Cyrus
Cyrus Doucet has been in love with the girl next door his whole life, but she is also the one girl who has never wanted him, or so he thought.
Claire Erickson has always lived on the straight and narrow, now she finds herself in trouble and the only man she can turn to is the one guy she has been crushing on since she was a kid but he never noticed her, or did he?
Cyrus and Claire have been hiding their feelings from one another for so long now it's a wonder they will ever get it together, but then fate always gets his way and if Cyrus and Claire are fated mates there will be no stopping the collision their lives will take together.
Chase
Chase Doucet has found his woman and he is not going to let anything stand in the way of him claiming his mate. He realises Katherine has just left a bad relationship but the mating fever is so strong he is not sure he can hold back and wait for her when his bear wants her so badly.
Katherine Craig has just left a bad relationship behind her and now she finds herself falling for another man so quickly it makes her head spin. But can she put aside all her fears and trust Chase Doucet or is Katherine making another mistake? Katherine also has a big secret; one that she thinks may make all the difference to her life. She is just not sure she can trust her secret to Chase.
Cole
Cole Doucet has a job to do: guard the body of Amberly Mathews, the gorgeous actress who is also a bear shifter and as it turns out Cole's fated mate. So how can he be her body guard and keep his distance at the same time? The sexual tension between the two has sparked since the day they met but Cole is a professional and he won't let his lust for Amberly get in the way of keeping her safe.
Amberly Mathews has sworn off men. She has had enough of this crazy stalker and she has had enough of the gorgeous Cole Doucet bossing her around...lol even if she is paying him to keep her safe.
Amberly just wants her life back. She wants to get back to her career and be a bigger star than she already is. Or does she?
Taking a forced vacation while she is being stalked brings Amberly back home to a place long forgotten and memories she left behind. Now she also has the sexy, sweet, gorgeous Cole Doucet taking control of her life to keep her safe. She is going nuts, but it's not just the close confines and not being able to get any peace with Cole guarding her. It's the sexual attraction she is having trouble not acting on, because nothing, no man is stopping her from getting back to her career. Or could she possibly have both a family she has only ever dreamed of and a career she is not really sure she wants as much anymore?
Keep a look out for Kenzie Cox's new shifter series 'Dragons of Decatur', set in Louisiana I can guarantee this will be a must read.
Elisa Hordon, reviewer

. Elisa lives on the Southern Highlands of NSW, Australia were she spends her days reading, journaling, painting, cooking and home schooling her daughter. She has always been an avid reader, Elisa loves reading many genres of books except horror; her favourite genres would be mystery, romance and paranormal. Elisa also loves pursuing many creative outlets if she is not relaxing with a book she can be found writing, sketching, painting or cooking. Elisa loves to share her obsession with books especially with her family and friends. Reading and reviewing books is a favourite pastime of Elisa's.
Get even more book news in your inbox by signing up for our newsletter: http://eepurl.com/mHTVL. Girl Who Reads is an Amazon advertising affiliate; a small commission is earned when purchases are made at Amazon using any Amazon links on this site. Thank you for supporting Girl Who Reads.