by Donna Huber
I'm still working on a few of my 'fun' books from September, but I'm trying to focus a bit more on the books I have to review this month.
This weekend I finished with middle school book
Millicent Marie: Just My Opinon
by Karen Pokras. It is coming out soon so I will tell you more about it another day.
Reading in ebook:
Michele Gorman's books are always fun chicklit and since
Love is a Four-Legged Word
involves animals, I think it is going to be really cute. I've just started it, but it comes out later this week.
Escape into the romantic comedy about canines, conception and fresh starts from the USA Today and Sunday Times bestseller that reviewers and readers describe as the perfect "beach read," "funny and heartbreaking" and a "feel good summer read"
Perfect for fans of Lucy Diamond, Lindsey Kelk and Jane Costello
Best friends Scarlett and Shannon spend their days tangled up in dog leads and covered in fur, running their dog business together. Scarlett's intensive training course, Ruff Love, fixes owners as much as their pets, while Shannon spends her days walking spoiled pooches.
They share more than their business though: they also share Scarlett's husband, Rufus, who's been Shannon's best friend since childhood. It's a cosy setup. Unless one of them has a secret...
When Scarlett and Rufus's baby plans are decimated by a surprise turn of events, their marriage hits the rocks and they both turn to Shannon. All three relationships are pushed to breaking point, but when loyalties become divided, how do you decide who's most important?
Buy Love is a Four-Legged Word at Amazon
Reading in paperback: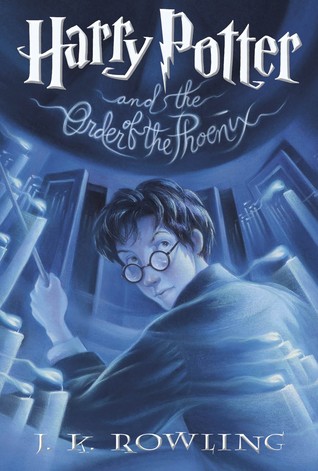 I am continuing my re-reading of Harry Potter. I'm up to
Harry Potter and the Order of the Phoenix
. I didn't know if I was going to make it through
Goblet of Fire.
But I'm enjoying OOTP more than I remembered liking it before.
Harry Potter is due to start his fifth year at Hogwarts School of Witchcraft and Wizardry. His best friends Ron and Hermione have been very secretive all summer and he is desperate to get back to school and find out what has been going on. However, what Harry discovers is far more devastating than he could ever have expected...
Suspense, secrets and thrilling action from the pen of J.K. Rowling ensure an electrifying adventure that is impossible to put down.
Buy Harry Potter and the Order of the Phoenix at Amazon
Listening to in audio book:
I started one audio book, but it had scenes that were not appropriate for work. Since that is where I do most audio book listening, I had to choose something else. I have discovered I like listening to memoirs so I picked up
SEAL Team Six
by Howard E. Wasdin and Stephen Templin.
When the Navy sends their elite, they send the SEALs. When the SEALs send their elite, they send SEAL Team Six—a secret unit tasked with counterterrorism, hostage rescue, and counterinsurgency.
In this dramatic, behind-the-scenes chronicle, Howard Wasdin takes listeners deep inside the world of Navy SEALs and Special Forces snipers, beginning with the grueling selection process of Basic Underwater Demolition/SEAL - the toughest and longest military training in the world.
After graduating, Wasdin faced new challenges. First, there was combat in Operation Desert Storm as a member of SEAL Team Two. Then, the Green Course: the selection process to join the legendary SEAL Team Six (ST6), with a curriculum that included practiced land warfare to unarmed combat. More than learning how to pick a lock, they learned how to blow the door off its hinges.
Finally, as member of ST6, he graduated from the most storied and challenging sniper program in the country: the Marine Corps Scout Sniper School. Eventually, of the 18 snipers in ST6, Wasdin became the best—which meant one of the best snipers on the planet.
Less than half a year after sniper school, he was fighting for his life. The mission: capture or kill Somalian warlord Mohamed Farrah Aidid. From rooftops, helicopters, and alleys, Wasdin hunted Aidid and killed his men whenever possible. But everything went quickly to hell when his small band of soldiers found themselves fighting for their lives, cut off from help and desperately trying to rescue downed comrades during a routine mission. The Battle of Mogadishu, as it became known, left 18 American soldiers dead and 73 wounded. Howard Wasdin had both of his legs nearly blown off while engaging the enemy. His explosive combat tales and inside details of becoming one of the world's deadliest snipers combine to make this the most thrilling and important memoir by a navy SEAL since
Lone Survivor
.
Get even more book news in your inbox by signing up for our newsletter: http://eepurl.com/mHTVL. Girl Who Reads is an Amazon advertising affiliate; a small commission is earned when purchases are made at Amazon using any Amazon links on this site. Thank you for supporting Girl Who Reads.