by MK French
Holly Chang had been turned into a vampire against her will, and has been struggling to control her impulses. Outside of the usual structure for vampire creation, she is able to talk with those the elites would never even notice. There's a bounty on her head, however, and the powers she has aren't like those of an ordinary vampire. Viper is one of the Tower's most trustworthy vampires and something like an assassin in his own right. As much as they class, he is one of the few capable of keeping her safe.
Amazon affiliate links are used on this site. A free book was provided for an honest review.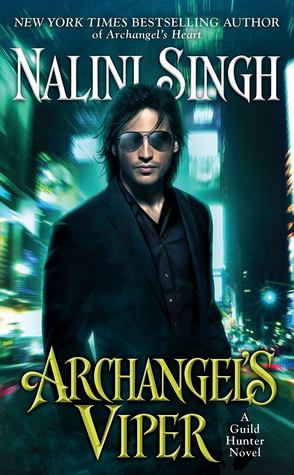 September 2017; Berkley; 978-0451488244
ebook, audio, print (368 pages);
paranormal romance
This is part of the Guild Hunter series, and I was at a disadvantage for not having read the prior novels. But there was enough detail given in character conversations and the hint of backstory that I could go along with it; it probably also helps that there isn't a vampire trope yet that I haven't been able to understand.
Apparently, there are angels and archangels here as well as vampires, and other creatures with abilities of their own. I found that part fascinating enough that I might try to find earlier books in the series. (Thinking of my to be read piles, however...)
It's a common trope that Holly and Viper can't stand each other at first, yet they're most comfortable around the other. Of course, there's danger and mystery, and the two not only have a connection, it's enough to overcome the fears they have about relationships.
The romance part of this paranormal romance novel is pretty par for the course, and I didn't find that as exciting as the powers and machinations between angels and vampires. It's definitely worth exploring more of this universe and the characters in it.
Buy Archangel's Viper at Amazon
Born and raised in New York City, M.K. French started writing stories when very young, dreaming of different worlds and places to visit. She always had an interest in folklore, fairy tales, and the macabre, which has definitely influenced her work. She currently lives in the Midwest with her husband, three young children, and golden retriever.
Get even more book news in your inbox, sign up today! Girl Who Reads is an Amazon advertising affiliate; a small commission is earned when purchases are made at Amazon using any Amazon links on this site. Thank you for supporting Girl Who Reads.