by Susan Roberts
This is a wonderful and extremely researched book of the lives of two former slaves during the War of Independence in the late 1700s. These real-life characters go through extreme suffering to make their lives and life in their adopted country better.
Amazon affiliate links are used on this site.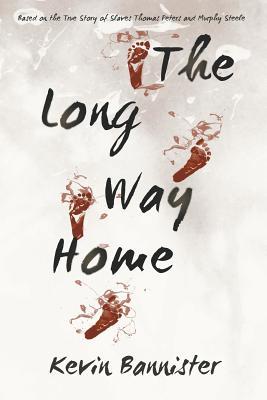 September 2017; Fireship Press; 978-1611793611
ebook, print (348 pages); historical fiction
Set in the turbulent times of the War of Independence,
The Long Way Home
follows the lives of Thomas Peters and Murphy Steele who are friends, former slaves, fellows-in-arms, and leaders of the Black Brigade. Their real-life story is an epic adventure tale as they battle bounty hunters, racism, poverty, and epidemic in their adopted country after the war.
The Long Way Home
has resonated with readers around the world as an unforgettable account of courage, hope, and determination triumphing over despair and injustice. Thomas Peters, thoughtful and charismatic, and Murphy Steele, strong and impulsive, lead their followers on an inspirational search for a place where they can be free.
Buy The Long Way Home at Amazon
About the Author:
Kevin Bannister is a rancher living in the beautiful foothills of central Alberta, Canada. He would like Thomas Peters and Murphy Steele to be celebrated as the heroes that they were in their lifetimes and to be inspirations to young people everywhere to persevere in the face of bigotry, poverty, government indifference or any other adversity.
Visit the
author's page on Goodreads
.
Also available at
Books-A-Million
and
Barnes & Noble
Susan Roberts lives in North Carolina when she isn't traveling. She and her husband enjoy traveling, gardening and spending time with their family and friends. She reads almost anything (and the piles of books in her house prove that) but her favorite genres are Southern fiction, women's fiction, and thrillers. Susan is a top 1% Goodreads Reviewer. You can connect with her on Facebook, Goodreads or Twitter.
Get even more book news in your inbox, sign up today! Girl Who Reads is an Amazon advertising affiliate; a small commission is earned when purchases are made at Amazon using any Amazon links on this site. Thank you for supporting Girl Who Reads.