There's a crispness to the air and pumpkin spice everywhere - it must be fall! The next two months will be filled with major new releases as publishers rush to meet award deadlines. Thankfully there isn't anything much better than curling up with a good book and a cuddly blanket.
We already featured two new releases yesterday -
Goblins of Bellwater by Molly Ringle
and
Snow by Mike Bond
. Check out this list to start planning your fall reading and watch for even more new releases in our reviews each day.
Amazon affiliate links are used on this list. Descriptions and covers are from Goodreads.com
New Releases for October 3
Origin (Robert Langdon #5) by Dan Brown
Robert Langdon, Harvard professor of symbology and religious iconology, arrives at the ultramodern Guggenheim Museum in Bilbao to attend a major announcement—the unveiling of a discovery that "will change the face of science forever." The evening's host is Edmond Kirsch, a forty-year-old billionaire and futurist, whose dazzling high-tech inventions and audacious predictions have made him a renowned global figure. Kirsch, who was one of Langdon's first students at Harvard two decades earlier, is about to reveal an astonishing breakthrough . . . one that will answer two of the fundamental questions of human existence.
As the event begins, Langdon and several hundred guests find themselves captivated by an utterly original presentation, which Langdon realizes will be far more controversial than he ever imagined. But the meticulously orchestrated evening suddenly erupts into chaos, and Kirsch's precious discovery teeters on the brink of being lost forever. Reeling and facing an imminent threat, Langdon is forced into a desperate bid to escape Bilbao. With him is Ambra Vidal, the elegant museum director who worked with Kirsch to stage the provocative event. Together they flee to Barcelona on a perilous quest to locate a cryptic password that will unlock Kirsch's secret.
Navigating the dark corridors of hidden history and extreme religion, Langdon and Vidal must evade a tormented enemy whose all-knowing power seems to emanate from Spain's Royal Palace itself . . . and who will stop at nothing to silence Edmond Kirsch. On a trail marked by modern art and enigmatic symbols, Langdon and Vidal uncover clues that ultimately bring them face-to-face with Kirsch's shocking discovery . . . and the breathtaking truth that has long eluded us.
Buy Origin at Amazon
The Ship of the Dead by Rick Riordan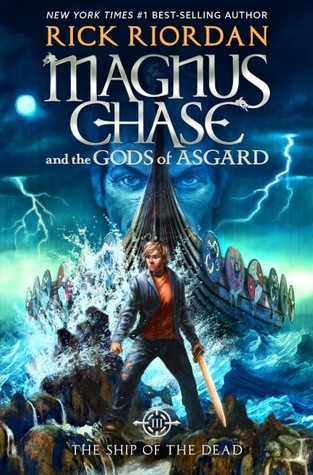 Magnus Chase, a once-homeless teen, is a resident of the Hotel Valhalla and one of Odin's chosen warriors. As the son of Frey, the god of summer, fertility, and health, Magnus isn't naturally inclined to fighting. But he has strong and steadfast friends, including Hearthstone the elf, Blitzen the dwarf, and Samirah the Valkyrie, and together they have achieved brave deeds, such as defeating Fenris Wolf and battling giants for Thor's hammer, Mjolnir. Now Magnus and his crew must sail to the farthest borders of Jotunheim and Niflheim in pursuit of Asgard's greatest threat. Will they succeed in their perilous journey, or is Ragnarok lurking on the horizon?
Buy The Ship of the Dead at Amazon
Winter Solstice by Elin Hilderbrand
Raise one last glass with the Quinn Family at the Winter Street Inn.
It's been too long since the entire Quinn family has been able to celebrate the holidays under the same roof, but that's about to change. With Bart back safe and sound from Afghanistan, the Quinns are preparing for a holiday more joyous than any they've experienced in years. And Bart's safe return isn't the family's only good news: Kevin is enjoying married life with Isabelle; Patrick is getting back on his feet after paying his debt to society; Ava thinks she's finally found the love of her life; and Kelly is thrilled to see his family reunited at last. But it just wouldn't be a Quinn family gathering if things went smoothly. A celebration of everything we love--and some of the things we endure--about the holidays, WINTER SOLSTICE is Elin Hilderbrand at her festive best.
Buy Winter Solstice at Amazon
Merry and Bright by Debbie Macomber
Merry Knight is pretty busy these days. She's taking care of her family, baking cookies, decorating for the holidays, and hoping to stay out of the crosshairs of her stressed and by-the-book boss at the consulting firm where she temps. Her own social life is the last thing she has in mind, much less a man. Without her knowledge, Merry's well-meaning mom and brother create an online dating profile for her--minus her photo--and the matches start rolling in. Initially, Merry is incredulous, but she reluctantly decides to give it a whirl.
Soon Merry finds herself chatting with a charming stranger, a man with similar interests and an unmistakably kind soul. Their online exchanges become the brightest part of her day. But meeting face-to-face is altogether different, and her special friend is the last person Merry expects--or desires. Still, sometimes hearts can see what our eyes cannot. In this satisfying seasonal tale, unanticipated love is only a click away.
Buy Merry and Bright at Amazon
Michael's Mercy by Dale Mayer
The Sleeper SEALs are former U.S. Navy SEALs recruited by a new CIA counter-terror division to handle solo dark ops missions to combat terrorism on US soil.
When things go bad, in Michael's world things go horribly, terrifyingly bad.
It's been a year since hardened Navy SEAL Michael Stanton walked away from his career. He
never thought to go back, but then his former commander calls with the news that an old friend
was murdered while undercover – and he needs Michael's help.
Knowing the next dead body might be his, Michael takes his friend's place at the home of a
terrorist. His official mission is to find all he can to bring the man's operation down. His personal mission is to find out who murdered his friend.
Mercy got the job as a maid that her sister had last held – just before she disappeared. With the police lacking leads and interest, Mercy decides it's up to her to find out what happened. Inside the huge home, she meets Michael and becomes immediately suspicious ... and immediately attracted.
When they collide in the worst way possible, she realizes he's not who he seems either.
Can they each find the truth about their objectives and about themselves? Or will the terrorist get wind of the traitors in his midst and take care of them before they can take care of him?
Each story in this multi-author branded series is a standalone novel and the series can be read in any order.
Welcome to
Michael's Mercy
, book 10 in Heroes for Hire (and Sleeper SEALs #3) reconnecting readers with the unforgettable men from SEALs of Honor in a new series of action packed, page turning romantic suspense that fans have come to expect from USA TODAY Bestselling author Dale Mayer. This book is part of the continuity series SLEEPER SEALS.
Buy Michael's Mercy at Amazon
Agatha Raisin and the Witches' Tree by M.C. Beaton
The Witches' Tree continues the tradition in M. C. Beaton's beloved Agatha Raisin mystery series―now a hit T.V. show.
Cotswolds inhabitants are used to inclement weather, but the night sky is especially foggy as Rory and Molly Devere, the new vicar and his wife, drive slowly home from a dinner party in their village of Sumpton Harcourt. They strain to see the road ahead―and then suddenly brake, screeching to a halt. Right in front of them, aglow in the headlights, a body hangs from a gnarled tree at the edge of town. Margaret Darby, an elderly spinster, has been murdered―and the villagers are bewildered as to who would commit such a crime.
Agatha Raisin rises to the occasion (a little glad for the excitement, to tell the truth, after a long run of lost cats and divorces on the books). But Sumpton Harcourt is a small and private village, she finds―a place that poses more questions than answers. And when two more murders follow the first, Agatha begins to fear for her reputation―and even her life. That the village has its own coven of witches certainly doesn't make her feel any better...
Buy Agatha Raisin and the Witches' Tree at Amazon
Available October 17
SEALs of Honor: Ryder by Dale Mayer
This is the 14th book in the best-selling SEALs of Honor series!
Ryder spent his career defending his nation and helping others… After he lost the one good thing in his life, he spent every waking hour trying to forget…
After a mission goes south and a friend is hurt, Ryder checks in at medical for an update on his condition only to find Caitlyn working there. It doesn't take long for the same damn feelings to overwhelm him. She's not his any longer, but maybe they can be friends…
Friendship is the last thing Caitlyn wants, but it's a start. She screwed up – in a big way – and she'll do anything to get her best friend back in her life. Even work overseas for a chance to see him. But when the outpost is attacked and medical supplies start to go missing they have something bigger to worry about.
When she's kidnapped, all bets are off and both Ryder and Caitlyn have to find out what's really important before they lose it all … and each other.
Buy Ryder at Amazon
Available October 19
La Belle Sauvage by Philip Pullman
Eleven-year-old Malcolm Polstead and his dæmon, Asta, live with his parents at the Trout Inn near Oxford. Across the River Thames (which Malcolm navigates often using his beloved canoe, a boat by the name of La Belle Sauvage) is the Godstow Priory where the nuns live. Malcolm learns they have a guest with them, a baby by the name of Lyra Belacqua.
Buy La Belle Sauvage at Amazon
Sweet Little Lies by Abbi Glines
Book #2 in the Sweet Series. After facing a truth she never imagined, Beulah has to find a new path. Build a life without help and take care of her sister alone. Or does she?
Buy Sweet Little Lies at Amazon
Available October 20
Harry Potter - A Journey Through A History of Magic by JK Rowling and the British Library
Harry Potter: A History of Magic
is the official book of the exhibition, a once-in-a-lifetime collaboration between Bloomsbury, J.K. Rowling and the brilliant curators of the British Library. It promises to take readers on a fascinating journey through the subjects studied at Hogwarts School of Witchcraft and Wizardry – from Alchemy and Potions classes through to Herbology and Care of Magical Creatures
Each chapter showcases a treasure trove of artefacts from the British Library and other collections around the world, beside exclusive manuscripts, sketches and illustrations from the Harry Potter archive. There's also a specially commissioned essay for each subject area by an expert, writer or cultural commentator, inspired by the contents of the exhibition – absorbing, insightful and unexpected contributions from Steve Backshall, the Reverend Richard Coles, Owen Davies, Julia Eccleshare, Roger Highfield, Steve Kloves, Lucy Mangan, Anna Pavord and Tim Peake – who offer a personal perspective on their magical theme.Readers will be able to pore over ancient spell books, amazing illuminated scrolls that reveal the secret of the elixir of life, vials of dragon's blood, mandrake roots, painted centaurs and a genuine witch's broomstick, in a book that shows J.K. Rowling's magical inventions alongside their cultural and historical forebears.This is the ultimate gift for Harry Potter fans, curious minds, big imaginations, bibliophiles and readers around the world who missed out on the chance to see the exhibition in person.
Buy Harry Potter - A Journey Through A History of Magic at Amazon
Available October 24
My Brigadista Year by Katherine Paterson
When thirteen-year-old Lora tells her parents that she wants to join Premier Castro's army of young literacy teachers, her mother screeches to high heaven, and her father roars like a lion. Lora has barely been outside of Havana -- why would she throw away her life in a remote shack with no electricity, sleeping on a hammock in somebody's kitchen? But Lora is stubborn: didn't her parents teach her to share what she has with someone in need? Surprisingly, Lora's abuela takes her side, even as she makes Lora promise to come home if things get too hard. But how will Lora know for sure when that time has come? Shining light on a little-known moment in history, Katherine Paterson traces a young teen's coming-of-age journey from a sheltered life to a singular mission: teaching fellow Cubans of all ages to read and write, while helping with the work of their daily lives and sharing the dangers posed by counterrevolutionaries hiding in the hills nearby. Inspired by true accounts, the novel includes an author's note and a timeline of Cuban history.
Buy My Brigadista Year at Amazon
Available October 31
Even If It Kills Her by Kate White
Kate White returns to her New York Times bestselling Bailey Weggins series with a riveting new psychological thriller featuring this beloved true-crime journalist turned amateur sleuth in her most spellbinding case to date
Like many thirty-somethings, Bailey Weggins has a few regrets, some involving her career and others her love life. But running into Jillian Lowe at her book signing, Bailey comes face to face with perhaps her biggest regret to date. For more than ten years, Bailey has felt guilty for not staying in closer communication with Jillian, her college roommate, after Jillian's family was brutally murdered. Jillian had left their school in the middle of their sophomore year right after the tragedy, leaving Bailey to wonder how her friend's life turned out.
Bailey is shocked to see Jillian and is even more stunned when her still-gorgeous former roommate approaches her with a case. The man accused of murdering her family has been cleared of the crime through new DNA evidence. With the real killer walking free, Jillian is desperate for Bailey's help to identify him and finally secure justice for her family. As the two women return to Jillian's childhood town to investigate, secrets from Jillian's past begin to surface. And it doesn't take long before they learn not everyone is happy with their sleuthing—not the local police, not family friends, and certainly not the true killer.
With someone watching their every move, Bailey and Jillian find themselves in grave danger and must decide how much they are willing to risk to finally uncover what happened that terrifying night.
Buy Even If It Kills Her at Amazon
Get even more book news in your inbox, sign up today! Girl Who Reads is an Amazon advertising affiliate; a small commission is earned when purchases are made at Amazon using any Amazon links on this site. Thank you for supporting Girl Who Reads.