by MK French
Anda is a gamer that was invited to Coarsegold Online. While there, she makes friends with others in her guild and even got to know a gold farmer from China. This makes her realize that games are more than just fun for people and that real life can be very different from a game.
Amazon affiliate links are used on this site. A free book was provided for an honest review.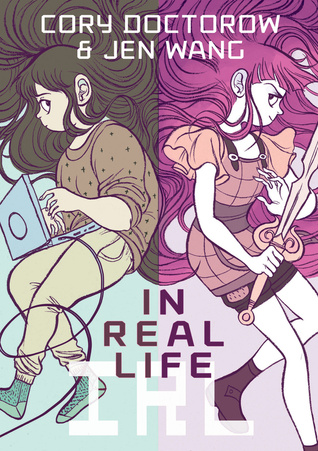 October 2014; First Second; 978-1596436589
ebook, print (192 pages); YA, graphic novel
I was drawn to this book by the author as much as the subject matter because I'd heard Cory Doctorow was a great writer but hadn't read his work before.
The characters in the book are all kinds of gamers: those who play MMO's, those who make fun of casual cell phone gamers, those who play pen and paper RPG's like D&D, those who make fun of them, those who play board games and those who make fun of them. These intersect in all kinds of ways because gamers tend to cluster together and "other" the other kinds of gamers they see.
Anda, like every other gamer that starts out in an MMO, thinks badly of those that deliberately play the game to collect items and sell them online. It's against the Terms of Service in most online games but overseas has become a profession for many people. Because these are real issues that people face, it definitely makes you think about the consequences of gaming and an online presence.
The art by Jen Wang is beautifully done, with more vivid colors used for the online world. If you're a gamer, all of the little details involved in the panels definitely play off the interface in most MMO's: the health meter, a mana meter, the menus with item drops and gold. Even the character creation panels have lots of detail in them, it's almost a shame we don't get a chance to see the rest of it. There aren't a lot of background characters or illustration, perhaps to showcase that the game is in beta testing, but it also serves to focus on the characters themselves. There are real players behind the avatars, which can be easy to forget.
The only downside to this book was that it was far too short!
Buy In Real Life at Amazon
Born and raised in New York City, M.K. French started writing stories when very young, dreaming of different worlds and places to visit. She always had an interest in folklore, fairy tales, and the macabre, which has definitely influenced her work. She currently lives in the Midwest with her husband, three young children, and golden retriever.
Get even more book news in your inbox, sign up today! Girl Who Reads is an Amazon advertising affiliate; a small commission is earned when purchases are made at Amazon using any Amazon links on this site. Thank you for supporting Girl Who Reads.