by Donna Huber
Merry Christmas and Happy New Year!
I have been on a roll this month - thanks to audiobooks and short holiday romances. And most of the books have been really good, which makes me a very happy reader. A lot of these were free when I got them; some may still be free.
Amazon affiliate links are used on this site.
Finished
Triple Cross Killer
by Rosemarie Aquilina
I read this awesome thriller for its blog tour. I can't wait for more in this series. Read my full review.
Have you ever wondered what really happens to Santa Claus letters? In Detroit and Sarasota some children's letters are diverted and reviewed by Nick Archer, a religiously obsessed, narcissist. Nick responds, leaving a trail of devastation in the two cities.
In Detroit, co-ed partners and wise-cracking lovers, detectives Jaq McSween and David Maxwell, team up with Sarasota detectives Abel Mendoza and his partner, Rabbit, to find this daunting killer.
When Jaq's friend, the lovely nurse, Rita Rose, takes a chance on love again, she gets caught in Nick's web. Working with the ME, she joins in, adding her perspective when events take a sinister turn.
Can this diverse team of characters pool their insights, barbs, and taste for bad food to save Rita when she discovers the final clues or will she become the next victim?
Buy Triple Cross Killer at Amazon
The Christmas Secret
by Donna VanLiere
I go to a lot of charity book sales and I don't always remember what I pick up since I usually go on the day that is 'all the books you can put in a bag for a flat price'. So I was really happy to discover this sweet Christmas story on my bookcase. I will have to look for other books in this series.
When a struggling young single mother saves the life of an elderly woman, she sets into motion a series of events that will test her strength, loyalty, and determination, all the while setting her on the path to finding true love.
Christine Eisley is the mother of seven-year-old Zach and five-year-old Haley. Her ex-husband provides little, if any, child support and makes life difficult for Christine by using the children as pawns. She works long hours as a waitress to make ends meet, but her job is in jeopardy because she's often late to work due to the unreliable teenaged sitters she's forced to use. When Christine saves the life of a woman who works in Wilson's department store, the owner of Wilson's wants to find her, to thank her, but Christine has disappeared, losing another job once again. He sets his grandson, Jason, to the task of finding the mysterious "Christy." Jason, an accountant by trade who has lost his job to downsizing, thinks he is "above" working at Wilson's. Soon, he discovers that this new task gives him more than he bargains for.
The Christmas Secret
is a novel for anyone who wants to see how love is a gift that keeps giving back; that hope is a treasure that never runs dry, and that faith is a miracle that is reborn with each new day.
Buy The Christmas Secret at Amazon
Montana Secret Santa
by Debra Salonen
Christmas is about the only time of year that I really enjoy romance novels, but I want them to be really Christmasy and this one is perfect. A lot of the scenes take place in a chocolate shop with everyone drinking hot cocoa. There are more novels set in this chocolate shop in Marietta, MO but written by different authors. I have another ebook on my Nook set in Marietta, MO, but I don't know if it is just a coincidence or if they are somehow related.
Ad exec Krista Martin, while feeling more Grinch than elf, still jumps at the chance to co-chair Marietta's Secret Santa Society. Why not? Especially since brilliant, attractive, and innovative tech wunderkind Jonah Andrews has agreed to help. He's well connected and Krista's hoping for some advice on rebooting her career.
Jonah knows Krista has a not-so-hidden agenda, but sparring with her over cocoa at their Secret Santa meetings is the most fun he's had since returning to his old hometown. Krista may come across as all business, but Jonah's positive he's glimpsed a little girl inside her who wants to believe in Santa… and in love.
Buy Montana Secret Santa at Amazon
Home for Christmas
by Lia Fairchild
This is a romantic short story that is set at Christmas time but isn't really Christmasy.
This year, Ali and Stephen are both just trying to make it through the holidays. Stephen is fresh out of a relationship and dreading the prospect of Christmas alone. Ali, on the other hand, can't celebrate with friends or family. The most important man in her life is dying - decorating cookies and hanging tinsel aren't even on her radar. When the two meet during a chance encounter, Stephen's instant attraction to Ali spurs him into action. He'll do whatever it takes to give her the holiday she deserves and pull off a real Christmas miracle.
This holiday romance short is the moving story of two people, fates intertwined, about to be surprised by what destiny has in store.
Buy Home for Christmas at Amazon
Royal Flush
by Rhys Bowen
I liked this one better since it didn't focus so much on Georgie and her lack of income. I thought there was more mystery and danger in this one.
With its posh clientele in the country for the summer, Georgie's housecleaning business has fizzled. So she tries hiring herself out as a dinner-and-theatre companion. But her first client has quite the wrong idea. To avoid further scandal, Georgie's shipped home to Castle Rannoch, where her summer plans include honoring a promise to Her Majesty to keep Castle Rannoch's divorcée houseguest from seducing the Prince of Wales. She's also been coerced into helping Scotland Yard with a top-secret mission - namely keeping an eye on the shooting party at Balmoral and preventing someone from shooting the Prince. And Georgie must manage all this without strangling her odious sister-in-law Fig or spineless brother Binky.
Buy Royal Flush at Amazon
The Twelve Clues of Christmas
by Rhys Bowen
I usually only get 1 book in the series each time I go to the library for my book club, but since I didn't go to book club in November, it isn't meeting in January, and the Christmas book was available I picked it up too. I really enjoyed it as it is a fun mystery at a house party, plus Georgie has a paying job as a social hostess which means she isn't whining about having no money. Also, there is progress in the romance with Darcy. If you are wanting to have an 'Old English Christmas' there are recipes, games and more at the end.
On the first day of Christmas, my true love gave to me—well, actually, my true love, Darcy O'Mara, is spending a feliz navidad tramping around South America. Meanwhile Mummy is holed up in a tiny village called Tiddleton-under-Lovey with that droll Noel Coward! And I'm snowed in at Castle Rannoch with my bumbling brother, Binky, and sourpuss sister-in-law, Fig.
So it's a miracle when I contrive to land a position as hostess to a posh holiday party in Tiddleton. The village is like something out of A Christmas Carol! But no sooner have I arrived than a neighborhood nuisance, a fellow named Freddie, falls out of a tree dead. On my second day, another so-called accident results in a death – and there's yet another on my third. Perhaps a recent prison break could have something to do with it…that, or a long-standing witch's curse. But after Darcy shows up beneath the mistletoe, anything could be possible in this wicked wonderland.
Buy The Twelve Clues of Christmas at Amazon
This Christmas
by Jeannie Moon
This is a nice romantic novella. I would have liked for a few of the scenes to be extended or included, like did they go ice skating as a family? But then that would have probably made it a full novel. This is another book that is part of a series that is written by multiple authors. I'm not sure if characters overlap or if it is just the unifying theme of Christmas in New York.
Single mother Sabrina Gervais has built a happy life with her daughter Charlotte in their eastern Long Island hometown of Holly Point. Having Charlie meant putting some of her own dreams on hold, but Sabrina is content to surround herself with family and friends, safe from the realities of the outside world. She had enough of that when the man she loved broke her heart.
Jake Killen's career in professional hockey has brought him many rewards on and off the ice, but returning to New York brings back a flood of memories. When he sees Sabrina again, he discovers that he didn't just away from her ten years ago, but also from their unborn child.
Struggling with anger, guilt, and chemistry that's off the chart, Sabrina and Jake wonder if they can find love again and, this Christmas, make all their wishes come true.
Buy This Christmas at Amazon
The Doctor's Christmas Proposal
by Eve Gaddy
This is the book I mentioned earlier as being set in Marietta, MO but it is not part of the Chocolate Shop series. I think it is in the same universe though as there is a Christmas Stroll and a Christmas Ball (where a real-life prince attends) and both books have a Graff Hotel. Perhaps Marietta is a real place, but I also think some of the characters mentioned are the same in both books. Except for this confusion/curiosity, I really enjoyed this romantic holiday novel. It almost makes me want to be in a snowy climate for winter.
Betrayed by his ex-fiancée, Dr. Wyatt Gallagher turns to the one woman he can always trust – his best friend, Mia Watson. After moving away, Wyatt has realized he wants more than friendship with the beautiful artist. With that in mind, he convinces Mia to come to Marietta for the Christmas holidays. But wooing Mia is surprisingly difficult — especially given the passionate night they've already shared.
Though Mia Watson has loved Wyatt Gallagher for years, he's always seen her as a friend, never a lover. Except for one unforgettable interlude when comfort turned to passion. Then Wyatt moved back to Montana, leaving Mia with an unexpected consequence of their night together--and soon, heartbreak to follow.
Faced with the fulfillment of her dreams, Mia knows she must reveal the consequences of their night together to Wyatt. But having withheld the truth for so long, will her confession destroy his trust in her, ending their friendship and any hope of a future together?
Buy The Doctor's Christmas Proposal at Amazon
Oklahoma Christmas Blues
(The McIntyre Men 0.5) by Maggie Shayne
If you like the books set in Marietta, then you will enjoy this one as it is pretty similar, except it is set in Oklahoma instead of Montana. I found it to be an enjoyable holiday romance short story. I teared up towards the end so you know it had the feel goods. If you need to believe in Christmas magic this year, then this is the story to read.
Darryl is on a quest for peace. His chance at fatherhood was taken from him long ago, and an IED in Iraq ensured he'd never get another. In Big Falls, the McIntyre brothers hire him to keep an eye on their beautiful cousin Sophie in case her criminal ex shows up. He doesn't expect to fall head over heels.
Sophie McIntyre's life was blown apart by a drug dealing ex who cost her her job and nearly her medical license. She comes to Big Falls because she has nowhere else to go. And the minute she gets there, things start to get better.
Is it because of that letter to Santa her Aunt Vidalia convinced her to write?
Within days she meets a beautiful man with a deeply wounded soul. And oddly, she finds herself giving him the same advice the town Santa gave to her—try believing again, and if it's too much to believe, then just try hoping.
Love, magic, and miracles ensue.
Because this is Big Falls, Oklahoma. Miracles are an everyday occurrence around here. Especially at Christmastime.
Christmas at the Castle
(Ever After #3) by Melissa McClone
It reminded me a bit of the 2004 movie The Prince and Me starring Julia Stiles. The story is more about the royal wedding than Christmas romance. But it was still a fun read.
A royal wedding. A meddlesome mother. An unexpected union.
A European getaway during the Christmas holiday is exactly what veterinarian Katrina "Kat" Parsons needs. She can't wait to be a bridesmaid in her childhood friend's royal wedding, but she hopes to steer clear of the bride's arrogant older brother.
Crown Prince Guillaume wants his younger sister's wedding day to be perfect, but he's suspicious of Kat. He and his mother on are on high alert, afraid Kat is not just there for the wedding, but also to find a prince of her own.
But when Kat's kindness and generosity prove them wrong, the prince realizes there's more to her than he ever imagined. Can he trust his heart or will he lose the one woman he can't live without?
Buy Christmas at the Castle at Amazon
Christmas Canapés & Sabotage
(Culinary Competition #2.5) by Janel Gradowski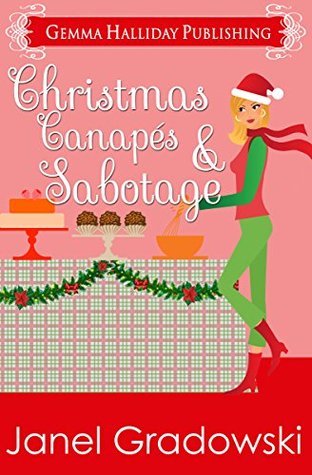 You might remember that I was on quite the cozy mystery kick this summer so I was happy to find a couple of holiday-themed cozies. I loved this one. Even though it is a short story, I really enjoyed the characters and will be on the lookout for more books in this series.
Amy Ridley is excited to be participating in the Holiday Celebrations Competition to kick off her Christmas season in Kellerton, Michigan. Local cooks are set to compete for prizes then serve their best party dishes to holiday revelers. Amy has her eye on a special prize, but she has a difficult time concentrating on creating a perfect party buffet when a plague of problems begins to whirl around her. Can Amy figure out who is sabotaging the competition in time to create a prize-winning tablescape and take home the ultimate Christmas gift?
Buy Christmas Canapés & Sabotage at Amazon
Christmas, Spies & Dead Guys
(Gianna Mancini Mysteries #1.5) by Jennifer Fischetto
I was disappointed with this short story. There weren't any dead guys in the story, a couple of loser guys but they were still breathing. I didn't connect with the characters and the story didn't make me want to read more in the series.
While Gianna Mancini longs for a cozy family Christmas back home, this year her cousin, Claudia, is getting married, and Gianna is the maid of honor. Having to spend the holiday in another state may have Gianna a bit blue, but when Claudia runs off the night before her nuptials, Gianna is determined to find her.
To complicate things Gianna has a rare gift...she sees dead people. Reluctantly teaming up with gorgeous, P.I. Julian Reed, and her cranky dead Aunt Stella, Gianna sets out to catch her runaway bride cousin, find the sender of a cryptic love note, and track down a list of Claudia's ex-boyfriend—the "ghosts" of her love life past, present, and possibly future.
Buy Christmas, Spies & Dead Guys at Amazon
Once Upon a Royal Christmas
by Robin Bielman
I got to return to Marietta, MO one more time before I finished with my holiday reading. This book is part of yet another series, but it is just as enjoyable as the other two. The Prince that was mentioned in the other two books is the featured lead male character in this one. With all the people falling love all the time, too bad Marietta isn't a real place. My only complaint with this one - the main characters meet in a similar fashion as the lead characters in Montana Secret Santa.
Colliding with a prince while dog walking isn't how Rowan Palotay pictured meeting royalty, but then lately her life hasn't gone according to plan. With one teensy tiny mistake, her job as a news reporter took a turn for the worse and now she's lucky to have a small pet column in the local newspaper. Christmas is supposed to be a time of joy and magic, but she feels like she's forever stuck on the naughty list.
Prince Theodore Chenery is in Marietta shortly after the death of his mother to meet his grandparents for the first time. When an accidental run-in—literally—with Rowan leads to an unexpected friendship, he finds himself enchanted with the outspoken, feisty country girl. She's unlike anyone he's ever met and her special brand of kindness and honesty make it harder and harder to remember his obligations back home.
Rowan can't afford one more mistake, and Theo's future is already mapped out, but when they find it impossible to fight the passion and deep-rooted emotions between them, they discover what matters most. Until their relationship makes worldwide news…and Theo must decide whether or not to follow his heart or his royal duty.
Buy Once Upon a Royal Christmas at Amazon
Audiobooks
The Year of the Flood
by Margaret Atwood
The first book in this series was the December read for my post-apocalyptic book club. I enjoyed the first book enough that I wanted to read (well, listen) the rest of the trilogy. This one is especially good as an audiobook as there are musical interludes.
Adam One, the kindly leader of the God's Gardeners - a religion devoted to the melding of science and religion, the preservation of all species and the tending of the Earth - has long predicted the Waterless Flood. Now it has occurred, obliterating most human life.
Buy The Year of the Flood at Amazon
Merry and Bright
by Debbie Macomber
I discovered Debbie Macomber's Christmas stories a few years ago and now I look forward to it each year. This year I was smart and put in my hold early so I got it before Christmas.
Merry Knight is pretty busy these days. She's taking care of her family, baking cookies, decorating for the holidays, and hoping to stay out of the crosshairs of her stressed and by-the-book boss at the consulting firm where she temps. Her own social life is the last thing she has in mind, much less a man. Without her knowledge, Merry's well-meaning mom and brother create an online dating profile for her--minus her photo--and the matches start rolling in. Initially, Merry is incredulous, but she reluctantly decides to give it a whirl.
Soon Merry finds herself chatting with a charming stranger, a man with similar interests and an unmistakably kind soul. Their online exchanges become the brightest part of her day. But meeting face-to-face is altogether different, and her special friend is the last person Merry expects--or desires. Still, sometimes hearts can see what our eyes cannot. In this satisfying seasonal tale, unanticipated love is only a click away.
Buy Merry and Bright at Amazon
Winter Solstice
by Elin Hilderbrand
I thought I was caught up on this series when I put my hold in for this book, but soon after starting it, I realized I was missing some details and sure enough somehow I skipped book 3. I will pick it up, but I still enjoyed this somewhat sad ending to the series.
It's been too long since the entire Quinn family has been able to celebrate the holidays under the same roof, but that's about to change. With Bart back safe and sound from Afghanistan, the Quinns are preparing for a holiday more joyous than any they've experienced in years. And Bart's safe return isn't the family's only good news: Kevin is enjoying married life with Isabelle; Patrick is getting back on his feet after paying his debt to society; Ava thinks she's finally found the love of her life; and Kelly is thrilled to see his family reunited at last. But it just wouldn't be a Quinn family gathering if things went smoothly. A celebration of everything we love--and some of the things we endure--about the holidays.
Buy Winter Solstice at Amazon
Silver Bells
(Rivers End Romance #1) by C.J. Hunt
As it is now Christmas Eve, this is probably my last holiday-themed read. I fill like I'm reaching my saturation point and I need to get back to my review copies if I'm going to get them read by their 2018 release dates. I'm enjoying the characters so far.
I
saac MacAllister's life revolves around building his business and doing his best to give his daughter Sara a strong sense of family. Over the years he's had to learn how to keep their little family together on his own, but this Christmas Isaac is going to have some unexpected help.
Christmas blogger Jenna Murphy has one goal for the holidays this year: to get far away from anything to do with Christmas. Her website sale is done, and after 1,825 posts about the big C, it's one "season" she never wants to celebrate again. She's ready to start a new life, and the Big River Lodge seems like the perfect place for her to figure out the details. The lodge is isolated, she has her own private cabin, and no one in her family will know where she is.
But she didn't plan on the highly distracting presence of Isaac MacAllister. Is Jenna going to let one sexy dad and his sweet kindergartener derail her plans for her holiday … and her life?
Buy Silver Bells at Amazon
The Breaking Point
(Body Farm, #9) by Jefferson Bass
My Nook is on its last leg (it's a 1st Gen that I've had almost 7 years) and the battery dies after only a couple of hours of reading. I don't have any more Christmas books in print but I'm not quite ready to start on my review copies. Anyways, murder and mayhem sounds pretty good after all the sweet romances. Since I read Flesh and Bone, I've been on the lookout for more books in the Body Farm series. I was happy to find this copy on the bargain shelf at the local bookstore. Since Bones is no longer on the air, I feel like I'm getting my forensic anthropologist fix.
Past, present, and future collide to throw respected forensic anthropologist Bill Brockton's successful, secure life into devastating turmoil in this poignant novel in the New York Times bestselling Body Farm mystery series
It's been ten years since Dr. Bill Brockton created the Body Farm—the world's first postmortem research facility dedicated to advancing the frontiers of forensic science—and the researcher is at the pinnacle of his career. Under his leadership, the University of Tennessee's forensic anthropology program has become the most prominent in the world, and Brockton's skills and knowledge are in high demand among top law enforcement. Calling him in for a number of high profile cases, the FBI now wants him to identify the charred remains of a maverick millionaire, killed in a fiery plane crash.
But a storm is about to hit Brockton with cataclysmic force. First, his identification of the crash victim is called into question. Then he receives a threatening message from the serial killer who attempted to murder the scientist and his family a decade ago. And from Brockton's beloved wife Kathleen—his lodestone and his source of security—he gets the most shocking news of all. Will Brockton be able to weather this deluge . . . or has he finally reached the breaking point?
Buy The Breaking Point at Amazon
A Cowgirl's Christmas
(Carrigans of the Circle C #5) by C.J. Carmichael
I guess I haven't quite reached saturation point on holiday romances. I'm really loving these Marietta, MT set books. I have found a few more on the free lists so I'm indulging a bit more. This one isn't set at the same time as the other ones I read this season. It is a bit confusing keep these series straight and I think to really do that you might need to read them all in order (if there is a time sequence being followed by all of them). But if you don't care about keeping it all straight then it can be read easily as a stand-alone.
For years Callan Carrigan has been her father's right hand man, so when her dad's will names city slicker Court McAlister the new owner of The Circle C Ranch, Callan feels betrayed on every level.
Then she and her sisters find their mother's diaries, hidden from them by their father since their mother's accidental death 18 years ago, and the shocking revelations explain a lot. Reeling, Callan seeks refuge in the local saloon, where it seems no one can reach her, until Court offers her a challenge.
If she agrees to be foreman at the Circle C for one year, he'll deed the ranch back to her and her sisters. The deal seems too sweet at first--until Callan realizes Court has his eyes on something she protects even more than her family's land--her heart.
Buy A Cowgirl's Christmas at Amazon
A Very Merry Christmas
by Cathy Lamb
I didn't really enjoy this book. I actually had to skim some of it because I was so bored but I hate not finishing a book. None of the characters really felt like real people, particularly the secondary characters. I'm sure the scenes with the "Three Wise Women" supposed to be funny but they weren't. They were too predictable as these secondary characters had no personality.
Some people careen through life trailing chaos in their wake. Others get to pick up the pieces. Meredith Ghirlandaio is generally in the latter category, especially when it comes to her irresponsible sister, Leia. Leia's latest move: abandoning her two children while she runs off to rediscover herself. Meredith immediately steps up, bringing rebellious Sarah and withdrawn Jacob back to her hometown of Telena, Montana, where she opens a B&B.
Despite the "Merry Meredith" nickname she earns from her guests, she's too wary—and too busy—to get involved with any man. Especially one like handsome, self-assured Logan Taylor. But Logan's not easy to shake, and makes it plain that he's drawn to everything about Meredith—her tough talk and her cowboy hats, her softness and her strength.
Roped into chairing the Telena Christmas concert, Meredith brings townsfolk of all ages together to share stories, talents, and rehearsal potluck dinners. Little by little she's opening up too. And in between navigating the lessons of the past and acknowledging her own hopes for holidays yet to come, she's learning that all the gifts she really needs are right there, waiting—if only she'll claim them.
Away in Montana
(Paradise Valley Ranch #1) by Jane Porter
Since discovering the universe of Marietta, MT I can't seem to get enough of these sweet, clean romances. So far I've only read the Christmasy ones, but they have all been enjoyable. While the others were set in present day, this one is set in the 1850s. These are the great-grandparents to some of the characters in the other novels. It was really great to see the beginnings of this town. My eyes were watery through most of the novel as McKenna struggled with being totally on her own in a town where she is an outcast.
Beautiful, spirited heiress McKenna Frasier–daughter to one of the Butte Copper Kings—vowed eternal love to Sinclair Douglas before she left for college and an introduction to society. Four years in New York and travel abroad have opened her eyes, making her realize she wanted more than marriage and a simple Montana life. But when McKenna commits an unforgivable transgression and destroys her reputation, her dreams are shattered and she is forced to return to Montana disgraced, disowned and unmarriageable.
Sinclair Douglas left Butte to escape the Frasier power and Frasier name, but suddenly all anyone talks about in Marietta is scandalous McKenna Douglas, Paradise Valley's new teacher. Sin doesn't want to know about McKenna anymore. He doesn't want to have to help her, and he sure as hell doesn't want to love her. But McKenna has lived so long in his heart that it's her home–even if she doesn't deserve to be there.
But if there is one man who knows how to rebuild a life when all dreams have been smashed, it's fierce, uncompromising Sinclair Douglas. Can Sinclair and McKenna heal enough to find their own Christmas miracle, and one more chance at love?
Buy Away in Montana at Amazon
Her Big Sky Cowboy
(The Wildflower Ranch #) by Alissa Callen
Last read of 2017. While set in the Marietta, MT it is more about the ranchers in Paradise Valley. If you like clean romances then this a good one.
Sometimes Mr. Wrong is Mr. Right.
Speech therapist, Trinity Redfern, knows her perfect match is out there somewhere. And when she finds him he'll be articulate, well-dressed and most of all he will let her call the shots.
Reclusive rancher, Zane Nash, has heeded life's lessons. Never trust anyone, especially a woman. But when he becomes an instant father to five-year-old Finn, he must trust the sassy speech therapist who takes over his ranch for the summer. Trinity is Finn's last hope to learn to speak again.
But when the summer ends has time run out not only for Finn but also for Zane? Can the reserved cowboy find the words to make strong-willed Trinity stay … forever.
Buy Her Big Sky Cowboy at Amazon
Currently Reading
This Could Hurt
by Jillian Medoff
Easing back in to my review copies. This book comes out January 9.
A funny and deeply felt novel that illuminates the pivotal role of work in our lives—a riveting fusion of The Nest, Up in the Air, and Then We Came to the End that captures the emotional complexities of five HR colleagues trying to balance ambition, hope, and fear as their small company is buffeted by economic forces that threaten to upend them.
Rosa Guerrero beat the odds as she rose to the top of the corporate world. An attractive woman of a certain age, the longtime chief of human resources at Ellery Consumer Research is still a formidable presence, even if her most vital days are behind her. A leader who wields power with grace and discretion, she has earned the devotion and loyalty of her staff. No one admires Rosa more than her doting lieutenant Leo Smalls, a benefits vice president whose whole world is Ellery.
While Rosa is consumed with trying to address the needs of her staff within the ever-constricting limits of the company's bottom line, her associate director, Rob Hirsch, a middle-aged, happily married father of two, finds himself drawing closer to his "work wife," Lucy Bender, an enterprising single woman searching for something—a romance, a promotion—to fill the vacuum in her personal life. For Kenny Verville, a senior manager with an MBA, Ellery is a temporary stepping-stone to bigger and better places—that is, if his high-powered wife has her way.
Compelling, flawed, and heartbreakingly human, these men and women scheme, fall in and out of love, and nurture dreams big and small. As their individual circumstances shift, one thing remains constant—Rosa, the sun around whom they all orbit. When her world begins to crumble, the implications for everyone are profound, and Leo, Rob, Lucy, and Kenny find themselves changed in ways beyond their reckoning.
Jillian Medoff explores the inner workings of an American company in all its brilliant, insane, comforting, and terrifying glory. Authentic, razor-sharp, and achingly funny, This Could Hurt is a novel about work, loneliness, love, and loyalty; about sudden reversals and unexpected windfalls; a novel about life.
Buy This Could Hurt at Amazon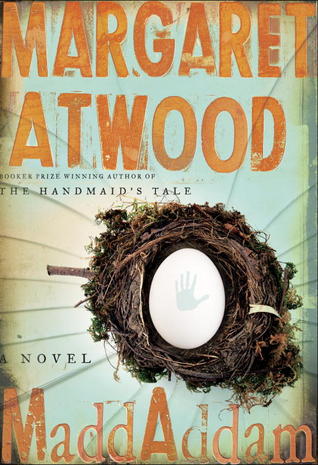 MaddAddam
(MaddAddam #3) by Margaret Atwood
I haven't had much time to listen to audiobooks and my loan period keeps ending before I finish. Hopefully, with going back to work soon, I will get the chance to finish it.
Months after the Waterless Flood pandemic has wiped out most of humanity, Toby and Ren have rescued their friend Amanda from the vicious Painballers. They return to the MaddAddamite cob house, newly fortified against man and giant pigoon alike. Accompanying them are the Crakers, the gentle, quasi-human species engineered by the brilliant but deceased Crake. Their reluctant prophet, Snowman-the-Jimmy, is recovering from a debilitating fever, so it's left to Toby to preach the Craker theology, with Crake as Creator. She must also deal with cultural misunderstandings, terrible coffee, and her jealousy over her lover, Zeb.
Zeb has been searching for Adam One, founder of the God's Gardeners, the pacifist green religion from which Zeb broke years ago to lead the MaddAddamites in active resistance against the destructive CorpSeCorps. But now, under threat of a Painballer attack, the MaddAddamites must fight back with the aid of their newfound allies, some of whom have four trotters. At the center of MaddAddam is the story of Zeb's dark and twisted past, which contains a lost brother, a hidden murder, a bear, and a bizarre act of revenge.
Buy MaddAddam at Amazon
Up Next
I have quite a few print ARCs that I've received this month that come out starting in January. I will need to get them organized so that I don't miss their release dates, so I'm not sure which one I'm supposed to be reading first. But on my Nook, I'm going to be reading the new book from one of our features writers.
22 Scars by C.M. North
Raised with apathy and spite, Amy's life is a monotonous drone of deep despair, broken only by coffee and nights out with her best—and only—friend. She battles depression daily, fighting to keep her sanity in a world that, to her, is set on destroying her soul.
Her future is bleak, overcast with shadow and doubt; her past harbors terrible secrets that even those closest to her couldn't begin to guess. When tragedy strikes someone she holds dear, will she succumb to the crushing weight of despair, or will she find the strength to fight—to live?
22 Scars
is a story of what it takes to live daily with depression - and how the scars of a lifetime can pass through generations and beyond.
Can the past ever truly be forgotten?
Can depression ever be beat?
Buy 22 Scars at Amazon
Get even more book news in your inbox, sign up today! Girl Who Reads is an Amazon advertising affiliate; a small commission is earned when purchases are made at Amazon using any Amazon links on this site. Thank you for supporting Girl Who Reads.