by MK French
In 2047, Samarra is the capital of the Republic of Islamic Provinces and Territories. Eliza McKay is the last minute paramedic added to an American team of Habitat for Humanity workers, and ultimately the only survivor when the team is slaughtered. Politics are at work when Captain Hashim Sharif is ordered eliminate all evidence of the event, but as a devout Muslim, he cannot bring himself to harm an innocent. The cover-up is only one piece of corruption within the city, and keeping Eliza alive may cost him the lives of his parents and children in the countryside, especially when the CIA comes to investigate.
Amazon affiliate links are used on this site. A free book was provided for an honest review.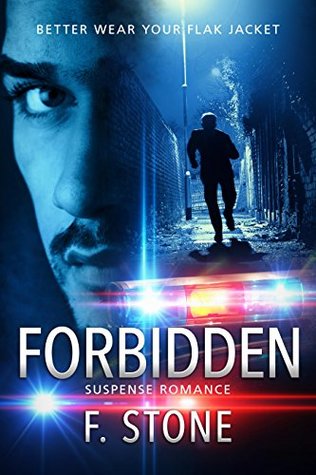 January 2017; Library and Archives Canada
978-0995150904; ebook, print (361 pages)
romance, suspense
Forbidden
is billed as a suspenseful romance, though the romance seemed a bit lackluster in comparison to the action sequences. They're cinematic and worthy of any spy thriller, though there are bits of the plot that seem to bog down the pacing. Eliza's PTSD from a prior car accident is well described in some areas, and dealt with in an almost heavy-handed manner at other times. There's a time jump at one point where a lot of things are glossed over, and that also slows down the pacing. We jump between Eliza's actions and Hashim's, and then when the CIA team is introduced there are even more characters to keep track of. Every time I thought I had a handle on the plot or what would happen next, there was another development that drew it out further. While it definitely felt like real developments, for a suspense novel it might have been better to streamline all of the events involved.
I appreciated all of the research that had gone into the setting and the characters so that they rang true. Hashim's faith and duty are in direct conflict, and we get to see how tortured it makes him to have to choose between the two important parts of his life. I loved getting a peek into his mindset, especially because honor is so important to him. This conflict is what makes being drawn to Eliza forbidden, as well as the professional conflicts that he is caught in the middle of. He didn't start off very sympathetic, but once the story picked up and we learn more about him, I grew to care about him and those he worked with. All in all, this is better billed as a suspense thriller than a romance, even if the ending is tied up fairly neatly.
Buy Forbidden at Amazon
Born and raised in New York City, M.K. French started writing stories when very young, dreaming of different worlds and places to visit. She always had an interest in folklore, fairy tales, and the macabre, which has definitely influenced her work. She currently lives in the Midwest with her husband, three young children, and golden retriever.
Get even more book news in your inbox, sign up today!. Girl Who Reads is an Amazon advertising affiliate; a small commission is earned when purchases are made at Amazon using any Amazon links on this site. Thank you for supporting Girl Who Reads.